Hudson Music
Drum Legends Drum Heads - Buddy Rich
---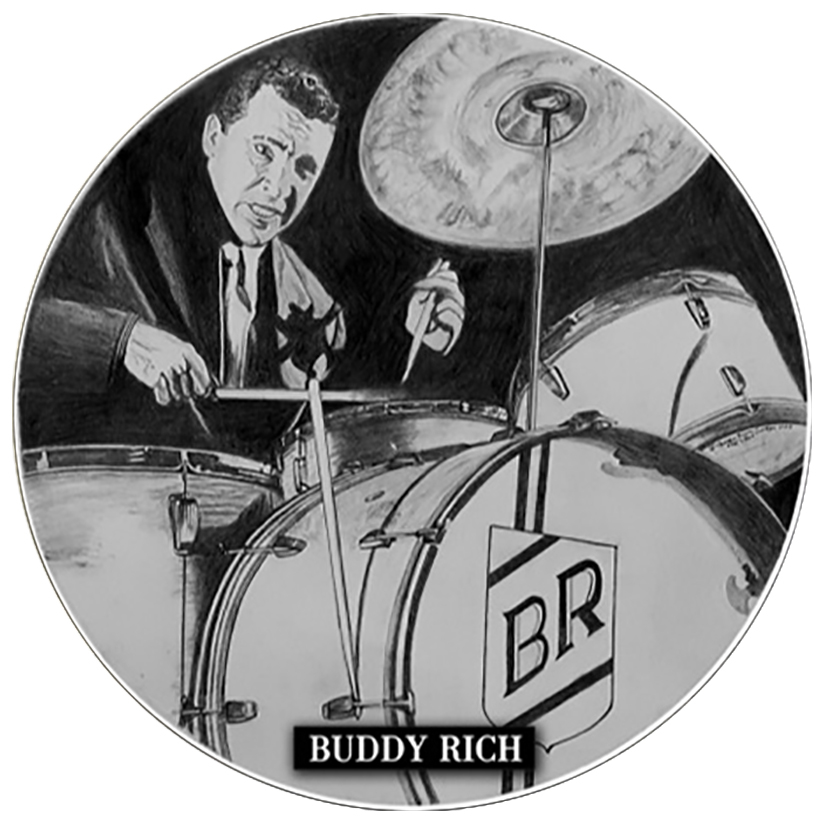 These Drum Legends Drum Heads are a beautiful, limited-edition offering that any drumming enthusiast will want in their collection. Each drum head features an original painting by artist Maureen Brown Gratton.

These heads capture the essence of each classic drummer. Each head is printed on a high-quality, Made in USA, 12" Evans drumhead, using a high-quality imprint method that will not fade.

About the Artist
Maureen Brown Gratton - Starting her career as a professional drummer/singer/percussionist and bandleader, she made Canadian history as the first drummer in the country to be recognized as Blues Drummer of the Year, the first 3 years awarded, when she was the only woman nominated in the category. Moe's Art is her art adventure where she is an acclaimed pet portrait artist and a multi-media artist creating art on canvas, clothing, drum heads and more. Ringo Starr is just one of the many people who own a piece of Moe's Art.

Buddy Rich: 1917-1987
A household name, Buddy Rich started playing professionally as a part of his parents' vaudeville act, and at the age of 19, gave up the vaudeville stage for a career as jazz musician. In six decades of playing, he swung and inspired a number of big bands, including those led by Bunny Berigan, Artie Shaw, Tommy Dorsey, and Harry James, but his made his greatest impact with his own big band, a precise, high-energy unit that he led, with a couple of timeouts, from 1966 through 1987.
There are currently no questions for this product.
There are currently no reviews for this product. Be the first to write one!