ABRSM
Flute Exam Pack from 2022, ABRSM Grade 1 - Book/Audio Online
---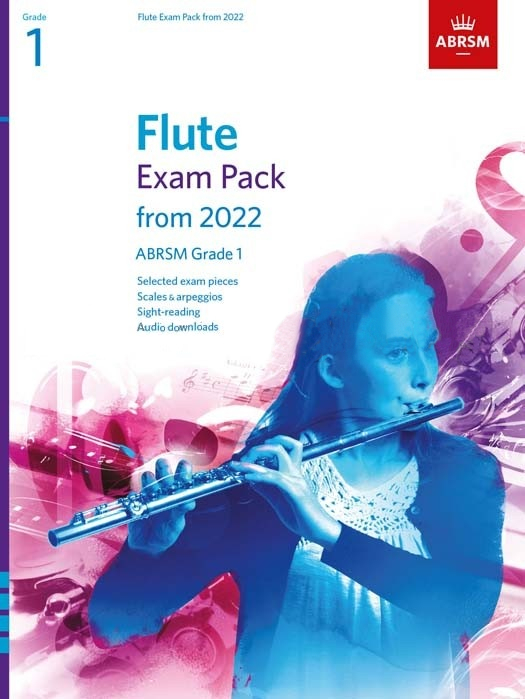 Format: Book with Audio Online
Instrumentation: Flute
Level: 1
This book brings together selected exam pieces, scales and arpeggios, sight-reading and audio downloads, to support ABRSM's Grade 1 Flute syllabus from 2022.
Key features:
Nine pieces in a range of styles, chosen from Lists A, B and C
Classic repertoire and newly commissioned pieces and arrangements
Scales and arpeggios, and sample sight-reading tests, for requirements from the current syllabus
Audio performances of the nine pieces by expert musicians, plus accompaniment-only tracks for use when practising (download code included in the book)
The Exam Pack is an ideal resource for preparation for ABRSM's Practical Grade 1 Flute exam, as well as providing an excellent toolkit for the general development of technical skills at this level.
Contents:
Minuet (from Symphony No. 94, 'The Surprise', Hob. I:94, third movement), arr. David Blackwell [Joseph Haydn]
Le douze de decembre (from Minuets, Cotillons and Country Dances) [Ignatius Sancho]
Sakura, arr. Peter Gritton [Trad. Japanese]
Feed the Birds (from Mary Poppins), arr. Nikki Iles [Robert B. Sherman & Richard M. Sherman]
Golden Slumbers, arr. Alan Bullard [Trad. English]
Spooked [Helen Jane Long]
Scrambled Egg and Chips [Mike Mower]
The Muppet Show Theme, arr. David Blackwell [Jim Henson & Sam Pottle]
There are currently no reviews for this product. Be the first to write one!