ABRSM
Flute Exam Pack from 2022, ABRSM Grade 3 - Book/Audio Online
---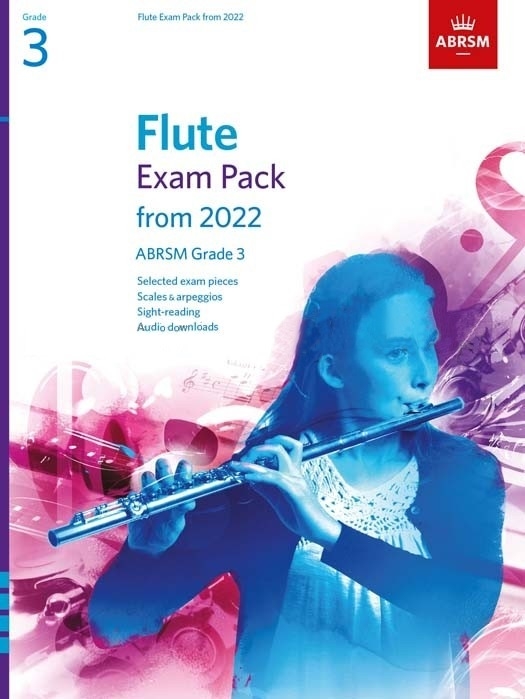 Format: Book with Audio Online
Instrumentation: Flute
Level: 3
This book brings together selected exam pieces, scales and arpeggios, sight-reading and audio downloads, to support ABRSM's Grade 3 Flute syllabus from 2022.
Key features:
Nine pieces in a range of styles, chosen from Lists A, B and C
Classic repertoire and newly commissioned pieces and arrangements
Scales and arpeggios, and sample sight-reading tests, for requirements from the current syllabus
Audio performances of the nine pieces by expert musicians, plus accompaniment-only tracks for use when practising (download code included in the book)
The Exam Pack is an ideal resource for preparation for ABRSM's Practical Grade 3 Flute exam, as well as providing an excellent toolkit for the general development of technical skills at this level.
Contents:
Prelude (from Te Deum, H. 146) [Marc-Antoine Charpentier]
Study in F (No. 7 from 30 Etudes faciles et progressives pour la flute) [Giuseppe Gariboldi]
Tiptoe and Tango [Sarah Watts]
Mazurka (No. 10 from Brimborions, Op. 138) [Aleksandr Tikhonovich Grechaninov]
Distant Shores (No. 6 from 42 More Modern Studies for Solo Flute) [James Rae]
Pokarekare Ana, arr. Alan Bullard [Trad. Maori, attrib. P. H. Tomoana]
Blanche-Neige au bois dormant (No. 5 from Fantaisies) [Octave Juste]
The St Louis Rag, arr. David Blackwell [Tom Turpin]
He's a Pirate (from Pirates of the Caribbean), arr. Alan Bullard [Hans Zimmer, Klaus Badelt & Geoff Zanelli]
There are currently no questions for this product.
There are currently no reviews for this product. Be the first to write one!