Oxford University Press
Special Needs, Community Music, and Adult Learning: An Oxford Handbook of Music Education, Volume 4 - McPherson/Welch - Book
---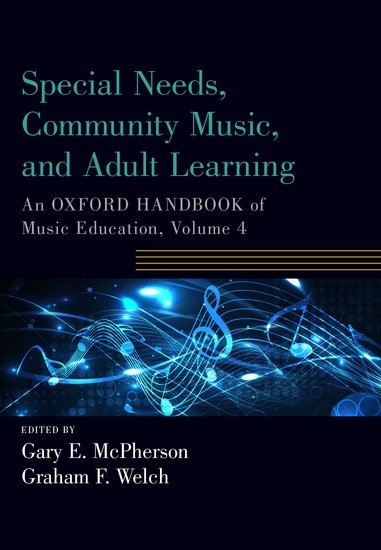 Editors: Gary E. McPherson, Graham F. Welch
Format: Book
Version: Text
Focuses on issues and topics that help broaden conceptions of music and musical involvement
Examines the often neglected aspect of music education involving people with special abilities and special needs
Explores how various forms of music making, musical sharing, and musical caring creates "community"
Views the process of music education as part of a lifelong continuum of formal and informal learning
Special Needs, Community Music, and Adult Learning is one of five paperback books derived from the foundational two-volume Oxford Handbook of Music Education. Designed for music teachers, students, and scholars of music education, as well as educational administrators and policy makers, this fourth book in the set focuses on issues and topics that help to broaden conceptions of music and musical involvement, while recognizing that development occurs through many forms.
The first section addresses music education for those with special abilities and special needs; authors explore many of the pertinent issues that can promote or hinder learners who share characteristics, and delve deep into what it means to be musical. The second section of the volume addresses music as a shared, community experience, and the diverse and constantly evolving international practice of community music. The chapters in the third section provide evidence that the process of music education exists as a lifelong continuum that encompasses informal, formal, and non-formal methods alike. The authors encourage music educators to think in terms of a music learning society, where adult education is not peripheral to the priority of other age groups, but is instead fully integral to a vision for the good of society. By developing sound pedagogical approaches that are tailored to take account of all learners, the volume endeavours to move from making individual adaptations towards designing sensitive 'universal' solutions.
Contributors:
Carlos R. Abril, Mary Adamek, Kenneth S. Aigen, Chelcy Bowles, Mary L. Cohen, William M. Dabback, Alice-Ann Darrow, John Drummond, Cochavit Elefant, David J. Elliott, Lee Higgins, Valentina Iadeluca, Judith A. Jellison, Janet L. Jensen, Patrick M. Jones, Jody L. Kerchner, Thomas W. Langston, Andreas C. Lehmann, Katrina McFerran, Gary E. McPherson, David Myers, Adam Ockelford, Helen Phelan, Andrea Sangiorgio, Laya H. Silber, Marissa Silverman, Rineke Smilde, David S. Smith, Kari K. Veblen, Janice Waldron, Graham F. Welch
Table of Contents:
Part 1

Special Abilities, Special Needs
Part Editor: Adam Ockelford
Chapter 1. Commentary: Special Abilities, Special Needs
Adam Ockelford
Chapter 2. Mapping Musical Development in Learners with the Most Complex Needs: The Sounds of Intent Project
Adam Ockelford and Graham F. Welch
Chapter 3. Exceptional Musical Abilities: Musical Prodigies
Gary E. McPherson and Andreas C. Lehmann
Chapter 4. A Fresh Look at Music Therapy in Special Education
Katrina McFerran and Cochavit Elefant
Chapter 5. Inclusive Music Classrooms and Programs
Judith A. Jellison
Chapter 6. Preparing for the Future: Music Students with Special Education Needs in School and Community Life
Alice-Ann Darrow and Mary S. Adamek

Part 2

Music in the Community
Part Editor: David J. Elliott
Chapter 7. Commentary: Music in the Community
David J. Elliott
Chapter 8. The Community within Community Music
Lee Higgins
Chapter 9. Community Music and Social Capital
Patrick M. Jones and Thomas W. Langston
Chapter 10. Community Music Therapy
Kenneth S. Aigen
Chapter 11. Community Music and Social Justice: Reclaiming Love
Marissa Silverman
Chapter 12. Sonic Hospitality: Migration, Community, and Music
Helen Phelan
Chapter 13. At-Risk Youth: Music-Making as a Means to Promote Positive Relationships
Mary L. Cohen, Laya H. Silber, Andrea Sangiorgio, and Valentina Iadeluca
Chapter 14. Fast Forward: Emerging Trends in Community Music
Kari K. Veblen and Janice L. Waldron

Part 3

Adult Learning in a Lifespan Context
Part Editors: David E. Myers and Chelcy L. Bowles
Chapter 15. Commentary: Adult learning in a Lifespan Context
David E. Myers
Chapter 16. Elders and Music: Empowering Learning, Valuing Life Experience, and Considering the Needs of Aging Adult Learners
William M. Dabback and David S. Smith
Chapter 17. Adult Music Learning in Formal, Nonformal, and Informal Contexts
Kari K. Veblen
Chapter 18. Music Teacher Education: Crossing Generational Borders
Jody L. Kerchner and Carlos R. Abril
Chapter 19. The Role of Higher Education in Fostering Musically Engaged Adults
Chelcy L. Bowles and Janet L. Jensen
Chapter 20. Lifelong Learning for Professional Musicians
Rineke Smilde
Chapter 21. An International Perspective on Music Education for Adults
John Drummond
There are currently no reviews for this product. Be the first to write one!