Oxford University Press
Solo Time for Cello, Book 1 - Blackwell/Blackwell - Cello/Piano - Book/Audio Online
---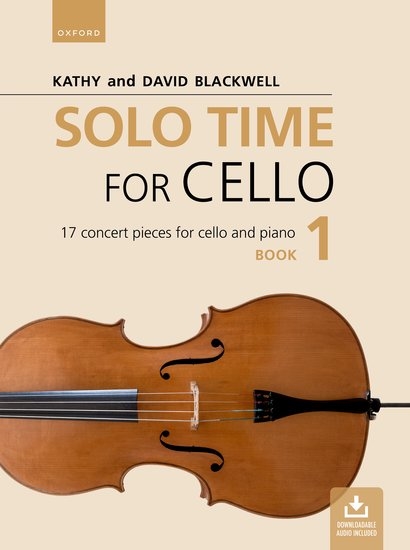 Additional Photos: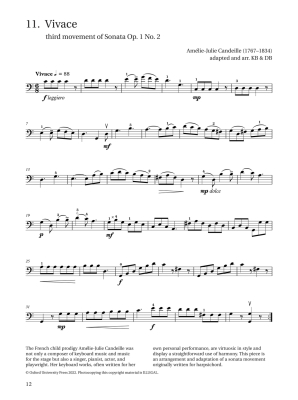 Arrangers: Kathy Blackwell, David Blackwell
Format: Book with Audio Online
Instrumentation: Cello and Piano
Solo Time for Cello
is a two-volume series of concert pieces for the intermediate to advanced cellist. Featuring arrangements and original pieces by the composers of the award-winning Cello Time series, these graded collections provide a diverse range of repertoire from the Baroque to the modern age and introduce players to exciting new arrangements of amongst others, Amy Beach, Florence Price, Teresa Carreno, and Samuel Coleridge-Taylor.
Contents:
Gavotte 1: from Orchestral Suite No. 3, BWV 1068, J. S. Bach
Contredanse: No. 6 from 12 Contredanses, WoO 14, Beethoven
Two Dances from Terpsichore, Caroubel and Praetorius
O Ruddier than the Cherry: from Acis and Galatea HWV 49, Handel
Columbine: from Children's Carnival, Op. 25 No. 2, Beach
Little Hungarian Rhapsody, Bohm
Die Lotosblume: from Myrthen, Op. 25 No. 7, Schumann
Joshua fit the battle of Jericho, Spiritual
Intermezzo: from Cavalleria rusticana, Mascagni,
Adoration, Price
Vivace: third movement of Sonata Op. 1 No. 2, Candeille
Libera me: from Requiem, Op. 48, Faure
In paradisum: from Requiem, Op. 48, Faure
Piece Romantique, Op. 9 No. 1, Chaminade
Le Pique-nique: from Sports et divertissements, Satie
Idylle Haitienne: from La flamenca, Lambert
Russian Dance: from Danse caractristique, Op. 2 No. 6, Rebikov
There are currently no reviews for this product. Be the first to write one!