Elixir Strings
NANOWEB 7-String Electric Super Light Guitar Strings
---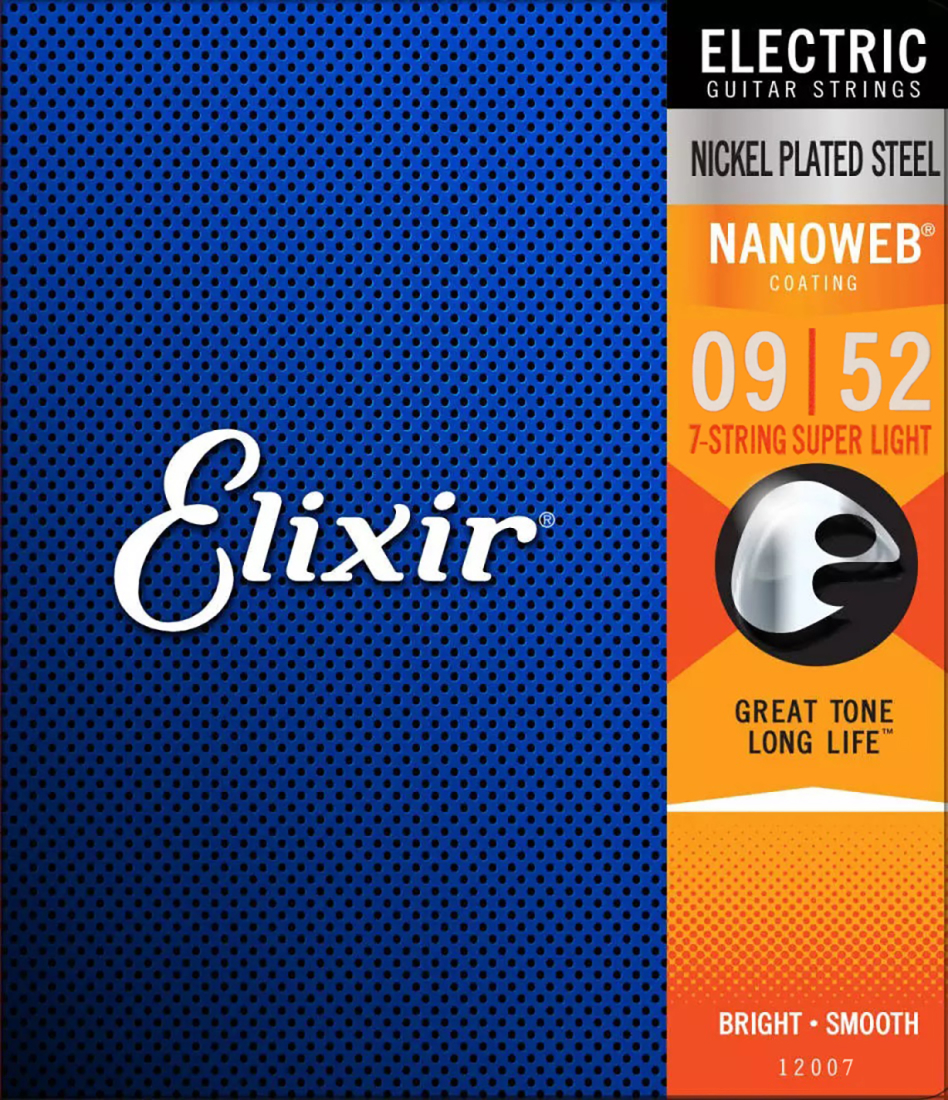 Additional Photos: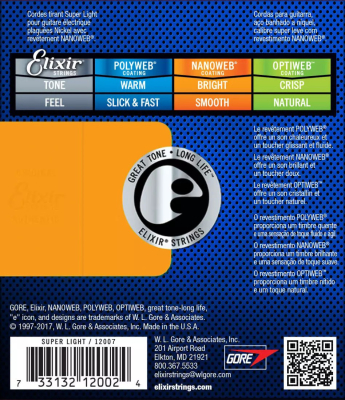 Product Videos :
YouTube Video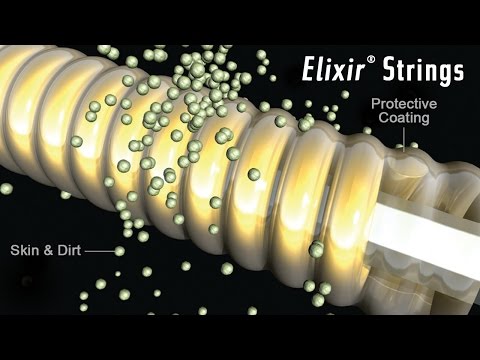 10 models to choose from:
Elixir® Electric Nickel Plated Steel Strings with OPTIWEB® Coating give you the performance of a natural string - that crisp tone, natural feel and playable grip you know and love - without sacrificing the signature long-lasting tone life of Elixir Strings.

Elixir Strings is the only brand to coat the entire string, protecting not only the outer string surface, but also the gaps between the windings. Elixir Strings retain their tone longer than any other string, uncoated or coated. The Anti-Rust Plated Plain Steel Strings also resists tone-deadening corrosion, ensuring longer life for the entire set.

String Gauge
Super Light: .009 .011 .016 .024w. 032w. 042w. 052w.
Youtube video product demo
There are currently no questions for this product.
3.80.4.147
CCBot/2.0 (https://commoncrawl.org/faq/)
The coating impacts the tone

0 of 4 customers found this review helpful
Product Experience
I own it
Closest Store
North Vancouver, British Columbia
I bought these strings on the premise of better durability than Ernie Balls. My strat was sounding completely dull with these strings. Then I switched to Ernie balls and my sound improved drastically.
Posted by

Akshay

on

Sep 16, 2022
Good first impression

4 of 4 customers found this review helpful
Product Experience
I own it
Closest Store
Moncton, New Brunswick
Just bought my first set of these to try out and must say I like the feel. It's a little strange at first with the coating but it does help with limiting the sounds from your fingers sliding along the strings. I try to play metal and find it has a good feel for speed picking, and has a great tone. I will definitely be using these again in the future.
Posted by

Marc

on

Sep 11, 2017
These are great!

9 of 9 customers found this review helpful
Product Experience
I own it
Closest Store
Richmond, British Columbia
Whether it be blues or metal it will be great. You can barely hear the string slide unless your 100-watt is turned up all the way. It's amazing. The sound is pretty bright, if I had to describe it. With the bridge pickup it's almost overwhelmingly bright, great for pop, blues and metal leads because the bright tone cuts through the mix. It sounds bright even with a rosewood fingerboard. When using the bridge pickup it sounds warm (which is a bit odd considering that the neck is supposed to sound warm). It's good for rhythm guitar. The strings just slide, they're so smooth, even the wound strings (top 3 strings, EAD). The coating feels awkward at first on the bottom 3 strings (GBe)but you quickly get used to it. When doing powerchords it's just magnificent. The output is quite high. I play metal, blues and punk.
Posted by

Franxx

on

Mar 25, 2012