Musicon Publications
#MarimbaBaby: A Marimba Songbook - Ford - Marimba - Book
---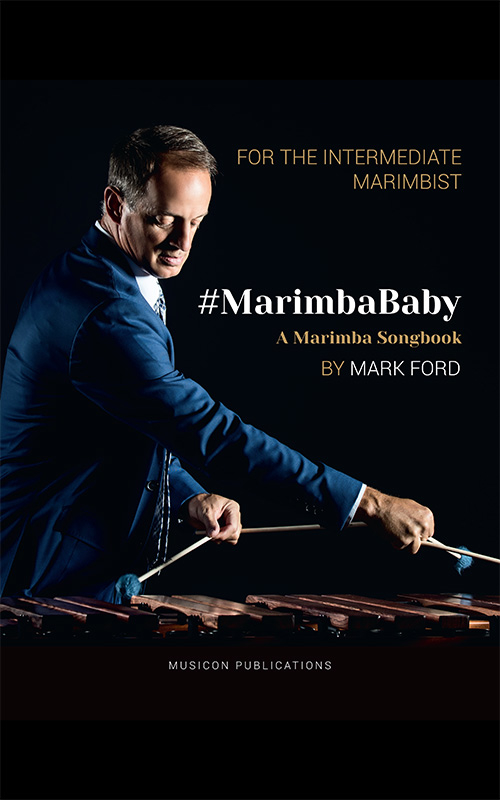 Composer: Mark Ford
Format: Book
Instrumentation: Marimba
Level: Intermediate
#MarimbaBaby: A Marimba Songbook
began as an idea to compose original lullabies featuring the marimba.
#MarimbaBaby
continues Mark Ford's exploration into expressive marimba etudes for intermediate-level marimbists. Unlike his book,
Marimba: Technique Through Music
,
#MarimbaBaby
is not a marimba method book. Rather,
#MarimbaBaby
is a collection of marimba solos based on original songs and lullabies by Ford and his wife, Ewelina. The songs in this book are of intermediate difficulty with a few at the end of the book being slightly longer and more advanced musically and technically. Samples of the lyrics are included with several of these songs to give the player a better understanding of each composition. Enjoy!
Contents:
I Love You
Small Steps
Sweet Dreams
A Mother's Wish
Hey, Hey, Hey
Morning Light
The Tower Chimes
Promise Me
Emily's Dream
Testimonials:
"There is a wonderful folk-song quality in #MarimbaBaby that lends a beautiful, singing style to the music. Marimbists from around the world will find #MarimbaBaby approachable, appealing, happy and joyful!"
-
Gordon Stout
, Ithaca College
"Mark and Ewelina Ford's #MarimbaBaby is a worthy successor to Marimba: Technique Through Music."
-
William Moersch
, University of Illinois
"#MarimbaBaby, can best be described as graceful, sweet and loving, with each word and note composed from the heart."
-
Brian Zator
, Texas A&M University at Commerce
Percussive Arts Society President
"Percussion Educators have long waited for literature that develops both technique and musicality in the intermediate level marimba student. #MarimbaBaby does just that!"
-
Jim Campbell
, University of Kentucky
Percussive Arts Society Past-President
"Mark and Ewelina Ford's #MarimbaBaby is a must have, and with this book, your students will fall in love with practicing all over again!"
-
Naoko Takada
, University of Southern California
"#MarimbaBaby is musically beautiful and inspiring! Percussionists often forget to "sing" and breathe while playing the marimba, but this book encourages a player's expressive abilities."
-
Eriko Daimo
, Marimba Virtuoso
"#MarimbaBaby has strong pedagogical and musical value. This book is a gem for intermediate students to develop their marimba playing technique with a high level of musicality."
-
Wei-Chen Lin
, Shanghai Symphony/Marimba Virtuoso
"#MarimbaBaby is a collection of sweet songs from the heart. These unique pieces are fun to play, and introduce the player to a wide variety of musical concepts that will help them grow as musicians."
-
Sandi Rennick
, Santa Clara Vanguard Drum & Bugle Corps, University of North Texas
There are currently no questions for this product.
There are currently no reviews for this product. Be the first to write one!