For Dummies
Fiddle For Dummies - Sanchez - Book/Media Online
---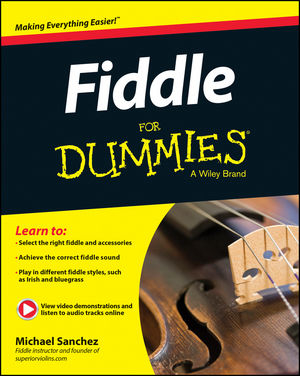 Additional Photos: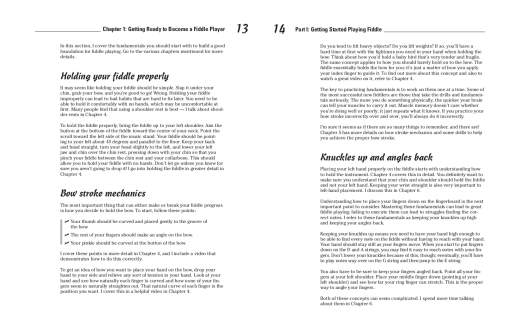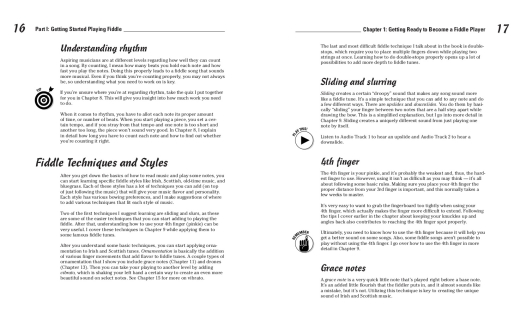 Author: Michael John Sanchez
Format: Book with Audio and Video Online
Instrumentation: Fiddle
Learn to play the fiddle? Easy.
Tackling a new instrument can be intimidating, but with this easy-to-use guide, you'll have no trouble at all! From selecting, tuning, and caring for your fiddle to mastering various music styles,
Fiddle For Dummies
walks you step-by-step through everything you need to start playing the fiddle like a pro. You'll discover how to hold a fiddle, master fundamental techniques, and take your skills to the next level. This title also features companion audio tracks and instructional video clips hosted online at Dummies.com to help further enhance your skills.
The fiddle is a popular instrument across many continents, and is a favorite for many because it is small and portable. Playing the fiddle can expose you to a range of musical styles from all over the world, such as Irish, Scottish, Celtic/Cape Breton, country, folk, bluegrass, and more. Plus, if you're already a violin player, you'll impress yourself and fellow musicians as you unlock your instrument to open up a whole new world of sounds.
Learn fiddle techniques and fundamentals
Select, tune, and care for your fiddle
Join the folk instrument movement and master the fiddle
Play fiddle music from all over the world
Whether you're a complete beginner or a violin player looking to branch out and try something new,
Fiddle For Dummies
will have you fit as a fiddle in no time.
TABLE OF CONTENTS
Introduction 1
Part I: Getting Started Playing Fiddle 7

Chapter 1: Getting Ready to Become a Fiddle Player 9
Chapter 2: Selecting the Right Instrument and Accessories 21
Chapter 3: Tuning, Rosining, and Taking Care of Your Fiddle 39

Part II: Working with Technique Basics and Fundamentals 63

Chapter 4: Holding the Fiddle and Bow 65
Chapter 5: Building a Musical Bow Stroke Sound 81
Chapter 6: Working with the Left Hand 105

Part III: Unlocking the Keys to Reading Music 121

Chapter 7: Understanding How to Read Music 123
Chapter 8: Keeping Rhythm in a Fiddle Tune 141
Chapter 9: Starting Easy with Basic Fiddle Tunes 161
Chapter 10: Getting into Trickier Fiddlin' 173

Part IV: Working with the Various Fiddle Styles 185

Chapter 11: Developing the Irish Fiddle Style 187
Chapter 12: Scottish-Style Fiddling 205
Chapter 13: Fiddling to Old-Time Music 219
Chapter 14: Learning Bluegrass Fiddle 237

Part V: Taking Fiddling to the Next Level 249

Chapter 15: Shifting, Vibrato, and Double-Stops 251
Chapter 16: Expanding Your Ability 271
Chapter 17: Improvising and Playing Electric Fiddle 283

Part VI: The Part of Tens 297

Chapter 18: Ten Great Fiddle Players You Need to Hear 299
Chapter 19: (More Than) Ten Tips on Finding the Right Teacher 305

Appendix: Audio Tracks and Video Clips 313
Index 319
There are currently no questions for this product.
There are currently no reviews for this product. Be the first to write one!