Kjos Music
Standard of Excellence: Festival Solos, Book 1 - Pearson/Elledge - Alto Saxophone - Book/CD
---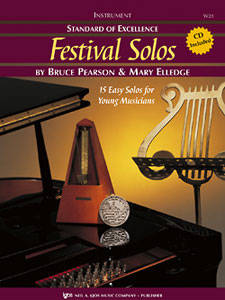 Additional Photos: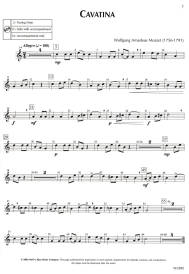 15 Easy Solos for Young Musicians
Authors: Bruce Pearson and Mary Elledge
Format: Book and CD
Instrumentation: Alto Saxophone
Level: 1
Festival Solos
is a collection of solo Literature perfect for contests, festivals, concerts, and private study. Each of the 15 instrumental part books comes with an instrument-specific CD containing a demonstration recording with piano accompaniment for each solo, plus a play-along accompaniment only track. Program notes for each solo are included in each book, and a Piano Accompaniment book is available separately for performance or practice with a live accompanist. Since each instrumental part book includes the same titles, all solos can be rehearsed in a group situation as well as individually, saving valuable teaching time for classroom band directors!
Song List:
Melody (Albert Biehl)
Springtime Waltz (Franz Behr)
March From "Scipio" (George Frideric Handel)
Menuett (Johann Philipp Kirnberger)
Wooden Shoe Dance (Victor Herbert)
Cavatina (Wolfgang Amadeus Mozart)
Capriccio (Daniel Turk)
Dance Song (Sperontes)
Bagatelle (Anton Diabelli)
Country Dance (Ludwig van Beethoven)
Serenade From "Don Giovanni" (Wolfgang Amadeus Mozart)
Concert Etude (Henri Lemoine)
St. Anthony Chorale And Rondo (Franz Joseph Haydn)
Minueto (Ludwig van Beethoven)
Country Gardens (Traditional English Folk Song)
There are currently no questions for this product.
There are currently no reviews for this product. Be the first to write one!