Kendor Music Inc.
Kendor Music Inc. Effective Etudes For Jazz - Carubia/Jarvis - Flute - Book/Audio Online
---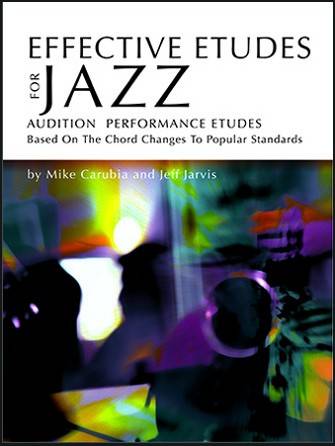 Composers: Mike Carubia, Jeff Jarvis
Format: Book with Audio Online
Instrumentation: Flute
This collection of 18 audition/performance etudes based on the chord progressions to popular jazz standards, blues, and rhythm changes. The collection was designed for honours jazz band auditions, solo evaluations, group lessons, teaching the jazz language and improvisation, learning standards, and more. Presented sequentially according to difficulty, the etudes have annotations beneath the staves identifying phrases and patterns common to the jazz language. Chord reference charts show users the notes of all chord symbols in each etude.
The MP3s contain a professional rhythm section and soloist performing all the etudes, plus separate accompaniment tracks without the soloist.
Song List:
Keep Smilin'
Moonmen
Minor Is Finer
Baggage Claim Blues
Dido
Isle Of Melon
It's From Heaven
The Moon Is High
Blue Note Blues
Softly
You're The Last One
I Got Yer Rhythm!
The Sum Of Your Attributes
This Is Love
My Glowing Moment
Sweet Georgia
It's Nobody For Me
I Got Rid Of 'Em
Press play to listen:
Press play to listen:
There are currently no reviews for this product. Be the first to write one!