Solid State Logic
Native Drumstrip Plug-In - Download
---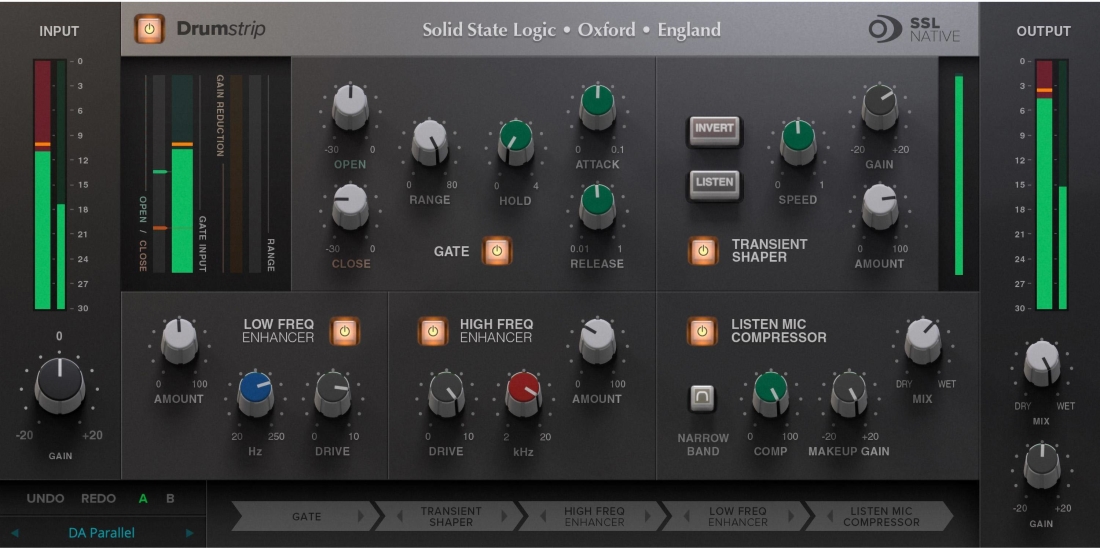 Original Price: $
260.00
CDN
Buy Online
In Stock
This product is delivered by download. Once your payment has been approved your software license will be sent to you via email. The download link for your purchase will be included with your license.
Software Is Not Returnable
The quickest path to better drums and percussion
The secret to making an average drum recording sound incredible can be elusive. It takes the right combination of processors, with the perfect sonic character, in the correct configuration and tweaked in the right way. Drumstrip takes drum sounds from ordinary and average to vibrant and exhilarating in a few quick, easy steps.

Plug in, switch on and experiment. Drumstrip handles the hard part; putting the right selection of fantastic sounding processing tools in your hands in an instant.

With Drumstrip, DAW users can attain increased presence, clarity and detail in their drum tracks; reduce spill in individual tracks; restore natural brightness; achieve greater perceived loudness; shorten or lengthen the attack and sustain of percussive signals; tighten up booming toms; make kicks and snares stand out in a mix; and parallel compress room mics.


Features
• All the components for a stellar drum mix in a single channel-strip-style plug-in
• Transient shaper to manipulate attack and sustain for maximum impact
• Dedicated drum gate to clean up mic bleed and unwanted background noise
• High-frequency enhancer for a vibrant high end
• Low-frequency enhancer for a tight and booming low end
• Classic SSL listen mic compressor gives you the legendary, inimitable drum sound
• Reorder the processors for a truly customized signal chain

There are currently no questions for this product.

There are currently no reviews for this product. Be the first to write one!