Solid State Logic
Native X-Echo Plug-In - Download
---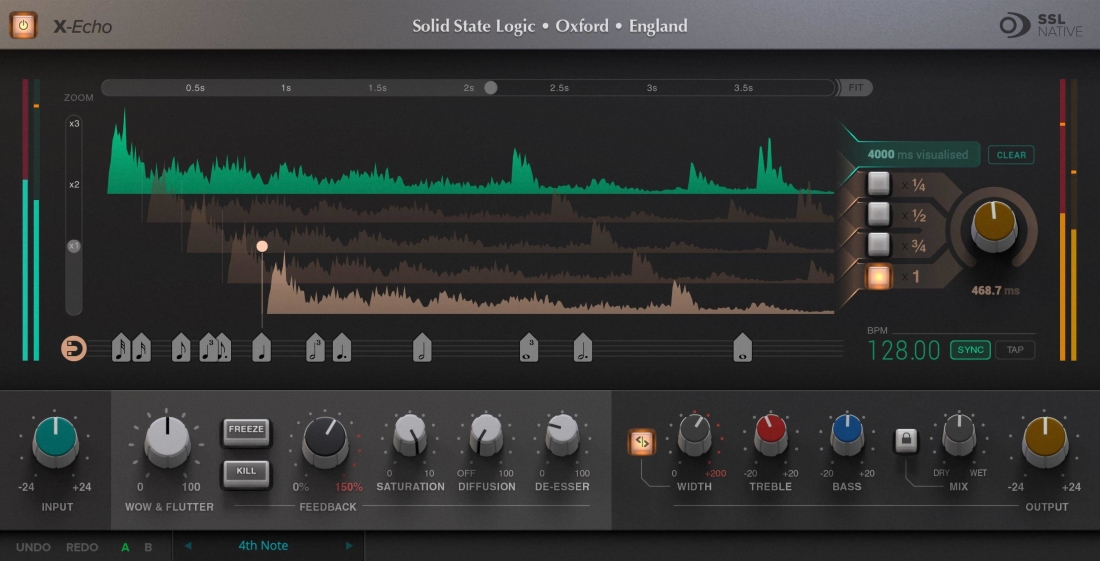 or from
$39
CDN/mo
Buy Online
In Stock
This product is delivered by download. Once your payment has been approved your software license will be sent to you via email. The download link for your purchase will be included with your license.
Software Is Not Returnable
SSL Native X-Echo is a vintage tape echo plug-in, inspired by the sound of definitive early tape delay hardware of the 1960s, while introducing SSL's signature analogue saturation and warmth. Aside from sounding great from the get-go, it is complimented by numerous other practical and creative features, such as built-in de-essing, waveform visualisation, and a brand-new reverb design.


Features
• Inspired by early hardware delay units from the 1960s such as the Echoplex tape echo
• Combine tape-style analogue degradation with classic SSL-style distortion characteristics using the 'Wow & Flutter' and 'Saturation' controls
• Models classic characteristics of hardware tape echo devices, including the looping EQ, soft clipping, gentle tape hiss and self-oscillation when raising the feedback above 100%
• WOW & FLUTTER emulates the effect of mechanical components like the capstan and pinchwheel, as well as the friction of the tape itself
• Use FREEZE and KILL to build risers and drops in recordings and live performances
• Bespoke one-knob DIFFUSION control, featuring a brand new reverb design
• Built-in DE-ESSER for controlling the sibilant frequencies that tape echoes often accentuate
• Designed to sound great from instantiation - even before you start tweaking it
• Unique interface and waveform visualisation for seeing how the tape heads interact
• Sync your delay to note values with a single click
• 4 switch-able tape heads for adding variation
• Cleverly stereoises mono => stereo signals using a phase shifting technique.
• SSL's cross-platform preset management and A/B-ing system
• Built-in UNDO/REDO support

There are currently no reviews for this product. Be the first to write one!