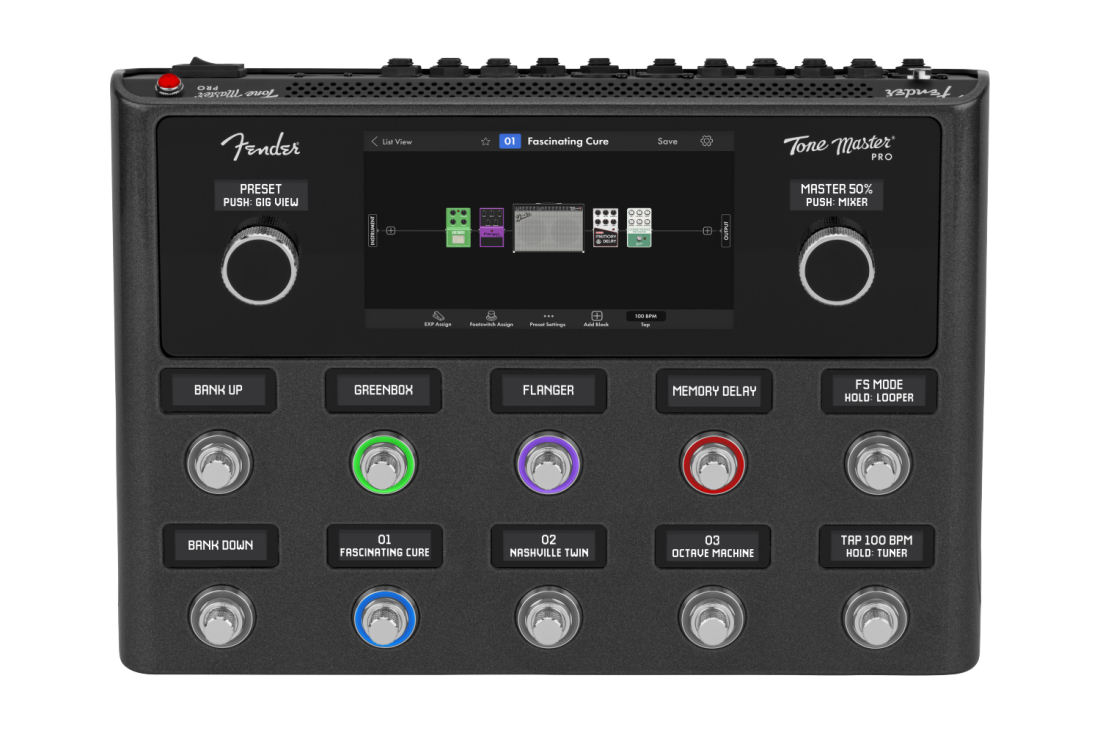 Additional Photos: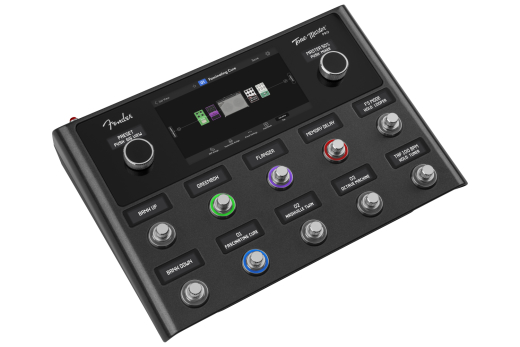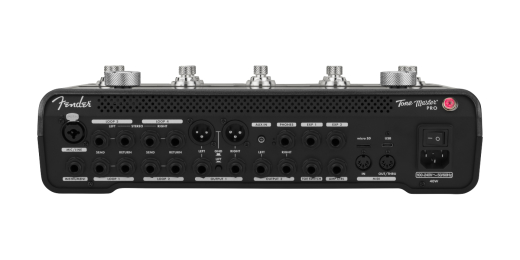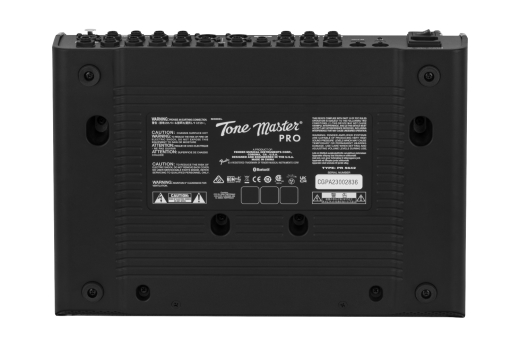 Product Videos :
YouTube Video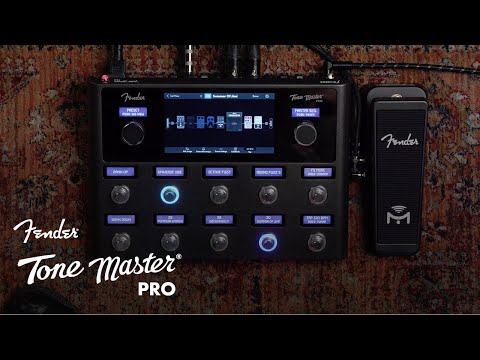 Your Price: $
2,349.99
CDN
or from
$138
CDN/mo
Tone Master Pro is the first no-compromise multi-effects guitar workstation that features the amazing sound quality that the Tone Master series is known for. Combining a powerfully intuitive interface and the most comprehensive I/O array available, the Tone Master Pro is the best sounding, most powerful and easiest to use guitar processor ever.

Tone Master Pro features over 100 of the world's most popular amps and effects, including all of the classic Tone Master Fender models, the first officially licensed EVH 5150 III Stealth model, and other can't live without classics that have all been perfectly replicated using our proprietary Tone Master Modeling process. Tone Master Pro's lightweight, rugged, stage-friendly form factor is as beautiful as it is functional. With a full-color touchscreen, stunning graphics, and intuitive user interface, dialing in the perfect tone has never been easier or more inspired.

Create Presets, customize your footswitch assignments and combine them to create Songs and organize into Setlists with ease. Tone Master Pro's 10 custom-designed footswitch encoders make editing a breeze, giving you instant access to all your presets and parameters and make adjustments just like you would on the real thing. Connect to our Tone Master Pro Control app via USB for creating, editing and sharing your own presets or for auditioning and downloading thousands of tones created by Fender's community of players and artists.


Features
• Over 100 Tone Master quality Amp & Effect Models
• Over 6000 Fender-captured Impulse Responses with a variety of cabinet and microphone options
• 3rd Party IR support
• 7" Color Touch-screen
• Innovative Song & Setlist modes
• 60 second Stereo Looper
• 4 Effects Loops for integrating your favorite pedals
• Instrument and XLR mic inputs
• 10 proprietary footswitch/encoders with LCD "scribble strips"
• True preset spillover of delay and reverb tails for seamless preset changes
• Firmware updates over USB
• Compatible with Tone Master Pro Control desktop app for editing, sharing and downloading presets
• Over 500 User Presets with access to thousands more from the Cloud using the Tone Master Pro Control App
• Bluetooth wireless connection for streaming audio from a mobile device
• Stereo 1/4" Headphone output jack for silent practice
• Compatible with the Mission Engineering SP1-TMP Expression Pedal for realtime control of parameters
• Lightweight, under 9 lbs.


Specifications
General
Series: Tone Master®
Color: Black
Digital Audio Bit Depth: 32 Bit
Supported Sample Rates: 48 kHz Internal (Project Sync 44.1/48/88.2/96 kHz)

Inputs
Auxiliary Input Connection Type: 3.5 mm Stereo
Auxiliary Input Impedance: 10 kΩ
Instrument Input Connection Type: 1/4"
Instrument Inputs Maximum Level: 5.6V (2.8V with Input Pad Off)
Line Input Connection Type: 1/4" TRS Female (Combo), Balanced
Line Inputs Impedance: 1MΩ
Line Inputs Maximum Level: 7.8V Balanced, 4.5V Unbalanced
Microphone Input Connection Type: XLR Female (Combo), Balanced
Microphone Preamp Input Impedance: 1.8 kΩ Balanced
Microphone Preamp Maximum Input Level: 4.7V
Auxiliary Input Max Input Level: 2.4V
Effects Loop Impedance: 10 kΩ

Electronics
Control Panel: Navigation Control, Master Volume Control, 10 Footswitch/Encoders with LCD "Scribble Strips"
Effects: Over 100 Quality Amp and Effect Models
Effects Loop: 4 Total
Looper: 60-Second Stereo Looper
Connectivity: USB-C®
Connection Type: 1/4"
Other Connections: 1/4" Expression Pedal 1 and 2, Amp Control
Voltage: 120V
Power Requirements: 40W
Phantom Power: +48 VDC (XLR Only)
Digital Audio Frequency Response: 20 Hz - 20 kHz (+0.1/-0.7 dB)

Hardware
MIDI IO: Dual 5-Pin DIN (In/Out-Through-Merge)
Effects Loop Connection Type: Mono Loops (1 & 2) 1/4" Unbalanced, Mono Loops (3 & 4) 1/4" TRS Balanced (Can Be Combined into Stereo Pair)

Youtube video product demo

Question:

How does it perform through a tube amp. To get full use digitally its another 1800 in FR cabs making it too pricey

- asked on Nov 6, 2023

Answer:

It sounds great through a tube amp but with its amp modeling capability, it sounds great even with a transistor amp or directly into a powered speaker or PA system.

- answered by David Callender, Ottawa, Ontario

44.197.101.251

CCBot/2.0 (https://commoncrawl.org/faq/)
The Ferrari of pedals
6 of 6 customers found this review helpful
Product Experience
I own it
Closest Store
Toronto (Bloor St.), Ontario
The Ferrari of pedals. It's beautiful. It's a Fender. It's loaded with great features. More features coming in the Xmas updates. The screen is so easy to navigate. No manual needed. Last night, with studio headphones, I was up til 4 am jamming with my Stratocaster to rhythm tracks. It sounds great thru a guitar amp, PA, mixer, FRFR speaker. I can use a Boss EV-5 Expression Pedal and FS-5L footswitch, which I already have. I can use the Pro as table top or floor unit. Already have a transit case for it. By the time I have the Pro mastered by Xmas, the updates will be out. So the data download will also be a cognitive download. I love the internal effects. Before the Pro was announced, I had already purchased an Eventide H90, which I will use in the effects loop of the Pro. So many great sounds easily accessible on the Pro itself or on my 32 inch computer monitor via the Control App. Like a previous tagline, this unit has everything I need and nothing I don't need. The years of R&D at Fender has paid off. The Tone Master amps were a sign of things to come. All of the processing power went into the sound of one amp. That appealed to me. Quality over quantity. Now with processor 8 cores I can run a stereo rig, experience instant seamless patch changes, smooth spillover. The latency is nicely low. I guess the FRFR cab is the next purchase. The funny thing is, I did not know that I had been waiting for this for a few years now. Fender took the best features of the modelers out there and gave customers what they needed, plug and play gratification. You get results. You don't waste time or energy. Did I say the Pro is beautiful to look at. Leo Fender said, "Form follows function." Other modellers out there look primitive, ugly, unrefined, dated. The Stratocaster came out in 1954 yet it is still fresh and viable in 2023. The Pro looks to have Iconic status too. I'll be up til 4am again tonight, experiencing sonic pleasure and an appreciation for engineering genius in my happy place.
Posted by

Retired Schmuck

on

Oct 31, 2023
Tone Master lives up to its name
5 of 5 customers found this review helpful
Product Experience
I own it
Closest Store
Langford, British Columbia
From the first glance, the Fender Tone Master Pro seems promising, earning a commendable 8/10 right out of the box. But the real magic unfolds once the firmware is updated, skyrocketing its performance to a stellar 11/10. The subsequent updates, as promised by Fender, are expected to further enhance its capabilities, adding more gold stars to its laurels. For someone like me, who has primarily been inclined towards high gain rigs such as the EVH, JCM2000, MESA Boogie, and MESA TC, the allure of crystal-clear tones and the simplicity of a floor unit was irresistible. The Tone Master Pro is the embodiment of convenience, eliminating the need to haul a plethora of pedals, power supplies, and other equipment for a jam session. Having experimented with various big-brand modeling solutions, I can confidently say that the work Fender has invested in the models and effects of this unit is unparalleled. The meticulous attention to detail is evident in the authentic sound reproduction. Especially for those who yearn for the genuine "amp in the room" experience, the Tone Master Pro is a dream come true. Its tactile response is so lifelike, it's unlike anything I've ever experienced before. Creating a new patch is a breeze, thanks to the large, user-friendly touchscreen display. However, a word of advice for fellow musicians of a certain age (OLDIES LOL) to save your back, it's best to download and add tone patches from Fender's website instead of prolonged bending over the touchscreen. You can make the micro adjustments on the fly or just make more on the board but having a solid starting point simplified the process even further making it easier to spend more time playing and less time fiddling! The firmware update not only simplified the process but also introduces a plethora of amps, pedals, and presets that increased its functionality. Storage is another standout feature of the Tone Master Pro. With a vast built-in storage capacity and an expandable micro SD card slot, there's ample space to save media, loops, and more. When paired with the Fender 12FR 1000W powered cabinet, the combination is nothing short of magical. The build quality, fit, and finish exude the premium feel one would expect from a top-tier product. I had the opportunity to A/B test this setup against three real-life amps, and the results were astonishing. With minimal volume and EQ adjustments, the Tone Master Pro impeccably mimicked the genuine amp sound in under three minutes. In conclusion, the Fender Tone Master Pro, coupled with the Fender 12FR 1000W powered cabinet, is a game-changer. It's a testament to Fender's commitment to innovation and quality, delivering an unmatched sonic experience. Highly recommended for both seasoned pros and budding musicians.
Posted by

Mikey S.

on

Oct 30, 2023
Very impressed!
15 of 16 customers found this review helpful
Product Experience
I own it
Closest Store
Calgary, Alberta
I would say sound wise it is equal to if not slightly better than the best modelers out there. The place where this takes the cake is in it's simplicity. With the Line 6 Helix especially I recall having such a tough time getting good tones. I could never really just load an amp on Helix and be happy with it. I'd have to add the amp, eq it, possibly add a compresor, adjust dynamics. It would legitimately take 10 minutes for just a simple amp tone to sound not bad. Only then could you start to add dirt, modulation, delay, reverb etc. The TMP (Tone Master Pro) destroys the Helix in this category. Throw an amp in the chain, slightly eq it (which is so easy due to the footswitches being rotatable to adjust settings and the settings being listed on the scribble strips above the knobs) choose whether you want effects before or after the amp and you're golden. I can have a great usable tone on the TMP with all my effects in literally 3 minutes vs the 10 it would take on Helix for imo a lesser tone without effects. I have heard criticisms of higher gain based and Marshall amps lacking something in the TMP but this has not been my experience at all. Despite the near identical to the actual Tone Master amp line Fender amps, so far the Plexi and EVH amps are probably my favorite in the device. The amount of effects and amps is quite limited at launch (Fender have said to expect an update in 90 days then another every 6 months for "a very long time" so I expect there should be more) but on other devices I usually gravitate to only a small fraction of the amps anyways. I feel that the detail and intricacies in the TMP amps are really a cut above the rest so there not being 90 something amps like on the competitors doesn't really phase me. The effects are all great except for the distortions, I do find the distortions to be a bit lacking personally. Luckily this thing takes pedals and even fuzzes something many other modelers and even the actual Tone Master physical amp line has trouble with stupidly well. One of my favorite things is that when unplugging the TMP from studio monitors or the Fender Fr12 cab and plugging into a tube amp is that the pedals in the effects loop retain their quality and character. So you can easily add your pedals to this and have this be the heart of your setup and move your real pedals around in the chain to combine them with the TMPs pedals to your hearts content. I put a couple dirt pedals as well as some delay and reverb in the effects loops and honestly I'm not sure what more when combined with the TMP you could ever want. For years I have tried to find a decent headphone tone only to be disappointed time and time again. I've tried probably every headphone solution you could possibly imagine and I must say the TMP is far and away the best. Especially with it's on board bluetooth playing along backing tracks is like a smooth breeze. You'll lose hours in this thing. The looper is phenomenal, I love that it's so easily laid out and that it's so easy to retain the original sound of the loop while changing effects. There's something very special about playing a clean rhythmic loop on a Deluxe Reverb then jumping to a a perfectly saturated JCM 800 with a big delay to solo over it in the click of a button. Now on to the biggest point of all price. I am not a rich man by any means but I do not believe for a second this is overpriced. At least not in line with what everything else costs gear wise at the moment. Take for example if you we're to buy a Tonemaster Deluxe Reverb amp and a Boss Me 90, you'd be looking at roughly 1680 before taxes, if you were to buy an actual Deluxe Reverb Tube Amp you'd be paying $150 dollars less and if you bought 3 of any of the new v2 Strymon pedals you'd be paying $1560. How can this be overpriced when it does all the things those do and more? This thing is built like a tank, Fender have clearly designed it to be stepped on and gigged with and despite it perhaps not having the longevity of analog gear, in the world of $2000 smartphones I expect as an investment into improving your playing, it's ease of use and it's tonal quality it is most definitely worth the price. I highly, highly recommend trying one in person. Youtube reviews are not going to be helpful nor are all the gear experts who have never even tried one in forums or YouTube comment sections. I don't know how anyone could not like this thing and I couldn't reccomend it more.
Posted by

Reg

on

Oct 16, 2023

Protect your investment with the Long & McQuade Performance Warranty
A warranty can be a very important factor when making a buying decision. Because repairs can be very expensive in terms of parts and labour costs, manufacturers usually only provide one year limited warranties that generally only cover items that malfunction due to a manufacturer's defect. With an important purchase such as a musical
instrument or piece of studio gear, however, many people want to have the peace of mind in knowing that their investment will be protected should the product no longer be performing at 100%.
Because of this, Long & McQuade provides our customers with a FREE one-year Performance Warranty on most of our products. The Long & McQuade Performance Warranty supplements the manufacturer's warranty to ensure that our customers receive complete "no hassle" warranty coverage within their first year.
How does the Long & McQuade Performance Warranty differ from most manufacturers' warranties?
Performance Guarantee: Normal wear and tear is covered, so your product will be performing as well as the day you purchased it for the entire duration of the coverage. Band and Orchestral Performance Warranty does not include replacing pads or cleaning for woodwind instruments, unless deemed necessary by our repair staff. Ultrasonic cleaning for brass instruments will be provided if deemed necessary by our repair staff, but is not routinely offered under the Performance Warranty.
Product Replacement: If your product cannot be fixed or costs too much to fix, we will replace it with the equivalent model for no additional charge. If this is not possible, a full refund will be provided.
No Lemon Policy: Your product will be replaced should the same problem occur multiple times.
Convenient: Easy drop off and pick up of the product at any Long & McQuade location.
Guitar Setup: Guitars purchased at Long & McQuade come with 1 free setup, to be redeemed within 1 year for new guitars and 90 days for used guitars.
Loaners Available: A loaner product may be given while the product is being repaired.
Power Surge Protection: Your product is covered even if damaged from a power surge.
Accessory Coverage: Any peripheral devices or accessories that come with your product (i.e. foot pedal, case) are also covered.
Commercial Use Coverage: Music and recording professionals who purchase gear for "heavy-use" commercial purposes will still be covered.
Long & McQuade reserves the right to restrict the purchase of additional years of Performance Warranty. Used products come with a 3-month Long & McQuade Performance Warranty. Some products (i.e. computers, software, cymbals and other items) are covered only by the manufacturer's warranty. Consumables (i.e. strings, reeds, drum sticks, batteries, tubes, cross faders) are excluded as they are designed to be replaced. Cosmetic Damage, Accidental Damage, or problems caused by Humidity or Temperature Issues are not covered. Speakers damaged by overpowering are generally not covered. Our coverage does not provide compensation for loss of use. As of June 2018 the Performance Warranty is no longer transferable. The warranty is only valid in Canada.
Purchasing additional years of coverage
Some manufacturers provide warranties for longer than 1 year; however, these are usually limited warranties that do not provide the same coverage as the Long & McQuade Performance Warranty. Customers interested in more complete and convenient (but not necessarily longer) coverage are still able to purchase additional years of the Performance Warranty.
If you are interested in receiving this coverage for longer than one year, you have the option of purchasing additional years of the Performance Warranty. The pricing is as follows:
NEW products: 4% of the current new selling price to double the warranty from 1 year to 2 years. 4% for each additional year.
USED products: 4% of the current new selling price to increase the warranty from 3 months to 1 year. 4% for each additional year.
GUITARS: 4% of the current new selling price to double the warranty from 1 year to 2 years. 4% for each additional year. $45 maximum. An additional free setup is not included with additional purchased years of Performance Warranty.
BAND and ORCHESTRAL instruments: 4% of the current new selling price to double the warranty from 1 year to 2 years. 4% for each additional year.