Alfred Publishing
My Trip to the Mountains
---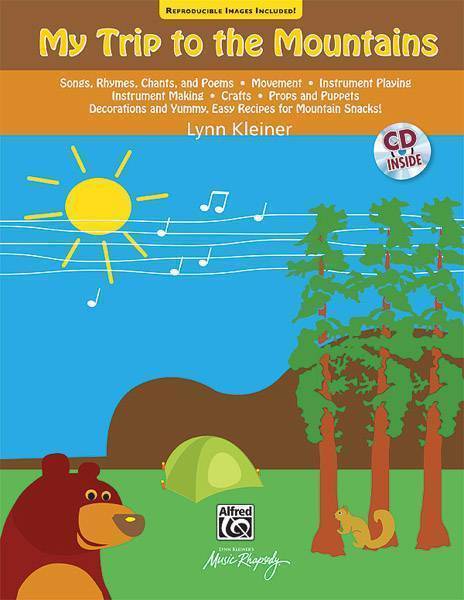 A delightful combination of music, humor, learning, and fun for music teachers, classroom teachers, child care providers…and kids! Through the enchanting songs, orchestral music, and activities in My Trip to the Mountains, kids will enjoy learning about music making, movement, listening, and life in the mountains through this engaging classroom curriculum. My Trip to the Mountains is fully reproducible, and all the songs are included on the toe-tapping CD. Craft and snack ideas are included to immerse students in a joyful, creative learning experience. Award-winning instructor and early childhood innovator Lynn Kleiner shares her creative lesson ideas for young children that capture the wonderful power and excitement of interactive musical learning. Song List:About Orff SchulwerkAbout The AuthorAcknowledgementsAdditional Mountain Theme ResourcesAnimal Puppet PatternsCd Track ListingCrawdad HoleCumberland GapDiddle Diddle DumplingDrivin' To The MountainsEagle In A NestEagle, Eagle, Where Is Your Nest?First Section From Third Movement Of Symphony No. 1Fish PoleGoing On A PicnicGrizzly BearGrizzly Bear MaskHanging OwlI Love The MountainsIn The Hall Of The Mountain KingLet Us Chase The SquirrelMaple ButterMaple Cinnamon Cream Cheese FrostingMini Fire PitMini Tent And Sleeping BagMorning From Peer Gynt Suite No. 1Mountain Arts And CraftsMountain Bug Chirping SticksMountain Classroom And Concert DecorMountain Coloring PagesMountain Instrument MakingMountain Snack RecipesMountain Trail MixMusical Instrument Coloring PagesNature Wind ChimeNo Fire SmoresOn My Trip To The Mountains With YouOnce An Austrian Went YodelingOptional Bee And LadybugPbj Mountain SandwichPeanut Butter, JellyPicnic BasketPie-Tin BanjoPitch Matching And Beautiful SingingPom-Pom Bear And Mountain PuppetPretzel Fire PitPretzel Log CabinRocky MountainSand Paper Roof Log CabinSequoiaSequoia Bear PuppetSequoia Blue Jay PuppetSequoia Bunny PuppetSequoia Fox PuppetSequoia Owl PuppetSequoia Squirrel PuppetSequoia Tree PuppetShe'll Be Comin' 'Round The MountainSing Like A Bird!Sleepin' BagSongs, Rhymes, And ChantsSpoonsThe Bear Went Over The MountainThe Owl SongTube DrumWashboardWho, Who, Who Are You?
There are currently no questions for this product.
There are currently no reviews for this product. Be the first to write one!