G. Henle Verlag
Clarinet Sonata op. 167 - Saint-Saens/Jost - Clarinet/Piano - Book
---
Additional Photos: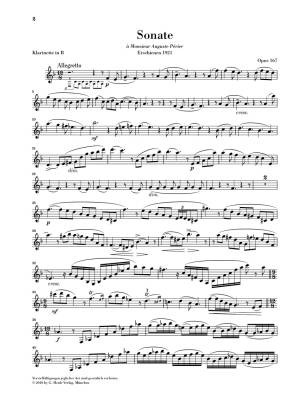 Composer: Camille Saint-Saens
Editor: Peter Jost
Fingering: Klaus Schilde
Format: Softcover
Instrumentation: Clarinet and Piano

For this Urtext edition of the Clarinet Sonata op. 167 Henle were able to consult the autograph for the first time. "At the moment I am putting my last ounce of energy into giving seldom considered instruments an opportunity to be heard", Saint-Saens wrote to a friend in April of the year he died. A sonata for oboe, one for clarinet and one for bassoon were thus composed; yet he was not to hear the premieres. As far as form and inflection are concerned, the three wind sonatas op. 166 - 168 hark back to the gallant style of the 18th century and thus approach the neoclassicism movement around 1920. Humour, wit and fine irony characterise these works for wind.
There are currently no questions for this product.
There are currently no reviews for this product. Be the first to write one!