Oxford University Press
European Sacred Music - Rutter - SATB
---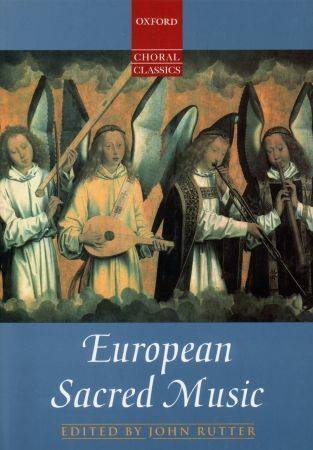 Editor: John Rutter
Voicing: SATB accompanied & unaccompanied
Difficulty: Easy to moderately difficult
European Sacred Music is a collection of over 50 of the finest examples of sacred choral music from continental Europe, ranging from the sixteenth to twentieth centuries. John Rutter has prepared completely new editions of all the pre-twentieth-century items, going back to the earliest and most reliable manuscript or printed sources. New English singing translations are provided for most pieces, and playable keyboard reductions.
Orchestrations are available for hire for the eight accompanied items (Bach:
O Jesu Christ, meins Lebens Licht
; Buxtehude:
Magnificat
; Faure:
Cantique de Jean Racine
; Franck:
Panis angelicus
; Gabrieli:
Jubilate Deo
; Mendelssohn:
Verleih uns Frieden
; Monteverdi:
Beatus vir
; Mozart:
Ave verum Corpus
)
Some items from this volume are available separately as leaflets in the Oxford Choral Classics Octavo series.
Contents:
Allegri: Miserere
Anerio (F.): Christus factus est
Arensky: The Lord's Prayer
Bach: O Jesu Christ, meins Lebens Licht, BWV 118
Brahms: Ach, arme Welt, Op. 110 no.2
Brahms: Geistliches Lied, Op. 30
Brahms: Warum ist das Licht, Op. 74 no.1
Bruckner: Ave Maria
Bruckner: Christus factus est
Bruckner: Locus iste
Bruckner: Os justi
Buxtehude: Magnificat
Casals: O vos omnes
Faure: Cantique de Jean Racine
Franck: Panis angelicus
Gabrieli (G): Jubilate Deo a 8
Gesualdo: O vos omnes
Glinka: The Cherubic Hymn
Grieg: Ave maris stella
Guerrero: Ave Virgo sanctissima
Handl (Gallus): Pater noster
Hassler: Dixit Maria
John IV of Portugal: Crux fidelis
Josquin Desprez: Ave Maria
Lassus: Adoramus te, Christe
Lassus: Ave verum Corpus
Lassus: Timor et tremor
Lotti: Crucifixus a 8
Mendelssohn: Verleih uns Frieden
Mendelssohn: Psalm 43 (Richte mich, Gott)
Monteverdi: Beatus vir
Monteverdi: Cantate Domino
Monteverdi: Christe, adoramus te
Mozart: Ave verum Corpus
Palestrina: Exsultate Deo
Palestrina: Sicut cervus
Palestrina: Tu es Petrus and Quodcumque ligaveris
Poulenc: Salve Regina
Rachmaninov: Ave Maria
Rheinberger: Abendlied, Op. 69 no. 3
Reger: Unser lieben Frauen Traum
Rossini: O salutaris
Schubert: Psalm 23
Schutz: Psalm 100
Schutz: Selig sind die Toten
Stravinsky: Ave Maria
Sweelinck: Laudate Dominum
Tchaikovsky: Hymn to the Virgin
Verdi: Ave Maria
Viadana: Exsultate justi
Victoria: Ave Maria a 4
Victoria: Jesu, dulcis memoria
Victoria: O quam gloriosum
Victoria: O vos omnes

There are currently no questions for this product.
There are currently no reviews for this product. Be the first to write one!