Themes & Variations
Handel C Soprano Recorder - German - 2 Piece Plastic - Package w/Book/CD
---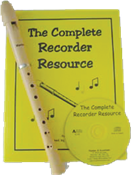 Package includes:
- Handel C soprano recorder (manufactured by Angel), 2 piece with case and fingering chart. This recorder is made of a thicker plastic material and sounds almost like a wooden recorder. It is almost impossible to overblow in the low register and is a superb student recorder!
- Recorder Resource Student Book/CD 1
Songs Include:
Just B
Just A
A and B Blues
Just G
G and A Blues
Side Step
Au clair de la lune
Hot Cross Buns Theme and Variations
Starlight
Lucy Locket
Kagome
BAGE Blues
Little Tommy Tiddlemouse
Trampin'
Doggie Doggie
Salish Hand Game
Skin and Bones
Frog in the Middle
Country Swing
Ho Ho Watanay
My Paddle
Rondo
"C" You in Dixie
Hush Little Baby
Sanctus
Bouffons
C and D
Jesu, Joy of Man's Desiring
Ode to Joy
Renaissance Round
Closet Key
From the New World
Morning
Good King Wenceslas
Jingle Bells
Jolly Old St. Nicholas
The C Scale
Camptown Races


There are currently no questions for this product.
There are currently no reviews for this product. Be the first to write one!