Planet Waves
NS Artist Capo - Black
---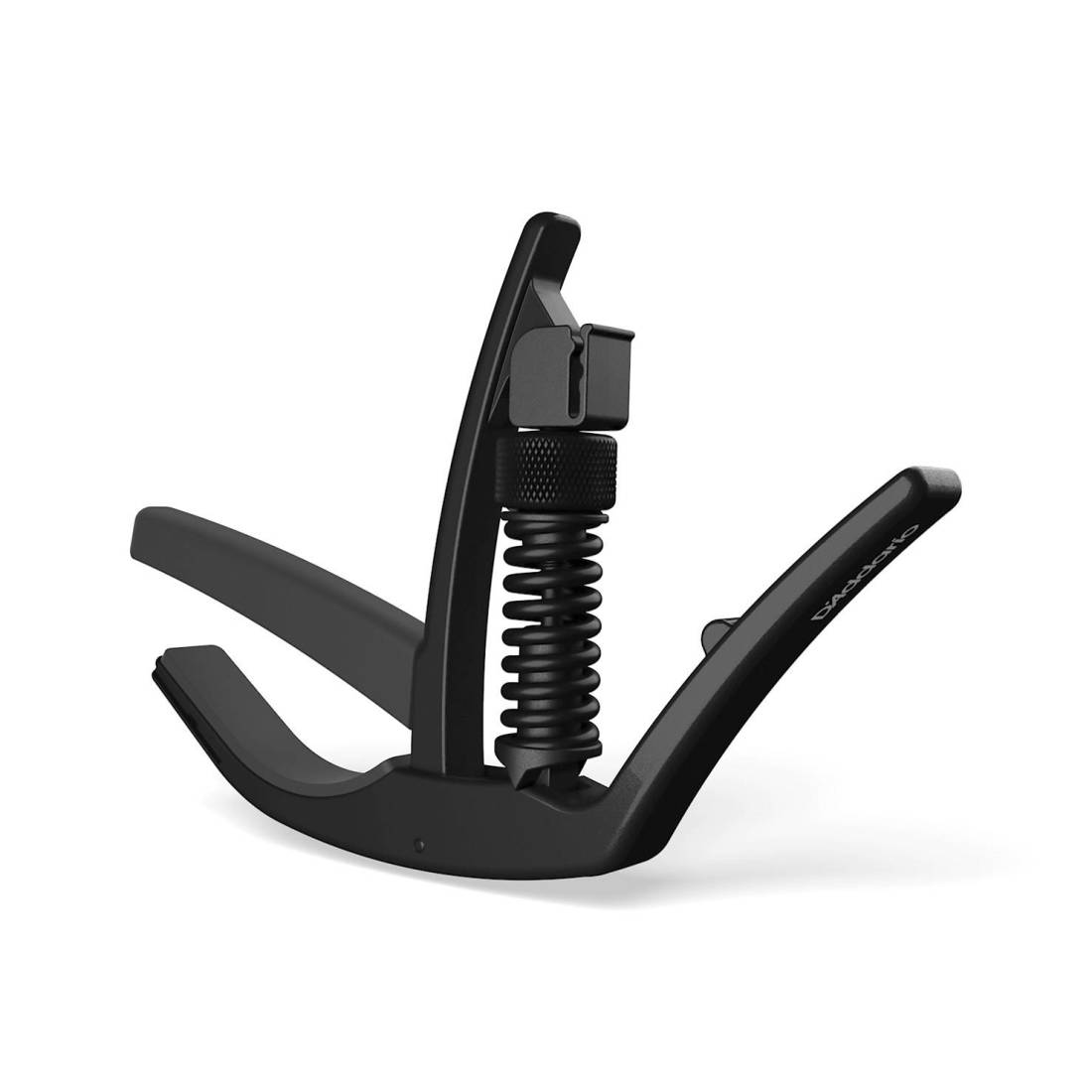 Additional Photos: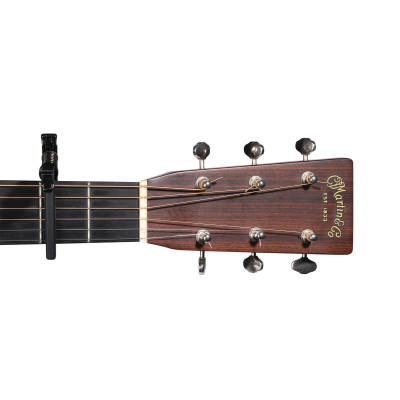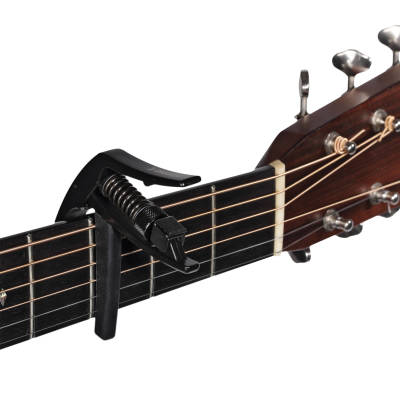 Product Videos :
YouTube Video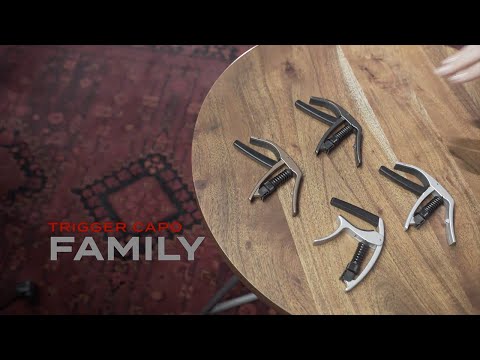 The NS Artist Capo utilizes a patented tri-action geometry reducing the force required to open and close the capo while applying even tension regardless of neck profile. Combined with the micrometer tension adjustment and direct horizontal pressure, the NS Artist Capo virtually eliminates pulling the strings side to side and the need to retune during use. Additionally, the trigger-style design and lightweight aluminum construction adds no obstruction or noticeable weight to the neck of the instrument. The NS Artist Capo includes an NS Mini/Micro Tuner mounting bracket, allowing you to add tuning capabilities to the capo. Tuner sold separately.

• Designed for use on 6-string electric and acoustic guitars
• Micrometer tension adjustment assures buzz-free in-tune performance at every fret
• Patented Tri-Action geometry offers easy use and even clamping tension
• Lightweight aircraft-grade aluminum construction
• Integrated pick holder
• Includes NS Micro Tuner mounting bracket

*Micro tuner not included
Youtube video product demo
Description: D'Addario trigger capos assure a buzz-free, in-tune performance at any fret. Available in two different styles to fit your preference, with our Tri-Action and Artist series.
There are currently no questions for this product.
3.236.46.172
CCBot/2.0 (https://commoncrawl.org/faq/)
Re-test and re-think
0 of 0 customers found this review helpful
Product Experience
I own it
Closest Store
Stratford, Ontario
Decided to compare this capo to the Planet Waves NS Capo - PW-CP 02 model. The NS fits my classical flat wide neck, but since my Takamine 740 FS guitar has such a gentle radius it worked just fine. The width of the Tak nut is 1 7/8" so this puts more demand on the capo to hold the setting, especially with steel strings.
I was stunned by the difference in sound. Adjusting the Artist model to various settings it gave a good sound, although when strummed seemed to be a bit duller. Putting on the basic PW capo - the difference was immediate and pronounced. Even with the flat rubber for classical it worked perfectly and simply followed the thickness of the strings on a slightly downward angle. Once set, it holds that tension exactly. The brightness of all the strings, but especially the top E&B strings, gave bell like tones with more sustain. Finger picking brought out these fine tones whereas the Artist capo seemed to hide them. Strumming - same deal. Went from duller to brighter more defined harmonics.
Must have something to do with the spring clamp mechanism which will give under strumming, even if you tighten up the spring, which now makes the notes go sharp. The PW Capo is small, light, and effective. The classical model does flat or slight radius fretboards. Look no further.
Posted by

IVM

on

Mar 14, 2018
Works just bulky
0 of 0 customers found this review helpful
Product Experience
I own it
Closest Store
Stratford, Ontario
Have used this capo for a couple of years now. Applies even pressure regardless of the neck profile of my various guitars. Nice to be able to apply just enough pressure to get the strings without buzz, and not overdo it to make them go sharp. But you do need to work it a bit otherwise the middle strings may buzz. It works, it's a good cap, but the amount of metal and overall size has me looking for a different model. If you do a lot of capo work and are constantly moving it, then this might be a great option.
Posted by

IVM

on

Mar 14, 2018
i love this capo
3 of 3 customers found this review helpful
Product Experience
I own it
Closest Store
Vancouver, British Columbia
i lost my old G7th performance Capo, so I decided to try something different.
I finger pick with custom light strings. i have used kyser capo, but spring was too tight for my style. With this one, I can adjust the tension the way i like. If you like struming very hard with heavier gauge, you might find this NS capo a bit weak. For me, this capo is perfect.
Posted by

anonymous

on

Nov 1, 2015
N/A
1 of 2 customers found this review helpful
Product Experience
I own it
Closest Store
Waterloo, Ontario
Posted by

anonymous

on

Nov 25, 2014