Frederick Harris Music Company
RCM Cello Level 4 Repertoire - Cello Series 2013 Edition - Book/CD
---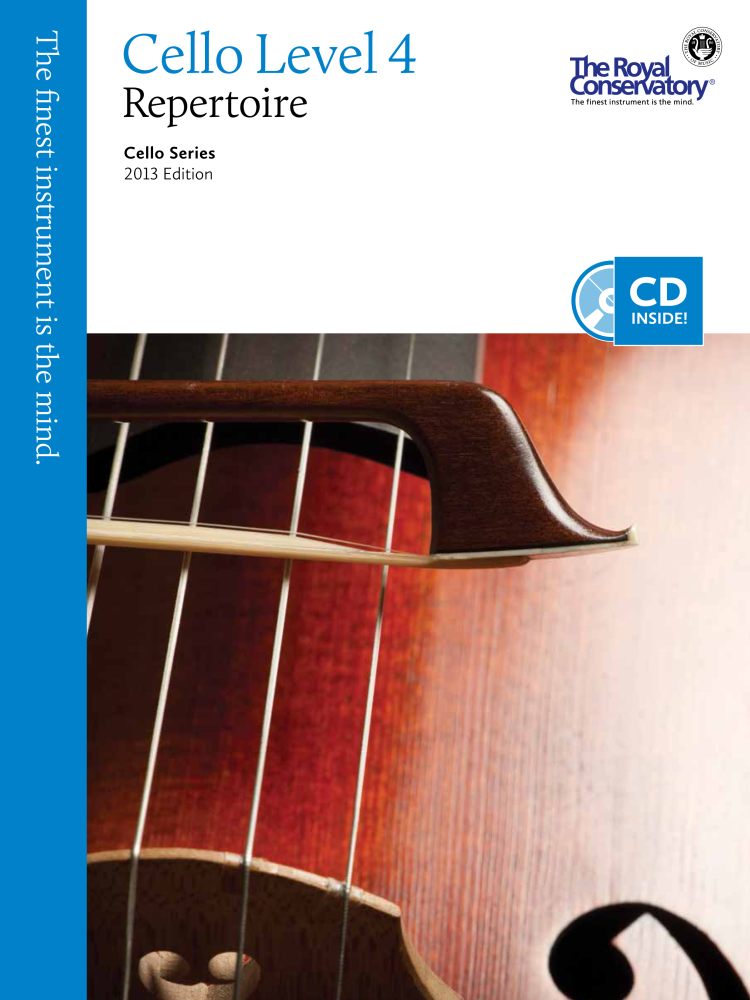 Author: Royal Conservatory Of Music
Format: Book
Instrumentation: Cello
Level: 4
This inaugural edition of the
Cello Series
offers a sound and progressive collection of
Repertoire, Recordings, Etudes, Technique,
and
Orchestral Excerpts
for the aspiring cellist. With an expansive representation of musical styles from all eras, this series addresses the need for a single collection of quality educational materials to foster musical development and instil appreciation for the richness and diversity of music written for cello.
Supporting a balanced course of study, this series organizes repertoire into nine volumes from the Preparatory Level through Level 8. Each level offers music from a range of styles and compositional eras, including standard literature, new arrangements of familiar tunes, and music written for cellists, by cellists. These selections provide the flexibility to choose pedagogically appropriate material suited to each individual, and to motivate students to fully develop their musicianship and technique.
Table of Contents
Baroque and Classical Repertoire:

Chaconne - Handel, George Frideric arr. Peter Heilbut
Un ballo (A Ball) - Steibelt, Daniel arr. Eugen Rapp
Schwedisch (Swedish) - Romberg, Bernhard arr. Percy Such
When I Am Laid in Earth (from Dido and Aeneas) - Purcell, Henry
Concertino No. 4 in C Major, op. 22 - Breval, Jean-Baptiste arr. L.-R. Feuillard
Ombra mai fu (Never Was a Shade) Handel, George Frideric arr. Gaston Borch

Traditional and Romantic Repertoire:

The Joker, op. 126b, no. 3 - Grechaninov, Alexandr
Anitra's Dance - Grieg, Edvard arr. Ann Lindsay
She's Like the Swallow - Canadian folk song arr. Forrest Kinney
Joyeuse (Joyful) - Squire, William Henry
After the Bass Is Over - Harris, Charles K. arr. Pat Legg and Alan Gout

Repertoire Composed after ca 1930:

Hen and Rooster - Konicek, Zdenek
Latin Nights - Blackwell, David and Kathy Blackwell
Running of the Bulls - Cheney, Elliott W.
Wrist Watch - Birston, Harold
Sunday Drag - Perry, Anita D.
Soft-Shoe Dance - Reubart, Dale
For a Blue Note - Allerme, Jean-Marc
There are currently no questions for this product.
There are currently no reviews for this product. Be the first to write one!