Frederick Harris Music Company
RCM Trumpet Level 4 Repertoire - Trumpet Series 2013 Edition - Book/CD
---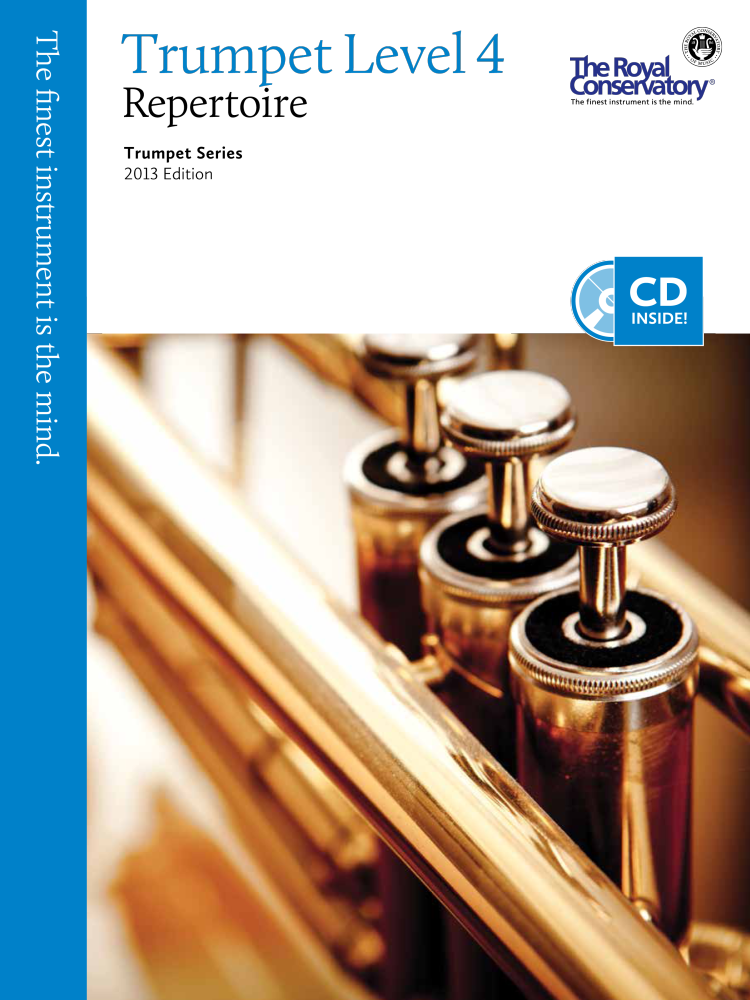 Author: Royal Conservatory Of Music
Format: Book & CD
Instrumentation: Trumpet
Level: 4
A comprehensive pedagogical resource, the
Trumpet Series, 2013 Edition
addresses the need for a single collection of quality music materials to foster development from the beginner to advanced levels. With
Repertoire, Compact Discs, Etudes, Technique,
and
Orchestral Excerpts,
this series offers a balanced and organized course of study for the aspiring virtuoso.
Table of Contents
Rythmic Repertoire:

Habanera, from Carmen, act 1 - Bizet, Georges arr. Stephen Chatman
Proclamation, Serenade, and Frolic - Getchell, Robert W.
- First Movement: Proclamation
- Second Movement: Serenade
- Third Movement: Frolic
Andante con moto, op. 72, no. 4 - Mendelssohn, Felix arr. Jason Noble
His Rest - Farnaby, Giles arr. Eve Barsham and Philip Jones
Alman - Johnson, robert arr. Eve Barsham and Philip Jones
Arban's Romp - Arban, Jean-Baptiste arr. John Wallace and John Miller
The Victor - Endresen, Raymond Milford
The Kelligrews Soiree - Burke, Johnny arr. Hugh J. McLean
Wer's jagen recht begreifen will (Anyone Who Wants to Understand the Hunt) - Krieger, Johann Philipp arr. Christine Donkin
J'entends le moulin (I Hear the Mill Wheel) - French Canadian folk song arr. Jason Gray
Road Runner - Smith, Leonard B.

Lyrical Repertoire:

Ach, es bleibt in meiner Liebe lauter Unvolkommenheit!, BWV 77 - Bach, Johann Sebastian
Londonderry Air - Irish folk song arr. Christine Donkin
English Suite - Munro, George arr. R. Bernard Fitzgerald
- Second Movement: Aria
Come Unto Him, from Messiah, HWV 56 - Handel, George Frideric
Bist du bei mir (Abide with Me) - Stlzel, Gottfried Heinrich
Fayne Would I Wedd - Farnaby, Richard arr. Christopher Hugh Dearnley
Sento nel core (I Feel My Heart) - Scarlatti, Alessandro
Jeanie with the Light Brown Hair - Foster, Stephen
Barbara Allen - Traditional arr. Don Sweete
En fermant les yeux (Closing My Eyes), from Manon, act 2 - Massenet, Jules
There are currently no questions for this product.
There are currently no reviews for this product. Be the first to write one!