Alfred Publishing
Guitar World: Mastering Scales - Brown - DVD
---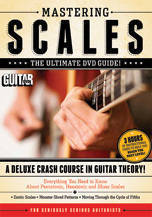 The Ultimate DVD Guide! A Deluxe Crash Course in Guitar Theory!

Author: Jimmy Brown
Format: DVD
Instrumentation: Guitar
Level: Intermediate

In Guitar World: Mastering Scales, senior editor of Guitar World Magazine Jimmy Brown teaches everything you need to know about the pentatonic, hexatonic, and blues scales; plus exotic scales, monster shred patterns, and moving through the circle of fifths. Presented in 12 chapters, this DVD is a deluxe crash course in guitar theory, with more than 80 minutes of instruction to help get you to the next level!
There are currently no questions for this product.
There are currently no reviews for this product. Be the first to write one!