Alfred Publishing
Guitar World: 20 Essential Metal Licks - DVD
---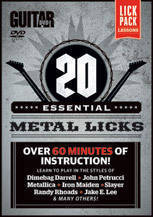 Learn to Play in the Styles of Dimebag Darrell, John Petrucci, Metallica, Iron Maiden, Slayer, Randy Rhoads, Jake E. Lee, and many more!

Author: The Editors of Guitar World
Format: DVD
Instrument: Guitar
Level: Beginner / Intermediate

Master the essential techniques used by metal artists like Metallica, Pantera, Slayer, Dream Theater, Iron Maiden, and many others. In this feature-filled Lick Pack DVD, you'll learn the essentials of metal guitar playing, such as two-note harmonies and power chords, alternate-picking and hammer-on accents, pentatonic wide-stretch leads, string-skipping arpeggios, fast alternate picking, legato arpeggios, and more! You'll also be treated to artist-specific licks, including melodies a la Metallica and Testament, Dimebag Darrell-style picking techniques, and Slayer-inspired thrash!
There are currently no reviews for this product. Be the first to write one!