Orange Amplifiers
1 Button Footswitch
SKU: #

327501
|
Model: #

MC-FS1
|





Product Reviews

2 Reviews
Write a Review
---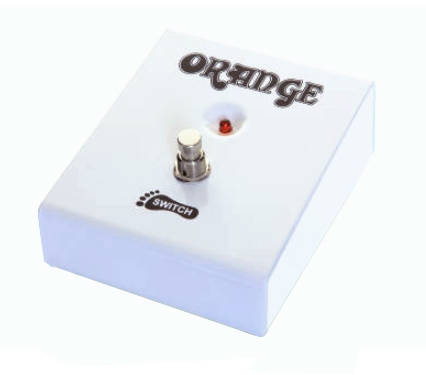 These heavy duty footswitches are perfect for all of your Orange switching needs!

Features:
• Channel Switching: All twin channel valve amplifiers and Crush Pro amps.
• Reverb Engage/Defeat: Rockerverb, Thunderverb and Crush Pro amps.
• Attenuator Engage/Defeat: Thunderverb and Dual Dark series.
• Master Volume Lift: OR50
• EQ Lift: Custom Shop 50
• Global Boost/Gain Boost: OR100
• Both single and dual button footswitches are housed in a sturdy metal casing and have an LED indicator. The 1/4″ jack on the back allows you to customize the length of the cable you use running from the footswitch to your amp.

*NOTE• Cable is not included. Not for use with Crush Pix series.
3.233.219.103
CCBot/2.0 (https://commoncrawl.org/faq/)
Works Great!
0 of 0 customers found this review helpful
Features





Quality





Value





Overall





Product Experience
I own it
Closest Store
Kingston, Ontario
Very solid build and works as it should with my 35RT. Have never had a problem.
Posted by

Roy

on

Jan 22, 2021
It's definitely a button, but...
4 of 9 customers found this review helpful
Features





Quality





Value





Overall





Product Experience
I own it
Closest Store
North York, Ontario
It works, though not how I would expect it to.
I connected this to my Orange Rocker 15 Terror head and fiddled with it. And by "fiddled", I mean after connecting it to my amp and turning it on with the Natural channel engaged, I pushed the button and... nothing. So I thought "Okay, let's check the connections". So I did, and everything was fine. Using the channel switch on the amp, I switched it over to the dirty channel. Instantly, the light on the footswitch lit up. "Odd.." I thought. I pushed the button again. Light goes off, amp channel switches to Natural. So you mean to tell me that the amp's channel switch has to be on the Dirty channel for this thing to work? Why? Why can I not have the amp turned on with the Natural channel engaged by default and switch to the Dirty channel afterwards? That's more a knock against the Orange Rocker 15 Terror amp itself than this footswitch. So ultimately, this doesn't work the way I would expect it to which is disappointing.
As far as the switch itself goes. It's definitely a button and a light. Packed in a bag with that piece of paper no one reads, packed in a plain cardboard box. I think the cat is enjoying the box more than I enjoyed the plain unboxing experience. Really, for the price point, Orange could have thrown in a small instrument cable to connect this to the amp, but nope, you just get the button. At least the button gives a hard "click" which pressed.
Build quality is where this button shines. It's built more like what you'd expect from a Boss pedal. It's going to withstand a beating night after night, show after show. As for it's size, I'd say it's comparable to the EHX Little Big Muff.
Price is where this product falls flat. At $70 + tax, you're paying just to have the matching button for your amp. In my case, this button should have been included with the Rocker 15 Terror. There's nothing special about this box. It's a button and a light. The build quality alone does not justify its price and there's other bits about this button that should have been better like an included instrument cable, maybe some faceplates or stickers that indicate how we intend to use the button with our amps, or just general "value added" things that would justify the cost. Fender's programmable 2 button footswitch is half the cost of this one, includes cables and is built just as well.
Conclusion: Unless you're getting this at a discount, know that a lot of your money could be going towards other things if you decided to buy a different switch. As I mentioned previously, you're paying for the luxury of having a matching button for your amp. If you're okay with that, buy it. If you're on the fence, you have better options in other brands that will do the job just as well.
Posted by

Nick

on

Oct 31, 2018