Themes & Variations
Smart Vocal Warm-Ups - Heisler - Book/CD
---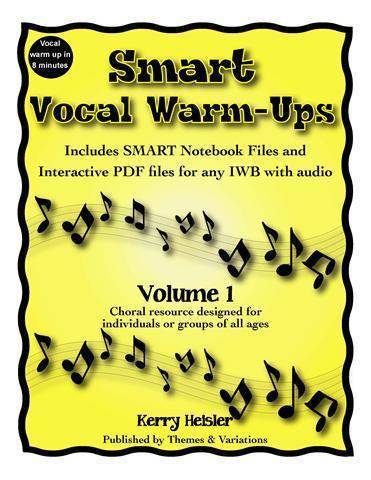 Kerry Heisler has written a wonderful collection of warmups for young voices, Strictly Warmups. This collection of vocal warm-ups was developed from a need identified in the author's private teaching practice. It was first published as a book/CD titled, "Strictly Warm-ups". This is the digital version to use with computer/ projectors, IWB, or SMART Boards.

There are five different sets of warmups. Each set includes a physical warm-up, breath awareness, and exercises to work on range, dipthongs, vowels, diction, and swing rhythms. The author suggests using each set for at least three rehearsals to allow vocalists to become familiar with the warm-ups, and then move on to the next set. If you have rehearsal three times a week, this program will cover five weeks of rehearsals before repeating a set.

Now this collection is available in a projectable format with linked audio. Each of the exercises is recorded by a female and male singer. The singers model how to do the exercises, then drop out so your choir can sing with the piano accompaniment.

You can use this product with any computer/projector or interactive whiteboard. It's given in two different formats. For teachers with any IWB or computer projector, an interactive PDF file is included. For teachers with a SMART Board, the warmups are included in a SMART Notebook file.
There are currently no reviews for this product. Be the first to write one!