Themes & Variations
Nancy's Daily Phys-Ed For Kids Volume 1 - Nancekivell - DVD
---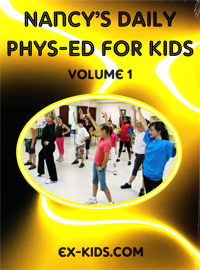 This exercise DVD is a fun and easy way to provide daily physical activities in your classroom. It's the perfect indoor recess activity for Grade 1-6 classes! Play the DVD on a DVD/TV or project via computer to a Smartboard. Nancy leads a group of students in a fun, safe, efficient and effective 30 minute fitness program.
The 10 routines are designed to motivate students by moving to music with easy-to-follow patterns. Students learn basic fitness movements, then follow a series of movements improving concentration, stamina, and co-ordination. Limited space and no equipment is required.
The DVD begins with a warm-up, followed by routines in varying levels of intensity to gradually increase the heart-rate, sustain the heart rate, and then gradually reduce the heart rate back to a pre-exercise state, ending with a cool-down. This is a kids classroom workout that provides great cardio!
Exercises Include:
Bull Rider
Surfin with Rhonda
Surf's Up Dude
Moonshine
Bumpin' Hop
Breakthrough for Life
Truck Monster
Boomerang Jam
Cool Down
Boomerang Jam and Breakthrough for Life are written and recorded by Susie Davies-Splitter and Phil Splitter. Join in Music Used with permission
Nancy Nancekivell (B.A.,B.Ed.), choreographer, has been an elementary school teacher in Ontario since 1976, with a focus in music, drama, and dance. She graduated from the University of Western Ontario with studies in Psychology, Child Development and Psycholinguistics. She has her Special Education Part 1, and is a Can-Fit Pro Fitness Instructor Specialist. With an extensive music and dance background (ballet, tap and jazz) Nancy has written, produced, and choreographed plays for her students and organized and instructed school dance and fitness groups throughout her career.
The exercises provided by Ex-Kids (and www.Ex-Kids.com) are for educational and entertainment purposes only, and are not to be interpreted as a recommendation for a specific treatment, plan, product or course of action. Exercise is not without its risks, and this or any other exercise program may result in injury. They include, but are not limited to: risk of injury, aggravation of a preexisting condition, or adverse effect of overexertion such as muscle strain, abnormal blood pressure, fainting, disorders of heartbeat, and very rare instances of heart attack. To reduce the risk of injury, before beginning this or any exercise program, please consult a healthcare provider for appropriate exercise prescription and safety precautions. The exercise instruction and advice presented are in no way intended as a substitute for medical consultation.
There are currently no questions for this product.
There are currently no reviews for this product. Be the first to write one!