Themes & Variations
We Remember - Jay/Kazmierczak/Cassils - Book/CD
---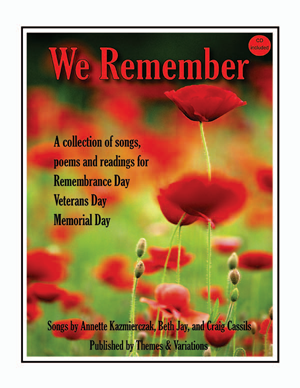 Composers: Beth Jay, Annette Kazmierczak and Craig Cassils
Format: Book and CD
Voicing: 2pt with piano accompaniment
Your Remembrance Day assembly will be easy to plan when you use the songs, poems and quotes in this collection. The entire collection is beautiful and very singable for young classes or choirs. The songs will be a moving tribute to all veterans.
Songs by Beth Jay, Annette Kazmierczak and Craig Cassils include:
In Flanders Field
Take One Minute to Stand
Standing Silently
Why do we Have Remembrance Day
May You Dwell in Peace
Dona Nobis Pacem
Be a Peacemaker
Unity
The CD has beautiful orchestrations and vocals! The CD includes full performance, part 2 only (for 2 part songs), and accompaniment tracks.
There are currently no questions for this product.
There are currently no reviews for this product. Be the first to write one!