Homespun
Irish Fiddle Bundle Pack - Burke - Book/CD/DVD
---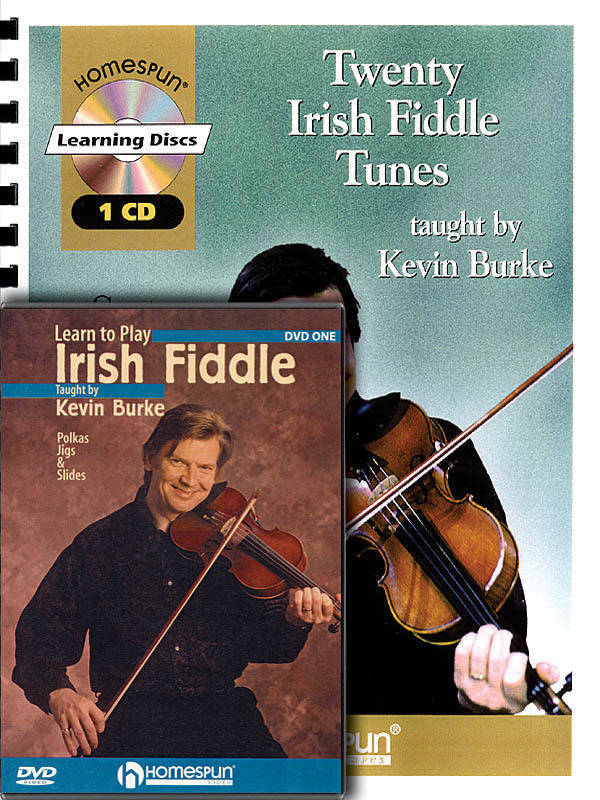 Includes 20 Irish Fiddle Tunes (Book/CD) and Learn to Play Irish Fiddle (DVD)
Series: Homespun Tapes
Publisher: Homespun
Artist: Kevin Burke
Format: Book/CD/DVD
Instrumentation: Fiddle
This budget-saving bundle pack includes:
20 Irish Fiddle Tunes (Book/CD Pack)
Kevin Burke, one of the true masters of the Irish fiddle, teaches these 20 tunes taken from his vast repertoire of Irish traditional music. He plays each one slowly for novice players, then up to tempo with all the ornaments to give the learning instrumentalist the true feel of the tune.
Songs:
Rolling in the Ryegrass
The Sligo Maid
The Earl's Chair
The Wind That Shakes the Barley
Down the Broom
The Gatehouse Maid
The Sailor on the Rock
The Humours of Lissadell
The Maid Behind the Bar
The Maids of Mitchelstown
The Stack of Barley
Rise a Mile
Tune from Gurteen
The Scotsman over the Border
Tommy People's Jig
Andy McGann's Jig
Old Man Dillon
Sean Ryan's Jig
A Polka
A Slide
Learn to Play Irish Fiddle (DVD)
This course in traditional Irish fiddling covers rhythmic devices and other variations, including grace notes, ornaments, rolls, double-stops. Songs: Saddle the Pony, The King of the Fairies, Bill Sullivan's Polka, Johnny Leary's Slide, and more. Beginner level.
Duration: 1 hr., 30 min.
There are currently no questions for this product.
There are currently no reviews for this product. Be the first to write one!