Golden Age Project
Rackmount Kit for 2 Golden Age Half-Rack Units
---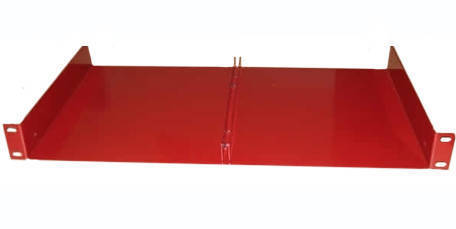 Rackmount kit for two Golden Age Project half-rack units.


Features:

• Fits all standard 19" racks
There are currently no questions for this product.
18.207.160.97
CCBot/2.0 (https://commoncrawl.org/faq/)
Very well worked out
3 of 3 customers found this review helpful
Product Experience
I own it
Closest Store
Mississauga, Ontario
I recently bought one of these, despite a negative review I had read here. I'm happy to be able to report that the previous reviewer's problem was user error. The unit is very well designed and if anything, overbuilt. Assembly was pretty obvious, it you're used to such things. Be aware that there are both pan-head and counter-sink screws; the counter-sink screws go in the holes that are drilled for -uhm - counter-sink screws. Assemble the centrral rail bar to the pre-amp first (barely finger-tight) then install the unit in the rack (also only finger-tight) and make sure it's aligned the way you want. Carefully remove the unit from the rack and tighten the screws on the rail. Don't overdo it. Then reinstall and tighten the remaining screws. If you're only putting in one unit, the little bag with the extra screws fits neatly between the two central rails. Just assemble that and the rest of the pieces, and no bits can get lost while you save up for the matching compressor. It is kind of expensive, though.
Posted by

Les Smith

on

Aug 17, 2017
To tight of a fit
0 of 0 customers found this review helpful
Product Experience
I own it
Closest Store
St. John's, Newfoundland and Labrador
I purchased this unit with 2 pre 73 mk3 units. I was extremely careful putting the 2 units into the rack mount after figuring out how it would go together because no instructions were supplied. The unit eventually got put together but the main issue was how much the 2 pre amps got chipped from the mounting process. The center rail was almost impossible to insert between the 2 half rack units and even tho I was extremely careful I now have 2 brand new preamps that already have chips of paint missing from the units. If you purchase this unit I would sand the center rail on the sides a little to ensure a less tight fit. I am very dispointed in the results of racking these preamps. An extra 64th of a inch of space would of made a huge difference. The product works but could scratch your new units.
Posted by

Luc Desrochers

on

Jul 19, 2017