Frederick Harris Music Company
Celebration Series, 2015 Edition Piano Repertoire 1 - Book/Audio Online
---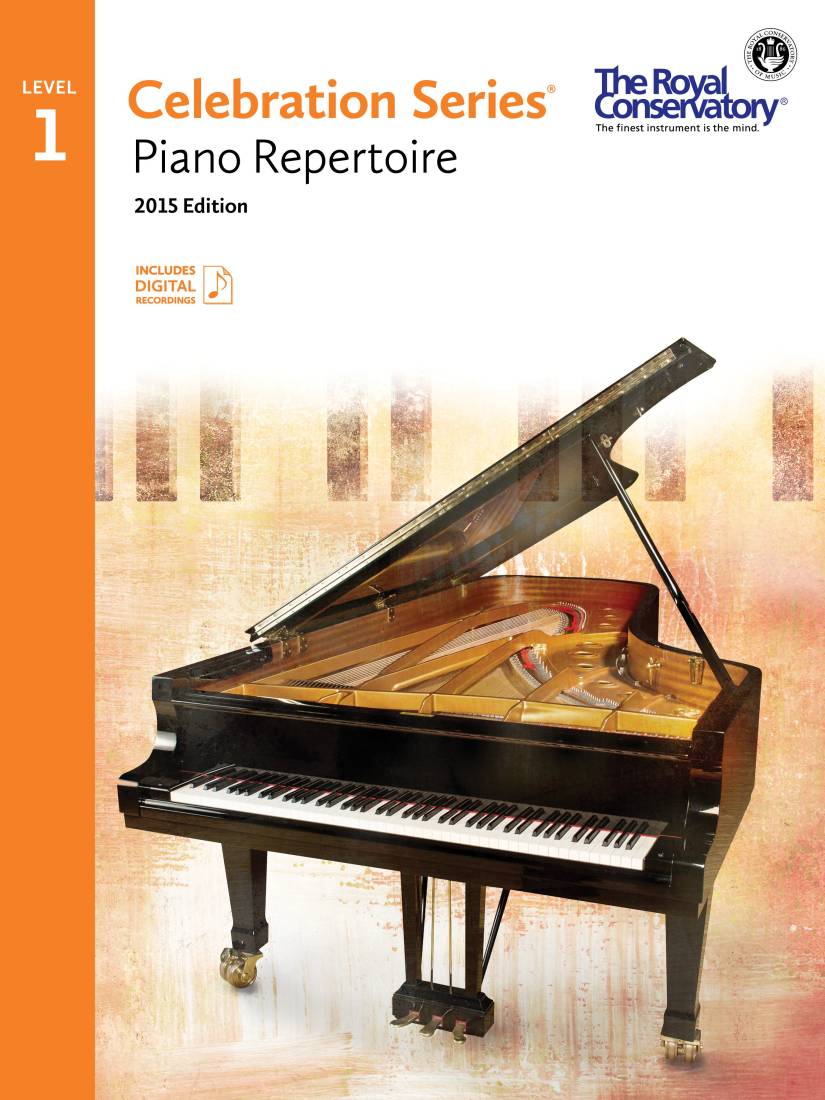 This product is no longer available.
Composers: Various
Format: Book with Audio Online
Instrumentation: RCM Piano Repertoire
Level: 1
Celebration Series, 2015 Edition
is a comprehensive series of graded repertoire and etudes for piano. This outstanding collection of music from the Baroque era to the present day provides thoroughly engaging teaching and learning materials. Each book includes high-quality recordings, easily accessible online, to inspire students and teachers.
The Piano Repertoire
books provide a representative collection of pieces from the Baroque, Classical, Romantic, and contemporary style periods. These volumes are the ultimate resource for examinations, recitals, festivals, competitions, auditions, and personal enjoyment.
Contents:
List A: Baroque and Classical Repertoire
German Dance in D Major, Hob. IX:22, No. 2 - Franz Joseph Haydn
Pyrenese Melody - Muzio Clementi
Minuet in A Minor - Johann Krieger
Allegro in B flat Major, K3 - Wolfgang Amadeus Mozart
Burlesque in G Major - Anonymous
The Ballet - Daniel Gottlob Trk
Minuet in F Major, K2 - Wolfgang Amadeus Mozart
Ecossaise in E flat Major - Ludwig van Beethoven
Andante in G Minor - George Philipp Telemann
Aria in F Major, BWV Anh. 131 - Johann Christian Bach
List B: Romantic, 20th-, and 21st-century Repertoire
Waltz, op. 39, no. 13 - Dmitri Kabalevsky
A Little Piece, op 6, no. 2 - Alexander Gedike
Early One Morning - arr. Frederick Silvester
Dance of the Martians - Mike Schoenmehl
Mist - Clifford Poole
Spring Light - Stephen Chatman
Robots - Anne Crosby Gaudet
Climb up on an Elephant (Monte sur un elephant) - arr. Nancy Telfer
Bears - Linda Niamath
Lost - Elissa Milne
Red Satin Jazz - Martha Mier
Toy Soldiers March - Dianne Goolkasian Rahbee
Song of the Dark Woods - Elie Siegmeister
Dream Journey - Christine Donkin
Mountain Melody - Norman Dello Joio
Blinky the Robot - David Carr Glover
Angelfish - Anne Crosby Gaudet
A Starry Night - Italo Taranta
List C: Inventions
Frere Jacques Stands on His Head - Clifford Poole
Cranky Cat - Teresa Richert
Teapot Invention - Andrew Markow
Canon - Carleton Elliott
Young Ludwig Exploring - Forrest Kinney
Swirling Leaves - Gordon A. McKinnon
The Snake - Rene Christopher
There are currently no questions for this product.
There are currently no reviews for this product. Be the first to write one!