Alfred Publishing
Hear It, Read It, Write It! - Perry/Perry - Book/CD
---
Additional Photos: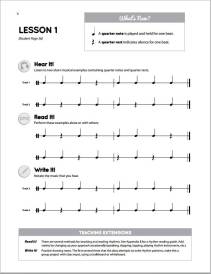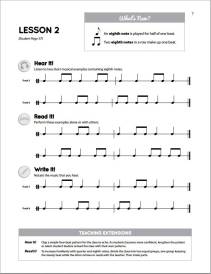 30 Sequential Music Dictation Lessons
Authors: Dave and Jean Perry
Format: Book & CD
Version: Classroom Theory
Level: Grades 4-9
Learning to read music is much like learning a language. There are three basic elements: listening, reading, and writing. This well-organized book provides step-by-step sequential lessons for developing these skills. Rhythm, note, and interval concepts are taught in the following way: first, hear and echo a short musical example; second, read and perform a notated exercise; and third, notate musical phrases as demonstrated on the CD. Worksheet-style student pages are included as reproducible PDFs. Ten-minute activities for teaching or assessment, recommended for fourth through ninth grade ensembles or music classes.
Contents:
Foreword
How to Use This Book
Lessons

Rhythm: Quarter Note and Quarter Rest
Rhythm: Two Eighth Notes and One Eighth Note
Time Signatures: 4/4
Time Signatures: 2/4 and 3/4
Rhythm: Half Note
Rhythm: Half Rest
Rhythm: Dotted Half Note
Rhythm: Dotted Quarter Note and Eighth Note
Rhythm: Whole Note and Whole Rest
Major Scale, Key Signatures: C and F
Solfege: DO and RE
Solfege: MI
Solfege: TI
Solfege: LA
Solfege: FA
Solfege: SOL
Key Signatures: F and B flat
Key Signatures: E flat and A flat
Key Signatures: G and D
Key Signatures: A and E
Intervals: Second
Intervals: Third
Review
Review
Intervals: Fifth
Review
Review
Intervals: Fourth
Review
Review

Appendices

Blank Dictation Templates
Rhythm Reading Guide
Rhythm Cards
Music Symbols Practice
Draw the Barlines and What's My Name?
Major Scale
G: Curwen Hand Signs
H: Keyboard Diagram
I: Key Signature Flashcards

About the Authors
There are currently no questions for this product.
There are currently no reviews for this product. Be the first to write one!