Ernie Ball
5-String Slinky Flatwound Bass Strings 45-130
---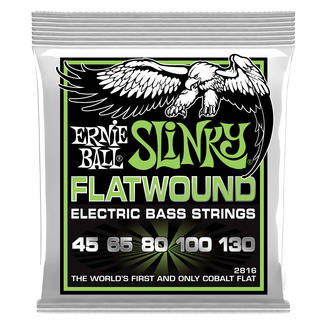 Ernie Ball Slinky Flatwound Bass Strings combine the smooth feel of traditional flats and the modern power of Cobalts. Featuring a SuperBright Cobalt Ribbon wrap, Cobalt Underwraps and optimal hex-core to wrap ratio, the new Flatwound Bass strings are the first flat that actually feels like a flat and sounds like a round.

Gauges .045 .065 .080 .100 .130
There are currently no questions for this product.
44.197.101.251
CCBot/2.0 (https://commoncrawl.org/faq/)
Great Strings

0 of 0 customers found this review helpful
Product Experience
I own it
Closest Store
Winnipeg (Pembina), Manitoba
I positively love that bass strings come with instructions on how to change them X'D These strings are great. They're bright like roundwound strings but they feel smooth and great to play. To my ear, they sound newer longer because there are not grooves between the outer wind for finger junk to accumulate in and deaden the string. They cost more but they last longer and sound great. A good set of cello strings cost $450 so c.a. $70 a year is not a lot to spend for good tone!! These are my favourite bass strings!
Posted by

anonymous

on

Aug 26, 2020
Bright & Smooth. Just How I Like 'Em

6 of 6 customers found this review helpful
Product Experience
I own it
Closest Store
Saint John, New Brunswick
If you want a nice, bright sound without the finger noise that goes along with roundwound strings, these are probably the ones for you. They're smooth and bendable, but most importantly sound closer to nickle roundwound strings than anything else on the market. They felt almost sticky at first, but after a few hours felt very slick and fast. The tension is on the low side with a 34" scale, but the strings remain taut enough and allow for a good degree of bend. Opinions on strings are as much subjective as they are objective (you always have to take into account personal preference, the type of music you play, whether you play with your fingers or a pick, the type of gear being used, etc), but for me the EB cobalt flats provide the clarity, brightness, and tone that I need in order to cut through two distorted guitars, while cutting out the finger noise and allowing for quick transitions. They're the only strings that I plan on using from here on out. Two words of caution though 1. The purple wrapping around the string at the ball end increases the diameter and the B-string came close to not fitting the Accucast B125 bridge on my Ibanez SR305. It took a bit of extra coaxing, but it did eventually feed through. 2. There is a small piece of paper with some special instructions on how to restring your bass, which EB claims will produce the best sound. While I can't confirm that, I did follow them and to me the strings sound great.
Posted by

anonymous

on

Nov 17, 2015