Hal Leonard
Rise Again: Songbook Words & Chords to Nearly 1200 Songs - Patterson/Blood - Stay-Open Binding
SKU: #

451121
|
Model: #

149302
|





Product Reviews

0 Reviews
Write a Review
---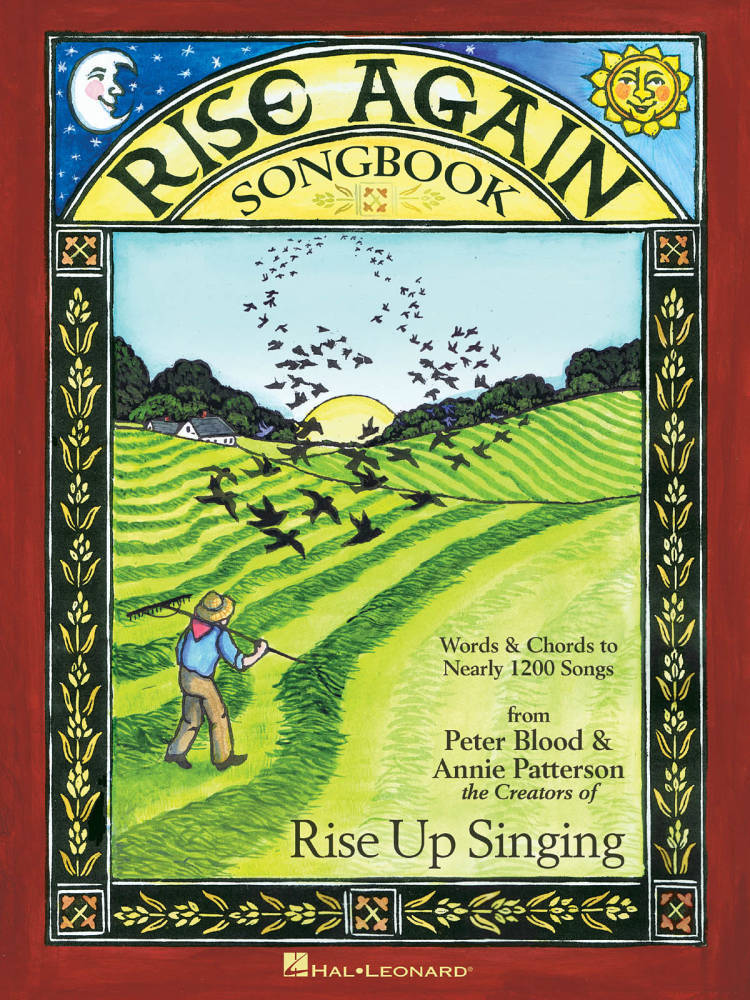 Additional Photos: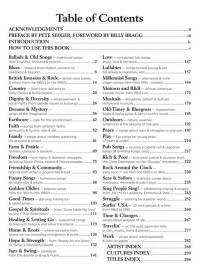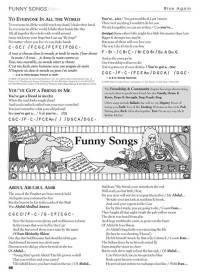 Editors: Annie Patterson, Peter Blood
Format: Softcover, Stay-Open Binding
Version: Fake Book (Lyrics and Chords)
Not your average fake book! Great for musicians, camps, teachers or for singing with family and friends. This songbook is a treasure trove of well-loved songs from blues, country, jazz and Motown to composed folk, traditional ballads, gospel and rounds. Using the same unique format as the editors' best-selling songbook,
Rise Up Singing,
Rise Again
provides easy access to 1200 important songs in a compact, affordable collection. Including extensive liner notes and well-organized indices, this is an important resource for anyone who loves music.
Song List:
A La Nanita Nana (Hear Lullabies And Sleep Now)
The A Team
Abdul Abulbul Amir
Ach Du Lieber Augustin (O My Dearest Augustine)
Across The Borderline (from the Universal Picture THE BORDER)
Across The Great Divide
Across The Universe
Addams Family Theme (Theme from the TV Show and Movie)
Adieu Sweet Lovely Nancy
Ain't Done Nothin' If You Ain't Been Called A Red
Ain't Misbehavin' (from AIN'T MISBEHAVIN')
Ain't No Rest For The Wicked
Ain't No Sunshine
Ain't Nobody's Business
Ain't She Sweet
Ain't That Good News
Al Kol Eileh
Alabama Bound
Alison
All Around My Hat
All For Me Grog
All For Me Job
All I Have To Do Is Dream
All I Really Want To Do
All I Want Is You
All In This Together
All My Loving (from A HARD DAY'S NIGHT)
All That Is Gold
Almost Every Circumstance
Almost Like Being In Love (from BRIGADOON)
Aloha Oe
Along The Colorado Trail
Alright For Now
Alvin
Always Look On The Bright Side Of Life (from MONTY PYTHON'S LIFE OF BRIAN)
Always On My Mind
Amazed
Amen
American Idiot
American Pie
And The Band Played Waltzing Matilda
And We Shall Want No More
Angel Of The Morning
Annie
Another Black Man Gone
Another Train
Anyone Else But You (from the Motion Picture Soundtrack JUNO)
Apples And Bananas
Aquarius (from the Broadway Musical Production HAIR)
Are You From Dixie?
Are You Tired Of Me, My Darling?
As Long As He Needs Me (from the Columbia Pictures - Romulus Motion Picture Production of Lionel Bart's)
As Tears Go By
As Time Goes By (from CASABLANCA)
At Seventeen
Baby Love
Baby Mine (from Walt Disney's DUMBO)
Baby, Now That I've Found You
Baby, What You Want Me To Do
Back In The Saddle Again
Bad, Bad Leroy Brown
Bad Moon Rising
Ballad Of The Carpenter
Banana Pancakes
Barbara Ann
The Bare Necessities (from Walt Disney's THE JUNGLE BOOK)
The Barley Mow
Beans, Bacon And Gravy
Beautiful Ohio
Beauty And The Beast (from Walt Disney's BEAUTY AND THE BEAST)
Been All Around This World
Beeswing
Before You Accuse Me (Take A Look At Yourself)
Bei Mir Bist Du Schon (Means That You're Grand)
The Bells Of Rhymney
Bsame Mucho
The Best Day Ever (from SPONGEBOB SQUAREPANTS)
Between The Wars
Bewitched (from PAL JOEY)
Beyond The Sea (featured in the Walt Disney/Pixar film FINDING NEMO)
The Bicycle Song
Big Italian Rose
Big Mamou
Bird By Bird
Bird On The Wire (Bird On A Wire)
Birdhouse In Your Soul
Birthday Round
Black Horse And The Cherry Tree
Black Waters
Blackberry Pie
The Blackest Crow
The Blacksmith
Blame It On Your Heart
Bless The Broken Road
Bless This House
Blessed Are The Peacemakers
Bling-Blang
Blood Red Roses
Blow Away The Morning Dew
Blue Boat Home
Blue Moon Of Kentucky
Blue Skies (from BETSY)
The Blue Tail Fly (Jimmy Crack Corn)
Bluegrass Boy
Bonnie Light Horseman
Book Of Love
Boulevard Of Broken Dreams
Bound For Freedom
Bountiful River
Box Of Rain
Bracero
Branching Out
Breathing In, Breathing Out
Breaths
Bring 'Em Home
Bring Back The Eight Hour Day
Bring Him Back Home
Bring Him Home (from LES MISERABLES)
Bring It On Home To Me
Bring Me A Boat
Bring Me Lil'l Water, Sylvie
Brown Eyed Girl
Buckets Of Rain
Build Me Up, Buttercup (featured in the Motion Picture THERE'S SOMETHING ABOUT MARY)
Bully In The Alley
Bury Me Beneath The Willow
Button Up Your Overcoat (from FOLLOW THRU)
By The Beautiful Sea
By Way Of Sorrow
Bye Bye Blackbird (from PETE KELLY'S BLUES)
Bye Bye Love
Byker Hill
Cake Walk Into Town
Caledonia
California Stars
Call It Democracy
Call Me The Whale
Call The Captain
Calling Joe Hill
The Calton Weaver
Calypso Freedom
The Campfire Song Song (from SPONGEBOB SQUAREPANTS)
Can I Stand Here For You
Can't Buy Me Love (from A HARD DAY'S NIGHT)
Can't Help Falling In Love (from the Paramount Picture BLUE HAWAII)
Can't Take My Eyes Off Of You
Can't You Dance The Polka?
Cancion a Victor
Cancion Mixteca
Canned Goods
Carey
Carry On
A Case Of You
Casimir Pulaski Day
Cassiopeia
Cat's In The Cradle
Catch A Falling Star
Cecilia
Chapel Of Love
Chariots
Chattanooga Choo Choo
Cheek To Cheek (from the RKO Radio Motion Picture TOP HAT)
Child Of Mine
Chittlin' Cookin' Time In Cheetham County
The Christians And The Pagans
Christmas In The Trenches
Christmas In Washington
Cinco Siglos Igual
Circle Of Song
Clear Away In The Morning
Close The Door Lightly (When You Go)
Closer To Fine
Cluck Old Hen
Coal Town Road
Cold, Cold Heart
Coloring Outside The Lines
The Colors Of Earth
Come Join The Circle
Coming Into My Years
Common Ground
Common Ground
Consider Yourself (from the Columbia Pictures - Romulus Motion Picture Production of Lionel Bart's)
The Corporate Welfare Song (End Welfare As We Know It)
Corrina
Corrina, Corrina
Courage
The Court Of King Caractacus
Crazy
The Creek's Gonna Rise
Crossing The Bar
Crossing The Water
Cross Road Blues (Crossroads)
Crow On The Cradle
Cu-Cu-Rru-Cu-Cu Paloma
The Cuckoo
Cup Of Sorrow
Cupid
Dance For The Nations (Round And Round We Turn)
Dance To Tom Paine's Bones
Dancing Queen (from MAMMA MIA!)
Darcy Farrow
The Dark End Of The Street
Dark-Eyed Molly
Dark Eyes
Darkest Hour
Day After Tomorrow
Daydream
Daydream Believer (featured in the Television Series THE MONKEES)
Dear Abby
Death Came A Knockin' (Travelin' Shoes)
Deep Elem Blues
Deep In The Darkest Night
Defying Gravity (from the Broadway Musical WICKED)
Dem Deer
Diamonds and Rust
Did You Hear John Hurt?
Diddie Wa Diddie
Didn't Leave Nobody But The Baby
Diggy Liggy Lo
Dignity
Dimming Of The Day
Dinah (from THE BIG BROADCAST)
Dire Wolf
Dives And Lazarus
Do Wah Diddy Diddy
Do You Believe In Magic
Do You Hear The People Sing? (from LES MISERABLES)
Do You Know The Way To San Jose
Doctor, My Eyes
Don't Be Cruel (To A Heart That's True)
Don't Ever Let Nobody Drag Your Spirit Down
Don't Fence Me In
Don't Get Around Much Anymore (featured in SOPHISTICATED LADIES)
Don't Give Your Heart To A Rambler
Don't Know Why
Don't Let Me Come Home A Stranger
Don't Put Her Down, You Helped Put Her There
Don't Sit Under The Apple Tree (With Anyone Else But Me)
Don't Stop Believin' (featured in the Twentieth Century Fox Television Series GLEE)
Don't Think Twice, It's All Right
Don't This Road Look Rough And Rocky
Don't Try So Hard
Don't Worry, Be Happy (featured in the Motion Picture COCKTAIL)
Done Made My Vow To The Lord
Donut Song
Dover
Down At The Twist And Shout
Down By The River
Down In The Milltown
Down On Grandpa's Farm
Down On The Corner
Down To The River To Pray
Down Under
Dream Angus
Dreamland
Dreams Of Harmony
Drifting Too Far From The Shore
Dry Bones
Du, Du, Liebst Mir Im Herzen
Duerme Negrito
Duke Of Earl
Dump The Bosses Off Your Back
Early
Early In The Morning
Earth Angel
El Condor Pasa (If I Could)
Ella's Song
Emmylou
Erev Shel Shoshanim
Esa Einai (Psalm 121)
ESPN
Eve Of Destruction
Every Breath You Take
Fais Ton Dodo
Fall Down As The Rain
Falling
Falling Slowly (from the Motion Picture ONCE)
Family Tree
Farthest Field
Fast Car
Father And Son
Fathom The Bowl
Fear An Bhata
Feel So Near
Ferry Me Over
Fields Of Gold
The 59th Street Bridge Song (Feelin' Groovy)
Fight No More Forever
Final Trawl
The First Cut Is The Deepest
Fish Heads
Fishin' Blues
Five Foot Two, Eyes Of Blue (Has Anybody Seen My Girl?)
Fly Around, My Pretty Little Miss
The Foggy Dew
Folk Song Army
Follow That Dream (from FOLLOW THAT DREAM)
Follow That Road
Folsom Prison Blues
For Real
For The Mothers
For What It's Worth
Forever Young
Found A Peanut
Four Green Fields
Four Hands
Four Nights Drunk
1492
Fox On The Run
Freedom Come All Ye
Friend Of The Devil
Frobisher Bay
From A Distance
From A Dog's Stance
F***in' Perfect
Full Moon Rising
Fun, Fun, Fun
Galileo
The Gambler
A Garden Of My Own
Garnet's Home-Made Beer
Gather The Family
The Gathering Of Spirits
Gentle Annie
Gentle Arms Of Eden
Gentle On My Mind
Georgia On My Mind
Get Back (Black, Brown And White)
Get Up And Bar The Door
Get Up Jack John Sit Down
Get Up Stand Up
The Gift Of Love
Girl From The North Country
Give Light
Give Thanks To Allah
Glad To Have A Friend Like You
Glory Bound
The Glory Of Love (featured in GUESS WHO'S COMING TO DINNER)
Go On Ahead And Go Home
Go To Sleepy, Little Baby
God Bless Us Everyone
God Danced (The Day You Were Born)
God's Counting On Me
Going Up Home (To Live In Green Pastures)
Gold Watch And Chain
Gone To The Dogs
Gonna Take Us All
Good Luck John
Good Riddance (Time Of Your Life)
Goodbye, Eliza Jane
Goodnight, My Someone (from Meredith Willson's THE MUSIC MAN)
Goodnight, Sweetheart, Goodnight (Goodnight, It's Time To Go)
The Gospel Train
Gotta Serve Somebody
The Great American Bum
Great Tom Is Cast
Greensleeves
Grey Cat On A Tennessee Farm
A Groovy Kind Of Love
Guess Things Happen That Way
The Gum-Tree Canoe
Habitat (Have To Have A Habitat)
Hal-an-tow (Helston Furry)
Hallelujah (featured in the DreamWorks Motion Picture SHREK)
Hallelujah
Hand Upon Your Heart
Hands
Handsome Cabin Boy
Handsome Molly
Happy Adoption Day
Happy Together
A Hard Rain's A-Gonna Fall
Hashivenu (Cause Us To Return)
Have You Been To Jail For Justice?
Hawks/Elves
He Looked Beyond My Fault And Saw My Need
He Will Heal The Broken-Hearted
He'll Understand And Say Well Done
Heal My Heart
Hear Jerusalem Moan
Heart (from DAMN YANKEES)
Hello Mudduh, Hello Fadduh! (A Letter From Camp)
Hello Stranger
Hello, Young Lovers (from THE KING AND I)
Help Me Make It Through The Night
Helplessly Hoping
Henry Martin
Here I Am, Lord
Here Is My Home
Here's To The Men
Hernando's Hideaway (from THE PAJAMA GAME)
Hesitation Blues
Hey, Good Lookin'
Hey Jude
Hey Little Ant
Hey, Soul Sister
Hey There Delilah
Hi-Fi Stereo Color TV
High Over The Hudson
Hillcrest Mine
Hold On Strong
Hold On To God's Unchanging Hand (Hold To God's Unchanging Hand) (Tune Name: GOD'S UNCHANGING HAND)
Hole In The Bucket
Holy Now
Holy Spirit Come
Home
Home
Home In That Rock
Home Is Where The Heart Is
Homegrown Tomatoes
Honey In The Rock
Hopalong Peter
Hope For One And All
Houses In The Fields
How Beautiful Upon The Mountain
How Could Anyone
How Great Thou Art
How Long Blues (How Long, How Long Blues)
How Sweet It Is (To Be Loved By You)
Howdi Do
Huddie Ledbetter Was A Helluva Man
Husband With No Courage In Him
I Am A Dolphin
I Am A Patriot
I Am A Pilgrim
I Am A Rock
I Am A Wanderer
I Am Willing
I And Love And You
I Believe
I Believe I'll Dust My Broom
I Believe That Peace Will Come
I Bid You Goodnight
I Bought Me A Cat
I Cain't Say No (from OKLAHOMA!)
I Can See Clearly Now
(I Can't Get No) Satisfaction
I Can't Give You Anything But Love (from BLACKBIRDS OF 1928)
I Cannot Sleep
I Cried
I Don't Feel No Ways Tired
I Don't Know How To Love Him (from JESUS CHRIST SUPERSTAR)
I Don't Know Why (I Just Do)
I Don't Want To Live On The Moon (from the Television Series SESAME STREET)
I Dreamed A Dream (from LES MISERABLES)
I Feel The Earth Move
I Got A Name (from the 20th Century Fox Film LAST AMERICAN HERO)
I Got Rhythm (from AN AMERICAN IN PARIS)
I Had An Old Coat (The Recycling Song)
I Have A Million Nightingales
I Have Heard Thy Prayer
I Hear A Call
I Heard It Through The Grapevine (from MOTOWN THE MUSICAL)
I Kissed A Girl
I Live Not Where I Love
I Only Want To Be With You
I Remember Loving You
I Saw Her Standing There
I Saw The Light
I Stand For Love
I Still Haven't Found What I'm Looking For
I Try
I Walk The Line
I Want To Die Easy
I Want To Sing That Rock And Roll
I Want You Back
I Was Born About 10,000 Years Ago
I Whistle A Happy Tune (from THE KING AND I)
I Will
I Will Always Love You (featured in THE BODYGUARD)
I Will Be Your Friend
I Will Follow You Into The Dark
I Will Stand Fast
I Will Survive (featured in PRISCILLA, QUEEN OF THE DESERT)
I Will Wait
I Won't Give Up
I'd Do Anything (from the Columbia Pictures - Romulus film OLIVER!)
I'll Tell Me Ma
I'm A Believer (featured in the DreamWorks Motion Picture SHREK)
I'm A Freeborn Man
I'm An Old Cowhand (From The Rio Grande)
I'm Going To Live The Life I Sing About In My Song
I'm Gonna Say It Now
I'm Gonna Sit At The Welcome Table
I'm Gonna Sit Right Down And Write Myself A Letter (from AIN'T MISBEHAVIN')
I'm Henry VIII, I Am
I'm On My Way
I'm Thinking Tonight Of My Blue Eyes
I'm Yours
I've Got Peace In My Fingers
I've Got What It Takes (But It Breaks My Heart To Give It Away)
If I Fell (from A HARD DAY'S NIGHT)
If I Had A Boat
If I Had $1,000,000
If I Loved You (from CAROUSEL)
If I Needed You
If I Were A Blackbird
If It Weren't For The Union
If Not Me, Then Who
If Not Now
If You Could Read My Mind
If You Love A Hippopotamus
If You Say Yes
If You Want Peace
If You're Looking For Freedom
Iko Iko
Imagine Healthcare
In A Cabin In A Wood
In My Bones
In My Family's House
In My Room
In My Time Of Dying (Jesus Make Up My Dying Bed)
In Spite Of Ourselves
In The Bleak Midwinter
In The Evening (When The Sun Goes Down)
In The Jailhouse Now
In The Name Of All Of Our Children
In This Life
The Indian Prayer
Is There Anybody Here
Is You Is, Or Is You Ain't (Ma' Baby) (from FOLLOW THE BOYS)
Istanbul (Not Constantinople)
It Ain't Me Babe
It Ain't Necessarily So (from PORGY AND BESS)
It Don't Cost Very Much
It Had To Be You (featured in the Motion Picture WHEN HARRY MET SALLY)
It Really Isn't Garbage Till You Throw It Away
It's A Hard Life Wherever You Go
It's A Long Way
It's A Pleasure To Know You
It's A Sin To Tell A Lie
It's My Party
It's No Fun When Ya Gotta Eat An Onion
It's Nobody's Fault But Mine
It's Only A Paper Moon (featured in the Motion Picture TAKE A CHANCE)
It's Raining Men
Jack Was Ev'ry Inch A Sailor
Jackson
Jailhouse Door
Jambalaya (On The Bayou)
The Jeannie C
Jenny Jenkins
Jerusalem
Jesse James
John Hardy
Johnny Come Down To Hilo
Johnny Has Gone For A Soldier
Jolene
Jolie Blonde
The Jolly Tinker
Joy Comes Back
Julia
June Is Bustin' Out All Over (from CAROUSEL)
Just One Earth
Kansas City (from SMOKEY JOE'S CAFE)
Keep Your Lamps Trimmed And Burning
Killing The Blues
Kindergarten Wall
Kitty Alone
Knockin' On Heaven's Door
Kyrie I
L'chi Lach
La Chanson Des Vieux Amants
La Cucaracha
La Porte En Arriere (The Back Door)
La Vie En Rose (Take Me To Your Heart Again)
Lady Of The Season's Laughter
Lamb And Lion
Lambeth Children
The Last Battle
Last Call
Laudate Omnes Gentes
Laughlin Boy
Lay Down Your Weary Tune
Le Deserteur
Le Temps Des Cerises
Leader Of The Band
The Leatherwing Bat
Leave Her, Johnny
Leaving Eden
Leaving Of Liverpool
Leaving On A Jet Plane
Leaving The Land
Lema'an Achai Veriai (Psalm 122)
Let It Be Your Lullabye
Let It Go (from Disney's Animated Feature FROZEN)
Let Justice Roll Down
Let Me Make Peace
Let My Stomach Be Soft And Round
Let The Little Children Come Unto Me
Let The Mystery Be
Let The Sun Shine Down On Me
Let Union Be (In All Our Hearts)
Let's Do It (Let's Fall In Love) (from PARIS)
Let's Get Away From It All
Let's Go Fly A Kite (from Walt Disney's MARY POPPINS)
Letter To Eve
Lida Rose (from Meredith Willson's THE MUSIC MAN)
Like Woody Done
Lily Of The West
Lion And The Lamb
Little Bird, Little Bird
Little Black Bull
(I'm Called) Little Buttercup (from H.M.S. PINAFORE)
Little Cabin Home On The Hill
Little Jack Horner
Little Johnny Brown
Little Maggie
Little Sally Walker
Little Satchel
Live And Die
Live Like A Prayer
Live Up To The Light
Living Planet
Locally Grown
The Loco-Motion
Long Is Our Winter
Long Kesh
Lookin' Out My Back Door
The Lord Is Good To Me (from Walt Disney's MELODY TIME)
The Lord Is My Light
Love And Happiness For You
Love At The Five And Dime
Love Call Me Home
Love Chooses You
Love Is All Around
Love Is Here To Stay (from GOLDWYN FOLLIES)
Love Makes A Family
Love Me, I'm A Liberal
Love Me Tender (from LOVE ME TENDER)
Love Minus Zero/No Limit
Love Potion Number 9 (from SMOKEY JOE'S CAFE)
Love The One You're With
Low To The Ground
Lowlands Away
Lullaby For Teddy-O
Lydia The Tattooed Lady
The Mahogany Tree
Make It, Mend It
A Manatee Sneezed On Me
Mango Walk
Many Rivers To Cross
The Master Of The Sheepfold
Matchmaker (from the Musical FIDDLER ON THE ROOF)
May I Suggest
May You Walk In Your Life
Me And Bobby McGee
Me And My Shadow
Mean
Mean Things Happening In This Land
The Meeting Is Over
Mercy Now
The Mermaid
Mi Chacra
Mi Cuerpo Hace Musica
Mi Shebeirach
Michael Finnegan
Mingulay Boat Song
Minimum Wage Strike
Minstrel Boy
Miriam Ha-Neviah
Miss Mary Mack
Miss The Mississippi And You
Mrs. Robinson (from THE GRADUATE)
Mr. Businessman's Blues
Mister Rabbit
Mister Sandman
Mr. Tambourine Man
Misty Morning
Monster Mash
Moon And Me
Moonlight Bay
More Than Enough
The Mountain
Move It On Over
Mrs. Brown You've Got A Lovely Daughter
Music In My Mother's House
Muss I Denn Zum Stdtele Hinaus
Mustang Sally
My Aunt Came Back
My Babe
My Baby Just Cares For Me (from WHOOPEE!)
My Dirty Stream
My Dixie Darling (Dixie Darling)
My Dog Sam
My Granddaughter's Wedding Day
My Grateful Heart
My Guy
My Images Come
O My Love Is Like A Red, Red Rose
My Roots Go Down
My Tennessee Mountain Home
Mystery Train (from ELVIS ON TOUR)
N'kosi Sikelel' I Afrika (African National Anthem)
Naked As We Came
Names
National Anthem: Arise! Arise!
National Brotherhood Week
(You Make Me Feel Like) A Natural Woman (from BEAUTIFUL)
Ne Me Quitte Pas
Nearer, My God, To Thee (Tune Name: BETHANY)
Nicaragua, Nicaraguita
Night Rider's Lament
Nine Pound Hammer
Nine Times A Night
No Banker Left Behind
Not Fade Away
Not In My Name
O God Of Earth And Altar
O How He Lied
Ob-La-Di, Ob-La-Da
Ocean Refuses No River
Oh Happy Day (from Touchstone Pictures' SISTER ACT 2: BACK IN THE HABIT)
Oh, Lady Be Good! (from LADY, BE GOOD!)
Oh, Let The Light
Oh, Mandolin
Oh River
Oh, Watch The Stars
Okie From Muskogee
Oklahoma Hills
Ol' Man River (from SHOW BOAT)
Old Before Your Time
Old Cape Cod
Old Friends
Old Home Place
Old Tin Cup
Old Zeb
On A Slow Boat To China
On Broadway (featured in the Motion Picture A CHORUS LINE)
On Children
On Eagle's Wings
On The Day You Were Born
On The Rock Where Moses Stood
On The Street Where You Live (from MY FAIR LADY)
On The Sunny Side Of The Street
Onawa's Waltz
Once In A Very Blue Moon
One Crane
One Drum
One Heart At A Time
100 Years
One Kind Word
One Love
One Man Shall Mow My Meadow
One Meatball
1,2,3,4
One Voice In The Crowd
One World
The Ones Who Aren't Here
Orphan Girl
Our Little Town
Our Town
Outside Of A Small Circle Of Friends
Owl Moon
Oyfn Pripetchik (On The Fireplace)
Ozi V'zimrat Yah
Pace Egging Song
Paddy West
Pancake Hat
Pancho And Lefty
Panning For Gold
Papa's On The Housetop
Parlez-Nous A Boire
Parting Friends
The Parting Glass
Parting Song
Passing Through
Paul Robeson Song (Powerful Voice)
Pay Me My Money Down
Paz y libertad
Peace And Liberty
Peace Train
Peace Will Come
(What's So Funny 'Bout) Peace, Love And Understanding
Peaceful Easy Feeling
Peg And Awl
Pennies From Heaven (from PENNIES FROM HEAVEN)
People Get Ready
People Will Say We're In Love (from OKLAHOMA!)
Pharaoh, Pharaoh
A Place Called England
Plant Me A Garden
Playing Right Field
Please Help Me, I'm Falling (In Love With You)
Please Mr. Postman
Pocket Full Of Stardust
Political Science
Polly Von
The Power Of Loving You
Praise Bogs
Prayer
Pretty Brown
Proud Mary
Psalm 91
Pure Grace
Que Bonita Bandera
Que Sera, Sera (Whatever Will Be, Will Be) (from THE MAN WHO KNEW TOO MUCH)
A Question Of Tempo
Quiet Hills
Quinn, The Eskimo (The Mighty Quinn)
Quite Early Morning
Raggedy, Raggedy Are We
Ragtime Cowboy Joe
The Rainbow Connection (from THE MUPPET MOVIE)
Rattlin' Bones
Ready For The Storm
Reason To Believe
The Red Flag
Red Rocking Chair
Red Rubber Ball
Red-Winged Blackbird
Redbird's Wing
Redemption Song
Reuben And Rachel
Reuben James (The Sinking Of The Reuben James)
Rich Girl
The Rich Man's House
(Ghost) Riders In The Sky (A Cowboy Legend) (from RIDERS IN THE SKY)
Right Here
Ring Of Fire
Rise As One
Rise As One
Rise Up Singing
The River
River That Flows Both Ways
Rivers Of Texas (Texas River Song)
Rock Around The Clock (featured in the Motion Picture AMERICAN GRAFFITI)
Rock Me On The Water
Rockin' In A Weary Land
Rockingham Cindy (I Get My Whiskey In Rockingham)
Rocky Top
Roll De Ol' Chariot Along
Roll On Woody
Roll The Old Chariot Along
Rolling Home
Rolling In The Deep
Rooted And Grounded In Love
Rosa's Lovely Daughters
Round The Bay Of Mexico
Route 66
Roving Gambler
Rozhinkes Mit Mandlen (Raisins And Almonds)
Rubber Duckie (from the Television Series SESAME STREET)
Rusty Old American Dream
Sacred Ground
Sae Will We Yet
Safe From Harm
The Saga Begins (Parody of "American Pie")
Sail Away Ladies
Salaam
Sam's Gone Away
San Antonio Rose (from SAN ANTONIO ROSE)
Sanctuary
Sanctuary
Sandwiches
Santa Lucia
Scalloped Potatoes
Schedar
The Scientist
The Scotsman
Sea Of Dreams
Searching For Lambs
Season Of Peace
Seasons Of Love (from RENT)
Secord's Warning
Secret Agent Man (from the Television Series)
See See Rider
Seeds Of War
Seize The Day (from Disney's NEWSIES THE MUSICAL)
Sending You Light
Sensitive New Age Guys
Sentimental Journey
Senzenina
Shalom Aleichem
Shalom Rav
Shawneetown
Shelter From The Storm
Shenandoah
Shine On
Shoals Of Herring
Shopping Is Therapy (My Favorite Things)
Show The Way
Shower The People
Shtil Do Nakht
Si Me Quieres Escribir
Side By Side
Silken Dreams
Silly, Silly Song
Sim Shalom Round
Simple Faith
Sing A Song Of Sixpence
Sing About These Hard Times
Sing For The Climate/Do It Now
Sing People Sing
Singer Of Songs
Singin' In The Rain (from SINGIN' IN THE RAIN)
Singing Through The Hard Times
Sisters Are Doing It For Themselves
Sitting On Top Of The World
Six Days On The Road
Siyahamba (We Are Marching In The Light Of God)
Skinnamarink (Skiddy-Mer-Rink-A-Doo)
So Many Angels
So Many Ways To Be Smart
Softly And Tenderly (Tune Name: THOMPSON)
Solar Topia
The Soldier And The Sailor's Prayer
Solo Le Pido A Dios
Some Had Fathers
Some Sweet Country
Somebody Come And Play
Someone Like You
Someone To Watch Over Me (from OH, KAY!)
(Something Inside) So Strong
Somewhere To Begin
Song For A Winter's Night
Sonny's Dream
Sons & Daughters
Soon And Very Soon
Soon I Will Be Done (Trouble Of The World)
Sowing On The Mountain
Speed Of The Sound Of Loneliness
Spoon Of Sand
Staines Morris
Stand By Me (featured in the Motion Picture STAND BY ME)
Star Trekkin'
Stay With Me
Still Small Voice
Stones In The Road
The Storm Is Passing Over
Storms Are On The Ocean
Straighten Up And Fly Right
Stranger In Paradise (from KISMET)
The Streets Of Old Quebec
Suliram (Go To Sleep)
Sulphur Passage
The Sun Settles Down
Sunny
Suo Gan (Sleep My Baby)
Surfin' U.S.A.
Sweet Adeline (You're The Flower Of My Heart, Sweet Adeline)
Sweet Betsy From Pike
Sweet Caroline
Sweet Georgia Brown
Sweet Home Alabama
Sweet Home Chicago
Sweet Pea
Sweet Roseanna
Sweet Spot
Sweet Sue-Just You (from RHYTHM PARADE)
Sweet Thames Flow Softly
Swimming To The Other Side
Swinging On A Star (from GOING MY WAY)
Take It Easy
Take Me Back To Tulsa
Take 'Em Down
Talk About Suffering
Talkin' Bout A Revolution
Talking Union
Tanglewood Tree
Tank Park Salute
Te Recuerdo Amanda
Tears In Heaven (featured in the Motion Picture RUSH)
A Teenager In Love
Telling Takes Me Home
Thanksgiving
That Kind Of Grace
That'll Be The Day
That's All Right (featured in ELVIS, THAT'S THE WAY IT IS)
That's The Way Love Goes
That's The Way The World Goes 'Round
Them Bones Gonna Rise Again
There Goes The Mountain
There Is Power In A Union
There Is Power (IWW)
There Was A Pig Went Out To Dig (Christmas Day In The Morning)
There'll Be No Distinction There
There'll Come A Day
There's No Business Like Show Business (from the Stage Production ANNIE GET YOUR GUN)
These Boots Are Made For Walkin'
These Days
These Hands
They Can't Take That Away From Me (from THE BARKLEYS OF BROADWAY)
They'll Know We Are Christians By Our Love
They're Taking It Away
This Old Town
This Pretty Planet
Three Little Birds
The Three Ravens
The Thrill Is Gone
Throw These Guns Away
Tide And The River Rising (Oars)
The Tide Is High
Tie Me Kangaroo Down Sport
Till There Was You (from Meredith Willson's THE MUSIC MAN)
Time After Time
Time In A Bottle
Time Is Now For Sleeping
Time To Remember The Poor
Tip-Toe Thru' The Tulips With Me
Tit-Willow (from THE MIKADO)
To Everyone In All The World
To My Old Brown Earth
Together We Can Move Mountains
Tom Joad
Tomorrow (from the Musical Production ANNIE)
Train On The Island
Tree Of Life
Tree Of Life
The Trees Of The Field
Trees Of The Wild
Trouble In the Fields
Trouble In This World
True Colors
Tumbling Tumbleweeds
Turn Off The TV
Turn The World Around
The Twentieth Century Is Almost Over
Twinkle, Twinkle Little Star
Two Hands Hold The Earth
Ukulele Lady
Uncle John's Band
Under The Boardwalk (from the Original Motion Picture BEACHES)
Under The Bridge
Under The Sea (from Walt Disney's THE LITTLE MERMAID)
Underneath The Stars
The Unicorn
Unicornio
Unknown Blessings
Until
Up Among The Heather
Up On Cripple Creek
Upside Down (from the Universal Pictures and Imagine Entertainment film CURIOUS GEORGE)
Vatican Rag
Vincent (Starry Starry Night)
Viva La Vida
Wagon Wheel
Wahoo
Waist Deep In The Big Muddy (The Big Muddy)
Wake Up Little Susie
Wal I Swan
Walk A Mile
Walk Away Renee
Walk Proud My Son
Walkin' After Midnight
Walking In Memphis
Walkin' My Baby Back Home
Walkin' On My Wheels
Walls
Wang Dang Doodle
Wanting Memories
Water
Water, Sun, Earth And Sky
Waterbound
Waterbound
The Waves On The Sea
Way Down The Old Plank Road
Way Over Yonder In The Minor Key
The Way You Do The Things You Do
We Are Family
We Are One
We Are Soldiers In The Army
We Are The Many
We Are Young
We Belong To The Earth
We Sail The Ocean Blue (from H.M.S. PINAFORE)
We Shall Not Give Up The Fight
We Shall Rise
We Still Have A Dream
We Were There
We Will Build This House
We Won't Hold Back
We'll Pass Them On
We've Come This Far By Faith
The Wearing Of The Green
The Weight
Welcome To The Circle
Welcome, Welcome Emigrante
Well May The World Go
West Virginia My Home
What A Wonderful World (featured in the Motion Picture GOOD MORNING VIETNAM)
What Can One Little Person Do?
What I Am
What I Want Is A Proper Cup Of Coffee
What Will I Leave
When A Soldier Makes It Home
When I Go
When I Lay My Burden Down
When The Rain Comes Down
When The Red, Red Robin Comes Bob, Bob Bobbin' Along (from I'LL CRY TOMORROW)
When Will I Be Loved
When You Walk On
When You Wish Upon A Star (from Walt Disney's PINOCCHIO)
When You're Smiling (The Whole World Smiles With You)
Where Are You
Where Do The Children Play
Where The Soul Of Man Never Dies
Wherever You Go (I Love You)
Which Side Are You On
Whiskey In The Jar
Whistle While You Work (from Walt Disney's SNOW WHITE AND THE SEVEN DWARFS)
The Whistling Gypsy
Who Can Sail
Who Knows Where The Time Goes
Who Will Sing For Me?
Who Will Sing Me Lullabies
A Whole New World (from Disney ALADDIN)
Why Am I Painting The Living Room?
Why Do Fools Fall In Love
Why Don't You Do Right (Get Me Some Money, Too!)
Why Walk When You Can Fly
Wide River To Cross
Wild Rose Of The Mountain
Wild World
Wildwood Flower
The Wind And The Rain
Windmills
Windy Old Weather
Wings To Fly (Crow)
Winter's Come And Gone
Wisdom Guide Me
Witch Hazel
With A Giggle And A Hug And A Tickle And A Kiss
With Cat-Like Tread (from THE PIRATES OF PENZANCE)
Within Our Darkest Night
Women Be Wise
Won't You Come And Sing For Me
Wondering Where The Lions Are
Wooden Heart
Woodstock
Woody's Children
Working On A Building
World In Their Pocket
The Worms Crawl In
Wrap That Rascal
Yakety Yak
Ye Banks And Braes O' Bonnie Doon
Yerushalaim Shel-zahav (Jerusalem, Jerusalem)
Yes Sir, That's My Baby
Y.M.C.A.
Yolanda
Y'All Come
You And I
You Are Not Alone
You Belong To Me (from the DreamWorks Motion Picture SHREK)
You Can't Always Get What You Want
You Get A Little Extra When You Watch TV
You Got To Know How
You Gotta Move
You Raise Me Up
You Went The Wrong Way, Old King Louie
You Won't See Me
You'll Never Walk Alone (from CAROUSEL)
You're My Home
You're No Good
You're Nobody 'til Somebody Loves You (featured in the Broadway Musical CONTACT)
You've Got A Friend In Me (from Walt Disney's TOY STORY)
You've Got To Be Carefully Taught (from SOUTH PACIFIC)
You've Got To Hide Your Love Away
You've Really Got A Hold On Me
Your Cheatin' Heart
Your Disco Needs You
Your House Is Strong
Your Long Journey
Your Mama Don't Dance
Your Song
Your State's Name Here
Zog Nit Keynmol
There are currently no reviews for this product. Be the first to write one!