Oxford University Press
Popular Voiceworks 2: 28 Songs in Jazz, Gospel, R&B, Soul, and Show Styles - Beale/Milloy - Book/2 CDs
---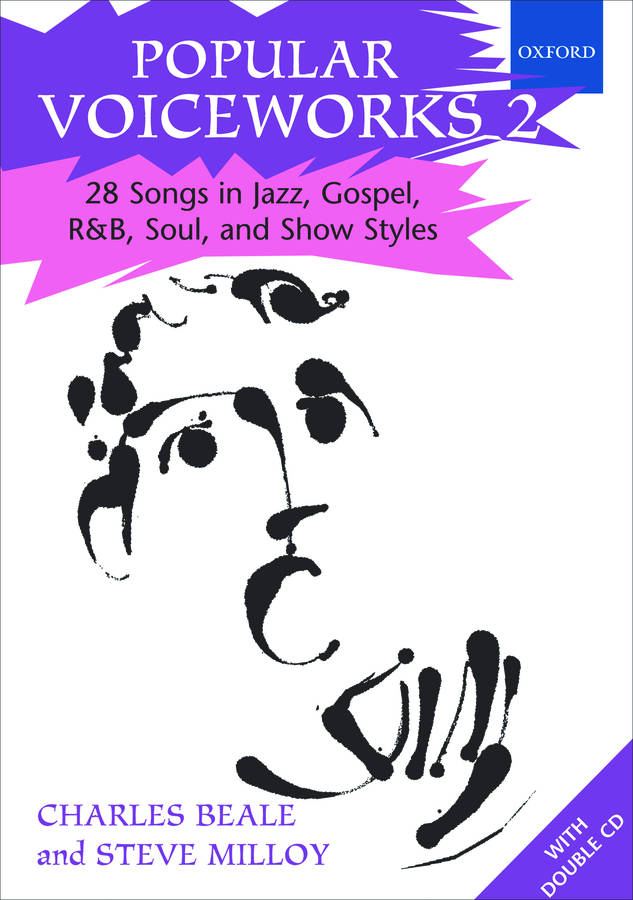 Additional Photos: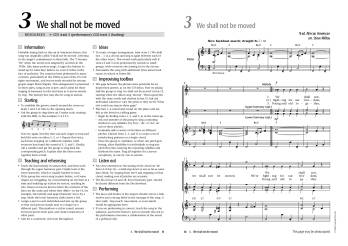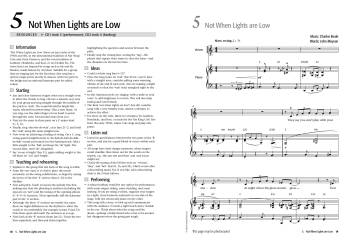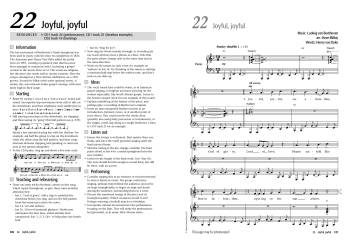 Authors: Charles Beale, Steve Milloy
Format: Book and 2 CDs
Voicing: Choral Voices
Following the outstanding success of book 1,
Popular Voiceworks 2
is a second collection of jazzy and popular songs in the highly practical
Voiceworks
format. Packed with songs in a huge range of styles, the collection provides exciting new material written by the authors as well as choral arrangements of favourites such as
'Ain't no stoppin' us now', 'Feelin' good',
and
'Bang the drum all day'.
The accompanying CDs include stylish performances of all the songs, together with backings for most. This all adds up to a fabulous resource for all young and young-at-heart singing groups!
28 fabulous songs from unison to four-part harmony
Ideal for youth choirs, school groups (11 yrs +), community choirs, and choral groups of all ages and experience
Opportunities for improvisation throughout
Vast range of repertoire including jazz, R&B, country, funk, spiritual, gospel, disco, rock, show, folk, motown, doo-wop, and more
Brand-new songs and new arrangements of popular favourites
A complete rehearsal plan for each song, including warm-ups and guidance on vocal techniques for singing popular styles and beatboxing
Stylistic but accessible piano accompaniments
Photocopiable pages for most pieces
Two CDs with performances and stylish backings
Extra resources available to download
Born in London and now based in New York,
Charles Beale
has enjoyed a varied career as a jazz educator, pianist, composer-arranger, and choral director. Author of the acclaimed
Jazz Piano from Scratch
(ABRSM Publishing), he taught jazz at London's Royal College of Music, and for ten years he was lead jazz consultant to the Associated Board. His playing and arranging work includes credits on albums and singles by pop and dance artists including Whitney Houston and Adeva. He recently became Music Director of the New York City Gay Men's Chorus, having for five years been Musical Director of the London Gay Men's Chorus.
Steve Milloy
(b.1965) has spent ten years coaching and directing singers in schools, churches, theatres, and concert stages across the Midwestern US. A former member of the acclaimed a cappella octet Pieces of 8, he has sung in popular styles in theme parks and on TV and radio, and has composed or arranged pieces for more than a dozen GALA choruses in the US and UK. Steve has worked at the keyboard and/or on the podium with choruses and threatre troupes in St Louis, Indianapolis, and Cincinnati, and recently he returned to singing and acting in productions such as
The Full Monty
and
Caroline, or Change.
Table of Contents:
Milloy: Goin' up the ladder
Anon., arr. Beale: Shallow Brown
Trad. African American, arr. Milloy: We shall not be moved
Beale: Sing Love
Beale: Not when lights are low
Milloy: City Lights
Milloy: What they say
Spiritual, arr. Beale and Milloy: Good news, the chariot's comin'
Domino and Bartholomew, arr. Beale: I'm Walkin'
Milloy: Harvest Rain
Rundgren, arr. Milloy: Bang the Drum All Day
Samburski, arr. Beale: Ner Li
Milloy: Contagious
Trad., arr. Beale: Scarborough Fair
Collins Foster, arr. Milloy: Hard times come again no more
Isley Bros, arr. Milloy: Fight the Power
Milloy: You Got It!
Beale: Guiding Light
Beale: Gonna make a wish
Mulligan, arr. Beale: Blues in B flat
Bricusse and Newley, Simone, arr. Beale: Feelin' Good
Beethoven, arr. Milloy: Joyful, joyful
Beale: Retweet
Cohen, McFadden, and Whitehead, arr. Milloy: Ain't no stoppin' us now
Hansard and Irglova, arr. Beale: Falling Slowly
Beale: Fly
Luther Vandross, arr. Milloy: Everybody Rejoice
Gore, arr. Beale and Milloy: Here's where I stand
Amazing Grace (web download)
There are currently no questions for this product.
There are currently no reviews for this product. Be the first to write one!