Oxford University Press
Community Voiceworks: The Complete Resource for Community Choirs - Burns/Partington - Book/CD
---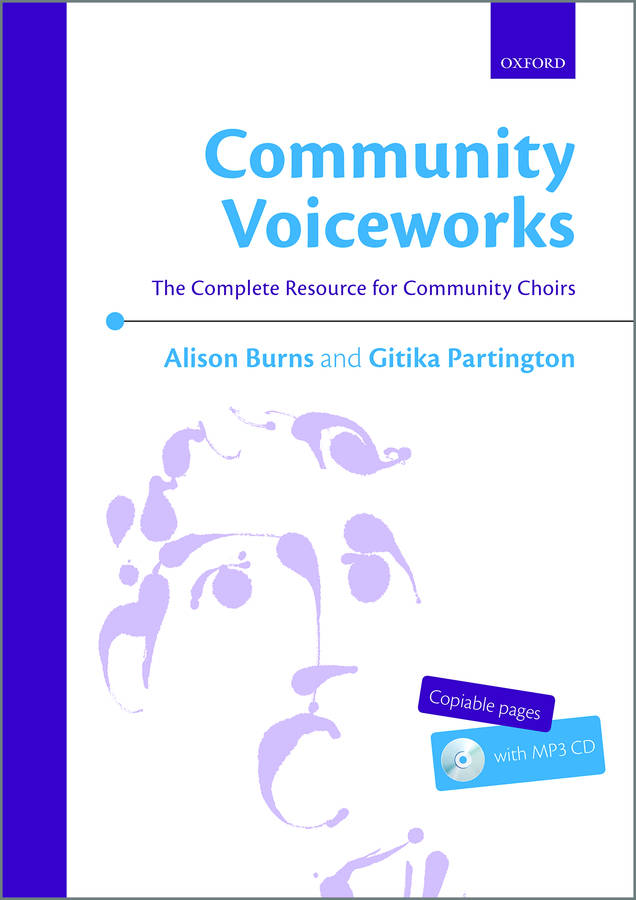 Additional Photos: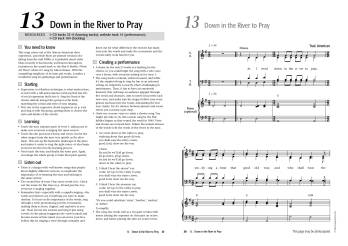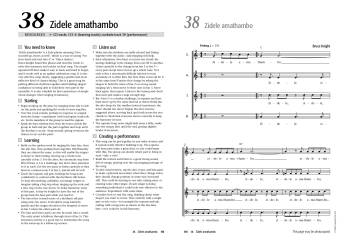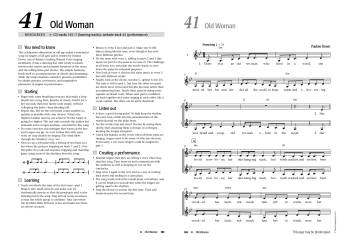 Authors: Alison Burns, Gitika Partington
Format: Book and CD
Voicing: Flexible scoring in 1-4 parts
Community Voiceworks
is an unrivalled collection of fun, reflective, empowering, and moving songs in the practical
Voiceworks
format. With five sections covering a variety of life's key themes, there is something for everyone - from classic hits such as
'Sitting on the Dock of the Bay', 'If I had a hammer', 'Walking on Sunshine',
and
'Something Inside So Strong'
to well-known traditional songs and new works by acclaimed choir leaders. The CD provides recordings of individual parts, allowing non-readers to learn aurally, and song sheets are photocopiable. A truly inclusive collection for all groups who love singing together, regardless of experience!
43 flexible songs, from simple unison to four parts, by established writers and arrangers
Ideal for community choirs of all types and school groups of 11+ years
Vast range of repertoire, including well-known pop songs, traditional songs from around the world, contemporary songs, protest songs, and rounds
Diverse themes, including Peace and Reflection, Liberty and Freedom, and Celebrations
Warm-ups and practical tips on working with amateur singers and the natural voice
Supporting rehearsal plans for each song, from the basis of learning by ear
Copiable pages
CD containing MP3s of learning tracks (providing individual vocal parts) and backing tracks for some pieces
Recordings of full performances available to download
Gitika Partington
is a singer, songwriter, arranger, and workshop leader. She runs two large community choirs - The Bishopsgate Singers and The Tubthumping Chorus in the City of London - and a Primary school choir in Camden, as well as training days for local music education authorities (training teachers and community-choir leaders), a cappella workshops, and singing festivals for adults, students, and families. She has co-written two musicals for children and arranged a wide variety of songs for a cappella SATB choir, several of which are featured in her
Sing Pop A Cappella
(Novello), and written song commissions for
Sing Up!,
including the 2015
National Sing Up Day
song. Gitika holds an MA in Choral Education from the University of Surrey, Roehampton, and is a Licentiate of the Guildhall School of Music & Drama (jazz vocals and arranging). She taught secondary school music for 12 years, and is a member of the Natural Voice Practitioner Network and the band 3 Bucket Jones.
Alison Burns
is a songwriter, arranger, and music educator. Her songs can be heard in diverse settings such as public art installations, theatre, mainstream and special needs education, and in the repertoire and recordings of many community choirs around Britain and the USA. She has published several collections including two songbooks for schools, and several of her songs are part of the Sing Up! website's song bank and were specially featured in Sing Up!'s magazine. She is also known for her originally-themed performances for choirs - in 2008, her song
'Sunshine in My Heart'
was used by the Association for All Speech Impaired Children (Afasic) in an attempt to enter the Guinness Book of Records by getting as many people as possible to simultaneously sing a song in sign language. Alison is a founding member of the Natural Voice Practitioners' Network, the international organization for voice teachers and singers working in community settings, and continues to be involved in its development.
Table of Contents:
Section I: Short and Sweet

Words Betty Tindal, music Alison Burns: I open my arms wide
Ros Thomas: I am not thinking about you
Polly Bolton: Spring Song
Carol Prior: A cat meditating
Alison Burns: A Twist in the Air
Trad., arr. Gitika Partington: Deep Down in my Soul
Juliet Prager: All will be well
Bryan Kessler, adap. Mark and Sharie Anderson, harm. Nickomo: E malama
Jules Gibb: Caballos galopando

Section II: Peace and Reflection

words John Newton, music Sam Cooke: Amazing grace
words John Newton, music Gitika Partington: How Sweet the Sound
Trad.: Down in the River to Pray
Alison Burns: There is silence in my heart tonight
Alison Burns: Keep me
Melanie Dolinski, arr. Andrew Emmet: Peace white dove
Otis Redding and Steve Cropper, arr. Gitika Partington: Sitting on the Dock of the Bay

Section III: Liberty and Freedom

Roxane Smith: Ain't gonna study war
Trad. / Gitika Partington: Ride this Train
Curtis Mayfield, arr. Val Regan: People get ready
Alison Burns: Give me wings
Nickomo: I can hear a train a-comin'
Pete Seeger and Lee Hays, arr. Gitika Partington and Peter Hunt: If I had a hammer
Em Whitfield Brooks: Sold down the river
Zulu song: Shona malanga
words Antonia Machado/Trad., music Val Regan: Ya Basta!
words Dick Dallas, music Billy Taylor, arr. Pete Churchill: I wish I knew how it would feel to be free

Section IV: Change, Loss, and Moving On

Nickomo: Keep your heart good
South African: Think of me
words Judy Grahn, music Alison Burns: The Mountain
Alison Burns: A Pebble on my Tongue
Peggy Seeger, arr. Peter Amidon: Love Call me Home
Hedy West, arr. Gitika Partington: Five Hundred Miles
Cyndi Lauper and Rob Hyman, arr. Gitika Partington: Time after Time
words Robert Burns, Trad. Scottish melody, arr. Alison Burns and Gitika Partington: Auld Lang Syne

Section V: Celebrations

Nickomo: The Yeah Song
Sammy Hurden: Now the sun is rising up
Gitika Partington: I stand tall
Bruce Knight: Zidele amathambo
Kirsty Martin: Different Ships
Alison Burns: May your cup always be full
Pauline Down: Old Woman
Kimberley Rew, arr. Gitika Partington: Walking on Sunshine
Labi Siffre, arr. Pete Churchill: Something Inside So Strong
There are currently no questions for this product.
There are currently no reviews for this product. Be the first to write one!