Roland
FR-8X-BK V-Accordion Black
---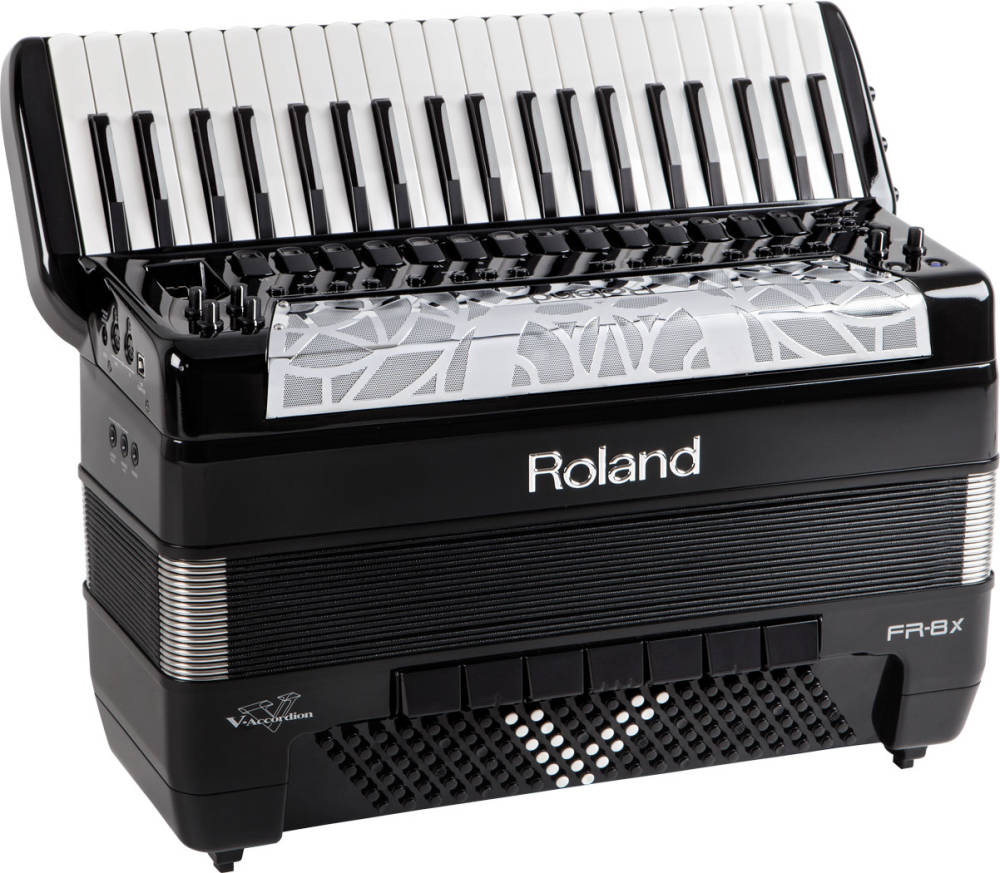 Additional Photos: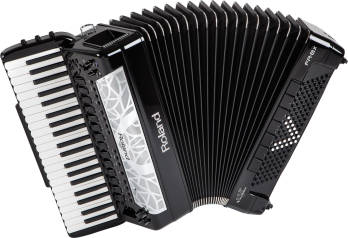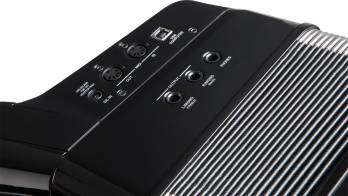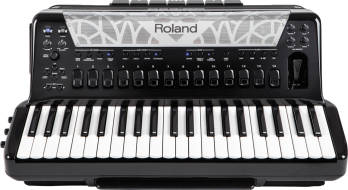 Your Price: $
9,999.99
CDN
or from
$462
CDN/mo
THE ULTIMATE FUSION OF TECHNOLOGY AND TRADITION

With the incredible new FR-8X-BK, Roland has perfected the synergy between traditional accordion playability and modern digital power.

The latest flagship piano-type V-Accordion is jam-packed with features and enhancements developed with input from the world's top players, bringing a previously unattained level of expression and versatility to every accordionist.

Innovative Dynamic Bellows Behavior technology delivers the true bellows response of an acoustic accordion, while the expanded sound set, four powerful multi-effects, an onboard looper, and much more offer a treasure chest of tools for dynamic musical exploration. Seamlessly fusing top-level technology with familiar acoustic tradition, the FR-8X-BK V-Accordion ushers in a new era of creative freedom for players everywhere.

KEYBOARD, BASS & BELLOWS

Right hand
41 keys: piano type with velocity sensitive and aftertouch

Left hand
Piano type/Button type 120 bass buttons velocity sensitive. Standard, Free Bass mode, Orch. Bass, Orch. Chord, Orch. Free Bass

Bass & Chord Mode
2 Bs Rows, 3 Bs Rows A-7th, 3 Bs Rows A-5dim, 3 Bs Rows B-7th, 3 Bs Rows B-5dim, 3 Bs Rows Bx-7th , 3 Bs Rows Belgium

Free Bass Mode
Minor 3rd, Bajan, Fifth, North Europe, Finnish

Bellows
Advanced Dynamic Bellows Behavior technology to manage the behavior of bellows

Bellows Resistance
On, Off, -63 to 0 to +64

Bellows curve
Fixed Low, Fixed Med, Fixed High, X-Light, Light, Standard, Heavy, X-Heavy

SOUND SOURCE

Max polyphony
128 voices

Tones (Accordion Set)
100 Accordion Sets, each one including: 14 Treble Registers, 7 Bass/Chord registers, 7 Free Bass registers, 7 Orchestra Free Bass registers, 7 Orchestra Bass registers, 7 Orchestra Chord registers, 180 Orchestral sounds (28 real time + others selectable by MENU), 18 Drum Sets

Reed Footages
7 Treble, 5 Bass, 3 Chord, 2 Free Bass
Additional sounds
Upload from USB memory and saved on internal memory

Orchestral sounds
180: 28 real time (14x2) the others selectable by MENU

Organ sounds (Virtual Tone Wheel)
32 presets for Treble, Chord and Free Bass sections, 16 presets x Bass section
Up to 28 Harmonic Bar combinations customizable, can be controlled and shaped by bellows.

Orchestral Bass sounds
180: 7 real time, the others selectable by MENU

Orchestral Chord sounds
180: 7 real time, the others selectable by MENU

Orchestral Free Bass sounds
180: 7 real time, the others selectable by MENU

Drum Sets
18

User Programs
1,400: 100 User Program Bank x 14 registers

APBM (ADVANCED PHYSICAL BEHAVIOR MODELING)

Noises
Stopping-reed growl, Closing valve noise, Left button noise

Individual Reed Simulation
Hysteresis threshold, Expression curve, Pressure variant filter, Pressure variant pitch deviation

Switching Reed Sound Wave
By bellows acceleration, by note repetition speed

Bellows opening/closing sound change
By bellows opening/closing detection

Bellows Behavior
Dynamic Bellows Behavior technology for a perfect simulation of the bellows behavior in an acoustic accordion

MUSETTE TUNING

Micro-Tuning Presets
16 Types: Off, Dry, Classic, F-Folk, American L/H, North Europe, German L/H, D-Folk L/H, Alpine, Italian L/H, French, Scottish

Fine Tuning reed footages 8- / 8+
-100 to 0 to +100

EFFECTS

Reverb/Chorus/Delay
8 types, 8 types, 10 types

MFX multi effects
MFX x 4 (84 types) for: Accordion, Orchestra 1, Orchestra 2, Orch Chord/Orch Free Bass

Rotary for Organ sound
Slow/Fast with Vibrato, Chorus, Overdrive and VK-Rotary

Cassotto simulation
Yes

PANEL CONTROLS

Knob controls & Registers
Volume, Balance, Reverb Chorus, Delay, Effect (assignable knob), 14 x Accordion/Orchestra1/Orchestra2/Organ

Encoder
Data Edit with Enter

Navigation switches
Up, Down, Menu/Write, Exit/Jump

Other switches
Set Up, Set Down, Orch 1 On/Off, Orch 2 On/Off, Organ On/Off, Accordion On/Off, Orch Bass On/Off, Orch Chord/Free Bass On/Off, Free Bass On/Off, Bass&Chord On/Off, Drums On/Off, Bass to Treble On/Off, User Program On/Off, Song List On/Off, Power On/Off, Charge On/Off, Loop/Wave/MP3 player: Loop, Reset/Stop, Play/Pause, Audio Rec

Chin switches
3 programmable chin switches

Additional switches
6 user assignable function switches on last row of bass buttons

OPERATION MODE

Accordion, Orchest1/Organ, Orchest2, Drum
Zone, High, Low

Octave
-1, 0, +1 for Treble, -3, 0, +3 for Orchest1, Orchest2

Drum Shift
-36 to 0 to +36

Orchestra Chord Guitar Mode
Gtr Table1, Gtr Table2, Gtr Table3

Sound Edit
Orchest1, Orchest2, Orch Bass, Orch Chord, Orch Free Bass

Bass to Treble
On/Off

Part Mute
Accordion, Orchest 1, Orchest 2, Organ, Bass&Chord, Free Bass, Orch Bass, Orch Chord, Orch Free Bass

Bass & Chord with drum/percussion sounds
Programmable drum/percussion sounds for Bass/Orch Bass 2 rows,
Chord/Orchestra Chord 4 rows.

Audio Player and Audio REC
MP3/Wave player from USB memory and REC on USB

Audio Loop
REC (with Overdub function) and Play

Speakers Off
On/Off adjustable via Menu parameter

Editing and Write
Full parameters for each section New Graphic User Interface

MIDI FUNCTIONS

Ext. Seq. Playback (MIDI IN) or USB Computer
Accordion, Bass&Chord, Orchest1, Orchest2, Organ, Orch Bass, Orch Chord, Orch Free Bass, ALL (Local Off function)

Start/Stop MIDI TX
Send Start/Stop by pushing Alpha dial

OTHER

Display
Color LCD 2.4, 320 x 240 dots

Rated Power Output
2 x 25 W

Speakers
2 x 9 cm neodymium speakers
2 x Tweeters

Wave Expansion
4 internal areas (8 MB each) to load new sounds

Power supply
AC adaptor
Rechargeable Ni-MH battery pack 24 V 4500 mA
• Expected battery life under continuous use: 8 hours speaker ON mode, 11 hours speaker OFF mode

Onboard Connectors
OUTPUT jacks L/Mono (Treble), R/Mono (Bass): 1/4 phone type
PHONES jack: 1/4 phone type
MIDI (IN, OUT) connectors
USB MEMORY port: type A
USB COMPUTER port: type B
DC IN connector

Accessories
AC Adaptor
Power cord (for connecting the AC adaptor)
Rechargeable Ni-MH battery pack 24 V 4500 mA
Owners Manual
Reference caps for the bass buttons
Straps
Accordion cloth
Accordion soft bag

Option ***(sold separately)***
Wireless USB Adaptor (WNA1100-RL)
USB flash memory (M-UF2G)
Headphones: RH-200, RH-300
Rechargeable Ni-MH battery pack 24 V 4500 mA
Footswitch
There are currently no questions for this product.
There are currently no reviews for this product. Be the first to write one!