Kjos Music
Standard of Excellence: Festival Solos, Book 2 - Pearson/Elledge - Baritone Saxophone - Book/CD
---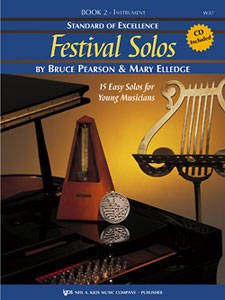 Additional Photos: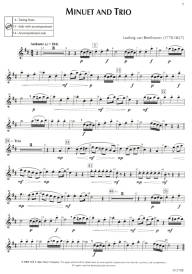 15 Easy Solos for Young Musicians
Authors: Bruce Pearson and Mary Elledge
Format: Book and CD
Instrumentation: Baritone Saxophone
Level: 2
Festival Solos, Book 2,
offers 15 additional solos written for students in their second year of study. The arrangers have chosen classic literature from master composers, providing young musicians with unparalleled musical experiences.
As with
Book 1, Festival Solos, Book 2,
comes with an instrument specific CD for listening and accompaniment purposes. A separate piano accompaniment book provides opportunities for practice or performance with a live accompanist. Perfect for contests, festivals, concerts, and private study!
Song List:
Ancient Ayre (John Barrett)
March From the Overture to "The Occasional Oratorio"(George Friedric Handel)
Dance From "Orpheus and Eurydice" (Christoph Willibald von Gluck)
The Sleigh Ride (Wolfgang Amadeus Mozart)
Little March (Leopold Mozart)
Minuet and Trio (Ludwig van Beethoven)
Rondeau (Friedrich Wilhelm Marpurg)
To a Wild Rose (Edward MacDowell)
March (Robert Schumann)
Renaissance Festival (Tylman Susato)
March (Johann Christoph Friedrich Bach)
Sailor's Song (Edvard Grieg)
A Day in Venice (Ludvig Schytte)
La Bouffonne (Francois Couperin)
Polonaise (Johann Sebastian Bach)
There are currently no questions for this product.
There are currently no reviews for this product. Be the first to write one!