D&A Guitar Gear
Headlock Guitar Wall Hanger - Black
---
Additional Photos: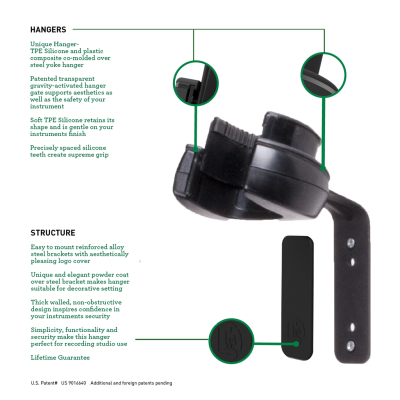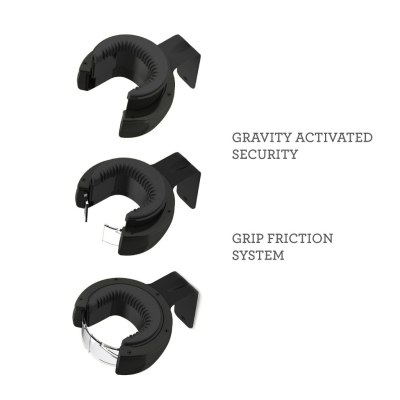 The D&A Headlock Self-Closing Guitar Wall Hanger has innovative see-through gates that permit removal and return in one second with one hand, while ensuring your guitar is always ready to rock. You don't need to worry about your guitar's safety because the unique materials are safe for all guitar types and finishes. The D&A Headlock softly and securely cradles instruments away from the wall and off the floor with a clean and elegant design. Fits most guitars and basses, from classical to electric (up to 2 1/8" inches), and mounts easily to transform any room in minutes.

Ultra Secure
The active gates surround the guitar head and keep it secure at all times.

Flaunt Your Fret Board
The D&A Headlock guitar hanger uses see-through polycarbonate gates to turn any guitar into a secure, wall mounted piece of art.

Ridiculously Amazing Reliability
After 30,000 activations no component of the product showed wear or damage.

Protected
Plastic TPE covers all points of contact between the D&A Headlock and your guitar, ensuring that your guitars finish is not damaged. It is safe for all guitar finishes.

What's in the Box?
Individually boxed and ready to be gift wrapped. Each box contains one (1) completely assembled D&A Headlock Guitar Wall Hanger, complete with all hardware needed for installation: two (2) mounting screws, two (2) wall anchors, one (1) D&A cover plate, mounting instructions and simply the best experience you'll ever find in a guitar hanger.
There are currently no reviews for this product. Be the first to write one!