Mel Bay
International Fiddle Method - Berthoud - Book/Audio Online
---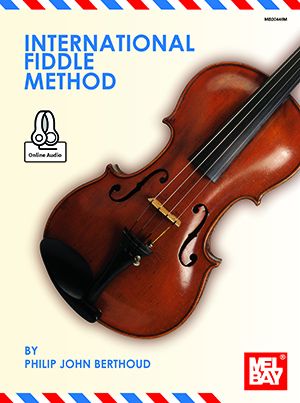 Additional Photos: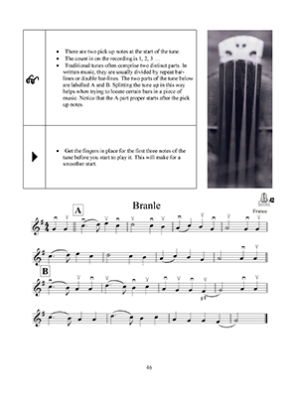 Author: Philip John Berthoud
Format: Book with Audio Online
Instrumentation: Fiddle
This book will teach you to play the fiddle through inspiring traditional music from around the world, arranged specifically for the instrument. The material is ideal for beginners and requires no prior musical knowledge. More experienced fiddle players can benefit from an exciting array of tunes and ideas. Includes access to online audio performed at manageable tempos.
Contents:
Introduction/About the Author
The Fiddle
The Bow and other accessories
Holding the Fiddle
Holding the Bow
Making a Sound
Tuning the Fiddle
Reading and Playing Music - first steps
Bowing
Fingering on the 4th string
More on Reading Music
Fingering on the other strings
Important Points
Kojo No Tsuki Japan
Sakura-Sakura Japan
Defune Japan
J'ai Vu Le Loup France
Makhila Spain
Katyusha Russia
Korobochka Russia
Harry Gidleys Waltz England
6/8 time signature
Ceilog y Rhedyn Wales
Slurring
Flitter Dance Isle of Man
Menoka Dance India
Pandeirada de Escairon Spain
Im Klom de Boon al Oppe Holland
Morayi Tovorgoon Mongolia
Branle France
Hunt the Squirrel England
The little finger
Idir Dehrig Scotland
Over the Hills and Far Away England
Yan Tox Guatemala
Rests
Basque Jig Spain
De Dood van Pierlala Holland
Waltz from Levkivka Ukraine
Tzarignaire Russia
The Mill Belongs to Sandy Australia
Slides
Joe Yates' First Set Tune Australia
Louis' Waltz U.S.A.
The Old Dutch Churn Canada
M'saddar ya nas a-me Algeria
Bahcevanci Turkey
Pashto Song Afghanistan
All notes learned so far
Accenting
The Little Finger
Tripping up the Stairs Ireland
Cronins Hornpipe Ireland
The Maid Behind the Bar Ireland
Son Para Entragar a la Novia Mexico
Tune in G Guadeloupe
Alborada de Pontecaldelas Spain
Remenda o Refaixo Spain
Jig from Galicia Spain
Fraggossiriani Greece
Rada Pere Macedonia
Lama Rwanda
Beale Street Blues U.S.A.
St. Louis Blues U.S.A.
Flop-Eared Mule U.S.A.
Touchia Algeria
Bert Jamison's Australia
The Little River Australia
The Hills of Glenorchy Scotland
Dawns y Pistyll Wales
Rhwng Dwy Wales
Frayleleh Israel
Bisdot Bet-lechem Israel
Hava Netze Bamachol Israel
Metsakukkia Finland
Kautisten Polka Finland
Waltz in D minor Sweden
Waltz in A minor Sweden
La Grande Chaine Canada
Tarantella in D minor Italy
Tarantella in A minor Italy
Hora Mare Romania
Maria Chibu Congo
Podrimsko Oro Albania
A l'ouchaq fnit ana Morocco
Laghran bayen fiyya Morocco
Al mout ba-ddra' Morocco
Dance Egypt
La Paloma Venezuela
Castillian Trinidad
Tune in D Guadeloupe
Karallanta Bolivia
Mosaico Tradicional Venezuela
Malembe Venezuela
La Partida Venezuela
Dance from Rajasthan India
Extract from Shin-Kinuta Japan
Sai Ma China
Ping Hu Qiu Yue China
Hoir Sit Gild Mongolia
7/8 time signature
Hopa Horunu Turkey
Kucata Bulgaria
Friend, Since You Want to Marry Greece
I Had One Love Greece
Daichovo Chara Bulgaria
Krepatka Bulgaria
Mawwal Syria
Trapizontsinerti par Armenia
Shalakho Armenia
Double-stops
Louis Waltz with double-stops U.S.A.
Castillian with double-stops Trinidad
Bahcevanci with double-stops Turkey
Hunt the Squirrel with double-stops England
The Mill Belongs to Sandy with doublestops
Australia
Effective Practice
Traditional Music and Language
Posture
Playing with and learning from other musicians
Glossary with page references
There are currently no questions for this product.
There are currently no reviews for this product. Be the first to write one!