Zoom
G5n Guitar Multi-Effects Processor
---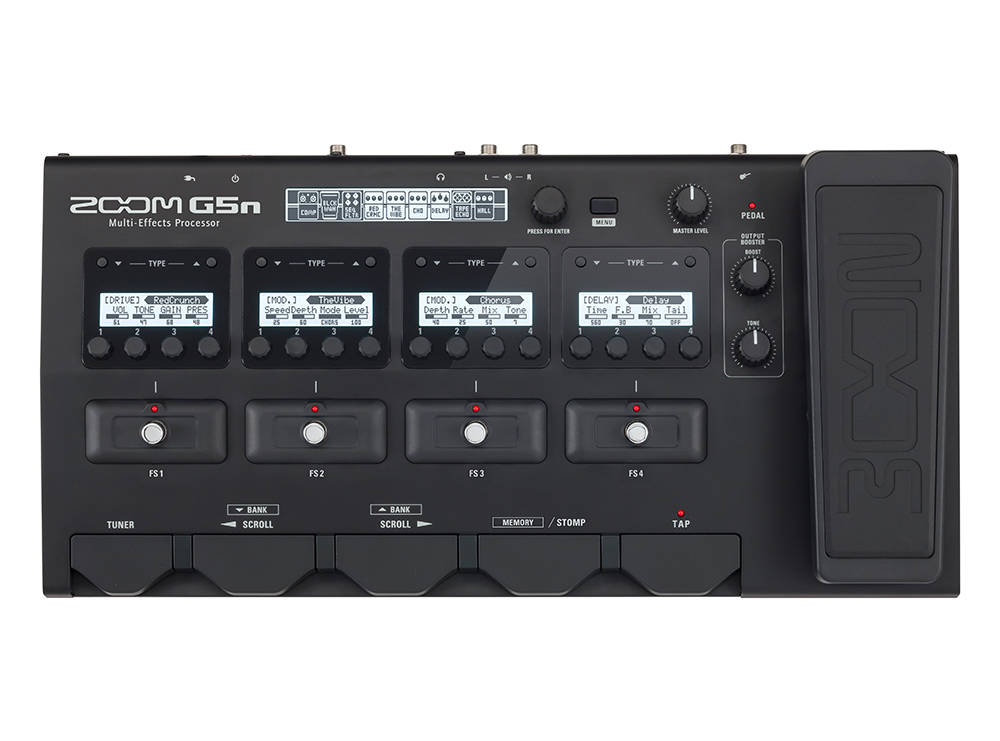 Additional Photos: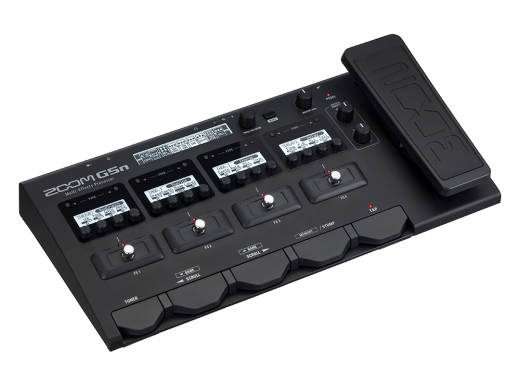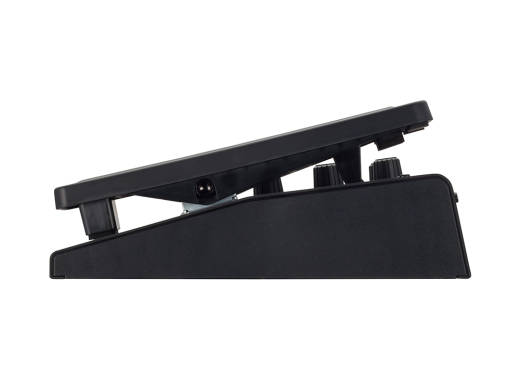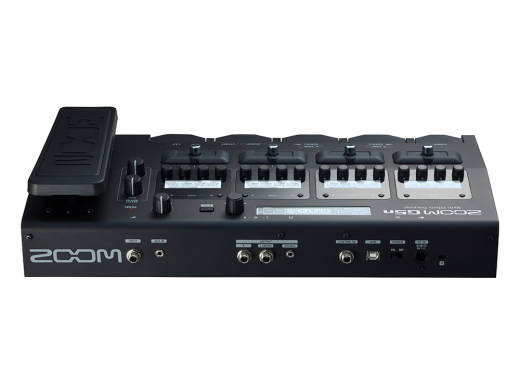 or from
$48
CDN/mo
The Zoom G5n comes loaded with 68 beautifully-crafted and newly assembled DSP effects, plus 10 of the most faithful and realistic amp/cabinet emulators Zoom has ever created. From "FunkSauce" to "Texas Toast," from "Carlos" to "Heavensent," the G5n delivers dozens of tonalities sure to please the most discerning guitarist.

A wide array of effects
The G5n comes equipped with freshly-developed takes on not only the most-essential guitar sounds like overdrive, distortion, compression, EQ, delay, reverb, flanging, phasing, vibrato, and chorusing, but also unique multi-effects such as Seq Filter, Gold Drive, Reverse Delay, HD Hall, and OSC Echo.

Ultra-realistic amp/cabinet emulation
You can connect the G5n directly to a PA system or audio interface, using the 10 brand new onboard amp and cabinet emulators. Choose from 5 classic amp models like the Marshall JCM800, Fender Twin Reverb, MESA Boogie Mk3, Bogner Ecstasy Blue Channel, and British 30W Class A Combo, newly and faithfully created to be adjusted exactly as you would with the knobs and switches of the real thing.

Pair your amp with one of the 5 newly-created cabinet emulators to complete the sound, choosing from Marshall 1960 A-type cabinet (4x12 Celestion speakers), Fender '65 Twin Reverb (2x12 Jensen speakers), the UK2x12 that recreates the sound of early British combo amps (2x12 Celestion speakers), Mesa Boogie Mark III cab (1x12" Celestion Black Shadow speaker), or Bogner Ecstasy cabinet (4x12" Celestion speakers).

Features At A Glance:

• 68 onboard high-quality digital effects, including distortion, overdrive, EQ, compression, delay, reverb, flanging, phasing, and chorusing
• 5 new amp emulators plus 5 cabinet emulators
• 100 custom-designed factory patches
• Free ZOOM Guitar Lab Mac/Windows software allows downloading of additional effects and patches
• Use up to 9 effects simultaneously, chained together in any order
• 4 stompbox switches allow effects to instantly be brought in and out
• Built-in expression pedal for real-time control over volume, tone, or selected effect parameters
• High output booster circuit for added volume and overdrive
• Intuitive user interface
• 200 memory locations for storage of factory and/or user-created patches
• 4 independent editing displays, plus large overview display
• Auto Save function for automatic saving of all patch parameters
• Onboard chromatic tuner with dedicated footswitch supports all standard guitar tunings, including open and drop tunings
• Tuner range of 435 - 445 Hz
• Stereo/mono Looper allows recording of up to 80 seconds of phrase recording
• 68 built-in rhythm patterns that can be used in conjunction with the Looper
• Tap Tempo with dedicated footswitch
• Input jack accepts standard guitar cable
• Auxiliary stereo input jack for connection of smartphones and music players
• Dual output jacks for connection to guitar amps and mono or stereo PA systems
• Dedicated stereo headphone output
• Control input for external footpedal
• USB port for firmware updating and patch/effects downloading
• Use as a USB audio interface for Mac/Windows computers, with direct zero-latency monitoring of input signal
• Included AC adapter

CREATE YOUR SIGNATURE SOUND

Easy editing
Editing is simple and intuitive thanks to a unique, large overview display that allows you to quickly add, delete, or change the order of effectssomething not easily accomplished with the average pedalboard. There are also four independent editing displays for zeroing in on the perfect sound, each bank providing the responsiveness and hands-on feel of a stompbox. Store up to 200 of your custom effects-chains as patches in memory, each instantly accessible at the touch of a footswitch.

Powerful pedals
The G5n's expression pedal gives you smooth real-time control over volume, tone, or selected effects parameters, with four stompbox-style footswitches to kick effects in and out on the fly. When you're ready to take a solo, get the bump you need with the G5n's output booster. And to synchronize rhythm patterns and delay times to the beat, just hit the G5n's dedicated Tap tempo footswitch to bring your sound in line.

Complex tonalities
It would take an arsenal of stompboxes, amplifiers, and speakers to duplicate everything you can do with a single G5n. Use up to nine effects and amp/cabinet models simultaneously, chained together in any order you like. It's like having hundreds of fully loaded pedalboards in one compact, easy to use device.

ZOOM Guitar Lab software

Use Zoom's free ZOOM Guitar Lab Mac/Windows software to instantly download new patches, effects, and amp/cabinet simulators. It includes both a Patch Manager for effects chains and an Effects Manager, with a simple graphic user interface that provides point-and-click control over tweaking, building, and naming your custom patches.

State of the art editing with every G5n

The Zoom G5n comes with a free download license for Steinbergs Cubase LE music production software, providing not just the ability to create incredible guitar sounds in every box, but to do spectacular things with it.

Take your recordings to a more professional level. Steinbergs powerful and state-of-the-art audio software used by creators around the world now comes with every Zoom G3, G3X, G5, and G5n purchase.

Currently shipping with: Cubase LE8 for Mac OS X 10.9/10.10/10.11 and Windows 7/8/8.1/10

Specifications:

Effect types: 80 types
Number of simultaneous effects: 9
Number of user patches: 200
Sampling frequency: 44.1kHz
A/D conversion: 24-bit with 128x oversampling
D/A conversion: 24-bit with 128x oversampling
Signal processing: 32-bit
Frequency characteristics: 20-20kHz +1dB, -3 dB (10 kΩ load)
Display:
- 12832 dot-matrix LCDs (4)
- 25632 dot-matrix LCD

Input:
INPUT Standard monaural phone jack:
- Rated input level: -20dBu
- Input impedance(line) : 470kΩ
AUX IN Stereo mini jack
- Rated input level: -10dBu
- Input impedance(line) : 10kΩ

Output (L/R)
Standard monaural phone jack x 2
- Maximum output level: Line +5dBu (with output load impedance of 10 kΩ or more)
Output Phone
Stereo mini jack
- Maximum output level: 20 mW + 20 mW (into 32 Ω load)

Equivalent input noise: -119dBu
Noise floor (residual noise): -101dBu
Control input: for FP01/FP02
Power AC adapter: DC9V (center minus plug), 500 mA (ZOOM AD-16)
Dimensions: 225mm(D) X 454mm(W) X 75mm(H)
USB: USB Audio
Weight: 3.4kg

Includes:
- Operation manual
- Zoom AD-16 AC adapter
There are currently no questions for this product.
34.204.172.188
CCBot/2.0 (https://commoncrawl.org/faq/)
Best tool for my music production
0 of 0 customers found this review helpful
Product Experience
I own it
Closest Store
Toronto (Danforth), Ontario
I am fairly new to the world of pedals, thought why not try out this thing and I can confidently tell you it's everything I need and won't be buying more pedals anytime soon. The effects are ultra crisp with very little to no feedback. There is a looper, built in tuner, rhythm packs and so much more awesome stuff. I actually switched to this from the BOSS ME-80.The overdrive and distortion effects on the G5N blow ME-80 out of the water, as well as everything else just feeling much cleaner.
If you're in the market for a pedal set up, I may not be the MOST well informed but I can tell you that the Zoom G5n checks every box for me.
Posted by

Pierce

on

Nov 23, 2020
Great Multi-Effects
0 of 0 customers found this review helpful
Product Experience
I own it
Closest Store
Tillsonburg, Ontario
When I purchased this unit, it came with version 2.0 firmware. I upgraded the firmware to version 3.0 and installed the Guitar Lab software on my PC. Having the Zoom G3 and Zoom MS-60B (bass effects) units already, upgrading to the G5n was an easy choice. The G5n is easy to program, both on the processor and with the Guitar Lab software. Several effects are possible with this unit, and they sound great!
Posted by

Dale R.

on

Oct 31, 2020
Everything I need for Live and Practice
1 of 1 customers found this review helpful
Product Experience
I own it
Closest Store
Edmonton North, Alberta
I have been using this for more than a year now. Started with Boss pedals decades ago but discovered Zoom in the late 90s and never looked back. The tones you can get from this mutli fx pedal are awesome, from cleans to high gain. I have set up patches for each of my guitars and it rocks. I play in a showband so we play literally play all kinds of music genres and this thing never fails me from song to song. It's also really easy to use. I also love how you can connect directly to 2 amps at the same time for bigger venues. This will last me for years!
Posted by

Deo

on

Dec 18, 2019
Awesome!
2 of 2 customers found this review helpful
Product Experience
I own it
Closest Store
St. Catharines, Ontario
I have only had this pedal for a month and I am loving it. The natural tones I can create sound authentic and warm. I play mainly modern worship music and get great tones modelling the Fender Deluxe Reverb with a Tubescreamer, Sweet Drive, and multiple delays and reverbs. The ZNR noise reduction keeps my Epi Les Paul Custom Pro quiet when I split the coils and I am looking forward to seeing how my custom made Tele with single pickups sounds.
I have just started playing around with the USB interface into my laptop to record direct and have found it works well to record. The entire pedal is so easy to use once you figure out how you want to use it. I set up my patches in groups of 4 for the different parts of each song (intro, V1, C1, BR etc) and use it like the "scenes" on a Helix. I also back up each patch with the new third party software release (ToneLib) and use the same software to tweak my tones and organize set lists. I spend less time turning knobs and more time playing.
This is my first real effects purchase since I started playing seriously in the past few years and it is definitely worth it. I am on a tight budget and this pedal is of terrific value. I researched so many via YouTube and am thrilled with my purchase. The guys at the St Catharines store went above and beyond to get me the best deal possible before black Friday by matching a competitors price and throwing in another years warranty as well. Keeps me coming back for more of their great service!
Posted by

Scott

on

Dec 10, 2018
Slick
1 of 1 customers found this review helpful
Product Experience
I own it
Closest Store
Burlington, Ontario
Wanted to streamline my out fit....Now, it is not a series of analog pedals witha a marshall stack....However,...It does weigh ~10 lbs. It has a small foot print, great modulation sounds and much better boost/driven tones than multi pedal boards are known for. I would say really quite good. Intuitive, well laid out, easy to use. Bought it on Saturday afternoon and played a birthday party with it that evening, straight through the PA. Sounded great....The power cable is fragile.
Posted by

Greg Nocent

on

Oct 7, 2017
Epic, easily programmed floor processor at a bargain price!
3 of 3 customers found this review helpful
Product Experience
I own it
Closest Store
London North, Ontario
I ditched my older Yamaha, Zoom, Vox, and Line 6 modellers along with my IOS apps, because of awkward user interfaces and poor audio quality. I enjoy my Tech 21 Fly Rig, but I wanted more variety and a Kemper, Helix or Headrush isn't in my budget.
I almost overlooked the G5n because of early complaints about memory and other limitations. Glad I gave it a second look, because the v2.0 update fixes the v1.0 firmware and transforms the pedal.
Out of memory alerts are almost non-existent now, and most of the original FX have gotten upgrades. Also, Zoom has continued to release new amps, cabs, and FX, including terrific ambient reverbs and delays. There are great high and low-gain tones available, and touch response is better than most of the modellers I've sampled.
I thought this was going to be a toy for home use, but it's going in my gig bag. I bench-tested it, and the audio quality is excellent, on par with most 24-bit pro audio gear. Build quality rates a 5, with a solid metal housing and good plastics where needed.
It's extremely flexible- mix and match multiple cab sims or go without, blend between mic models or turn them off, and stack pedals to the moon, in any order. I have a bass patch that stacks 4 parametric EQ's and a plate reverb after an optical compressor and an RC Booster, and there's still room for 2 more. Transitions between patches are immediate, with the choice of tails on or off.
The manual is long, but offers lots of tips and shortcuts. I only needed it a couple of times, because the UI is so good. The librarian software is limited, but makes it easy to load updates and back up or trade patches.
With 9 footswitches, multiple screens and no menu-diving, the G5n is a breeze to configure without a laptop. The boost knob w/tone control is good for quick global adjustments- perfect for rented backline, working with new sound people, etc.
I searched hard for quibbles with the G5n and only found two: The manual doesn't mention that you can remove the hard foam stopper that blocks the toe switch on the expression pedal, and I wish the Boost could be assigned to a footswitch. Even so, there are Solo settings in most of the amps, and lots of drive pedals available.
This is the best gear purchase I've made in ages.
Posted by

Steve Rolfe

on

Jul 11, 2017
Floor Effects Processor Extraordinaire
4 of 4 customers found this review helpful
Product Experience
I own it
Closest Store
Mississauga, Ontario
I purchased the G5n to replace an aging Line 6 HD500 Floor Effects Processor that was starting to give me some problems and although I never owned a Zoom product before, the reviews on this unit have been very good, especially pertaining to a perceived significant improvement in the sound of the amp and cab models over the previous generation.
To start with, I only purchased this unit in late Dec./2016, yet, the upgrades and additions just since that time have been phenomenal. There already has been a 30% increase in DSP capability, effects have gone from 68 to well over 100 and amp and cab sims have increased from 10 to 28. The number of preset patches has also increased as well adding to the initial 100 already onboard at the time of purchase. Many of these are actually useable right out of the box. More additions and upgrades are apparently on the way.
Even with all that, for me, the biggest selling point was the display. In addition to the master display at the top of the G5n which shows all of the effects, cab and amp sims in the sequence for each patch(these can be switched around on the fly in any sequence in the chain you desire), the patch/memory, stomp mode foot switch allows you to switch instantaneously between patches and stomp mode which, without having to enter any menus, displays each effect, cab and amp sims for each patch individually in windows with knobs directly underneath for individual parameter adjustments. No other guitar effects processor that I have seen, at any price, has this kind of detail in a display package. In many ways, in setting up patches it eliminates the need for an online editor.
If you can do without midi capability and effects loops(that I personally don't require)and you just want a straight ahead, well built, roadworthy and user friendly, great sounding guitar floor effects processor, which also includes a looper and a 68 pattern adjustable drum machine, I can't think of a better unit than the G5n, especially for the price. Highly recommended.
Posted by

Ron Warren

on

Apr 16, 2017