Pender Music Publishing
Traditional Folk Songs of Newfoundland and Labrador - Pender - Cello
---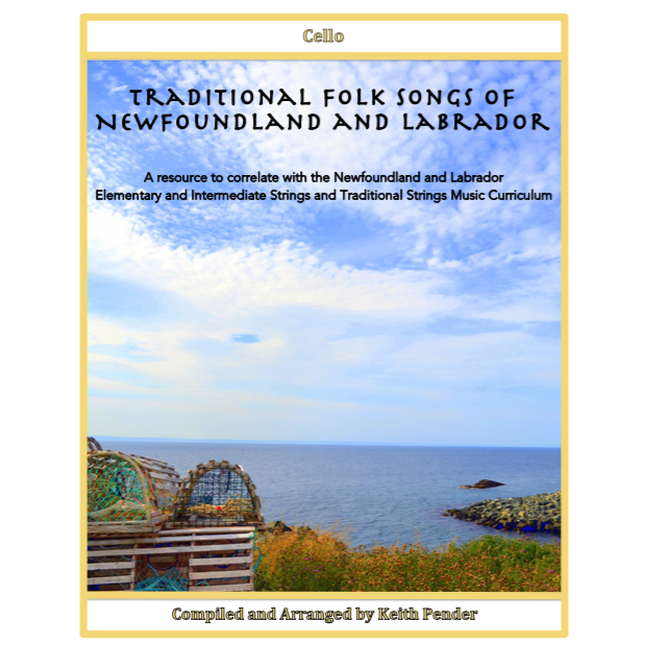 A resource to correlate with the Newfoundland and Labrador Elementary and Intermediate Instrumental Music Curriculum.
Compiled/Arranged: Keith Pender
Format: Book
Instrumentation: Cello
This book has been organized to develop a musician's music literacy. The order in which the songs are presented corresponds to skill level, with songs progressing in difficulty and complexity. Contains 60 Traditional Newfoundland and Labrador folk songs.
Song List:
As I Roved Out
Badger Drive
Billy Peddle
Black Velvet Band
Change Islands Song
Cherry Tree Carol
Cliffs of Baccalieu
Cod Liver Oil
Come and I Will Sing You
Concerning One Summer in Bonay
Down Among the Rushes-O
Excursion Around the Bay
Fair Fanny Moore
Feller from Fortune
Ferryland Sealer
Great Big Sea Hove in Long Beach
Green Grows the Laurel
Greenland Whale Fishery
Harbour Le Cou
Hard, Hard Times
Heave Away
I's the B'y that Builds the Boat
Jack Hinks
Jack was Every Inch a Sailor
Jolly Poker
Jolly Rovin' Tar
Kelligrew's Soiree / Wedding in Renews
Lukey's Boat
Master-Watch
Molly Bawn
Mussels in the Corner
Never Been There Before
Night Pat Murphy Died
Now I'm Sixty Four
Ode to Newfoundland
Old Brown's Daughter
Old Polina/Noble Fleet of Sealers
Peter Street
Petty Harbour Bait Skiff
Rattlin' Bog
Roving Newfoundlander
Rubber Boots
Ryan's and the Pittman's
Sally Brown
Sam Hall
Sarah
Seven Joys of Mary
Signal Hill
She's Like the Swallow
She Said She Couldn't Dance
Spanish Captain
Star of Logy Bay
Sweet Forget Me Not
Tickle Cove Pond
Tiny Red Light
Trinity Cake
Trois Navires De Ble
Twenty One Years
Vive Le Rose
Why Didn't You Say So Before
There are currently no questions for this product.
There are currently no reviews for this product. Be the first to write one!