ECS Publishing
Peace - Teasdale/Chatman - String Parts Set
---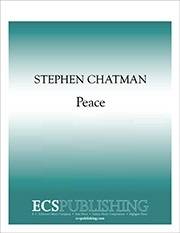 Lyrics: Sara Teasdale (1884 - 1933)
Music: Stephen Chatman
Format: Choral Octavo
Voicing: String Orchestra Parts Set, to accompany
choral octavo
Recipient of Canada's highest civilian honour, composer Stephen Chatman became a member of the Order of Canada in 2012. He has a large catalogue of works with Highgate Press, a division of ECS Publishing. The work above is quintessentially Chatman, featuring lyrical melodies, his signature harmonic vocabulary and, when accompanied, instrumental writing that is always gracious.
Poem by Sara Teasdale (1884-1933). This Sara Teasdale poem is set to lyrical music for SAB chorus, piano, and optional string orchestra. Sopranos divide in a few spots, altos on the final note. Well crafted and not difficult to learn. As with all Chatman pieces, a capable and sensitive pianist will appreciate the writing. The text has images that are expansive yet come back to the personal, "You are my deepening skies; Give me your stars to hold."
There are currently no reviews for this product. Be the first to write one!