La Bella
Low Tension Flats Bass Strings, 42-100
---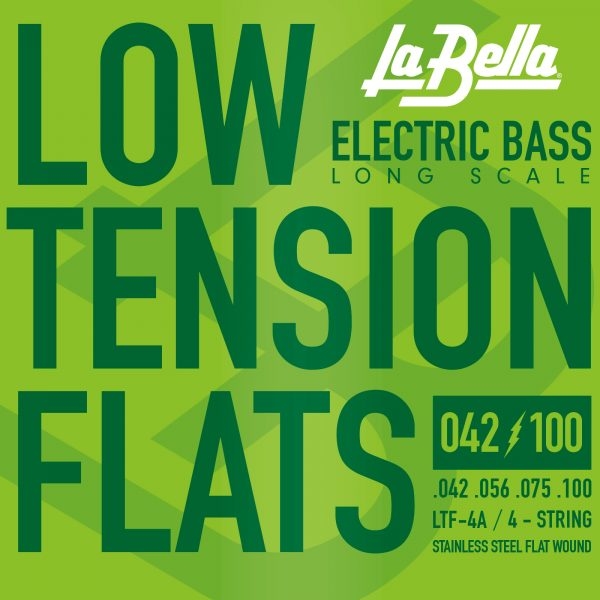 La Bella's Low Tension Flats are the best-selling light tension flat wound string on the market. Adopting the same techniques behind their world-famous Deep Talkin' Bass strings, the Low Tension Flats deliver the same classic sound but without the floppy-string effect associated with other light tension flat wound strings. These hand-wound and hand-polished strings are equipped with round cores for flexibility, and narrower ribbon wire to achieve that unrivaled smooth feeling strings uniquely characteristic to La Bella Strings.


Features
• Stainless Steel Flat Wound
• Round cores for greater flexibility and narrower ribbon for an unrivaled smooth feeling
• Light Tension
• Total Tension in Lbs: 134.90 (1st 36.2, 2nd 34, 3rd 30.5, 4th 34.2)
• String Gauges: .042, .056, .075, .100
• Standard Long Scale Set
• Packaged using MAP Technology (Modified Atmosphere Packaging) to prevent tarnishing and ensure freshness

All standard bass sets are LONG scale length. All four strings are 37" from ball-end to silk. Only the silk portion of the string should wrap around the tuning post or else the string will break.

There are currently no questions for this product.

18.205.26.39

CCBot/2.0 (https://commoncrawl.org/faq/)
low tension La Bella strings
1 of 1 customers found this review helpful
Product Experience
I own it
Closest Store
Peterborough, Ontario
These exceeded my expectations right out of the package. Beautiful silk, super polished, hand made by somebody who really loves his/her job. Put on a fretless P the "feel" is fantastic. I like the tone better than most of the prior string sets I have tried. I would recommend them as being superior than most and well worth trying. I do have La Bella strung basses in my closet but I'm quite taken with these strings and will buy them again.
Posted by

Brittain Johnson

on

Jun 13, 2021
Best
1 of 1 customers found this review helpful
Product Experience
I own it
Closest Store
Prince George, British Columbia
These strings are the best I've ever owned
Posted by

anonymous

on

Oct 19, 2020