Hal Leonard
The Hal Leonard Mandolin Fake Book
---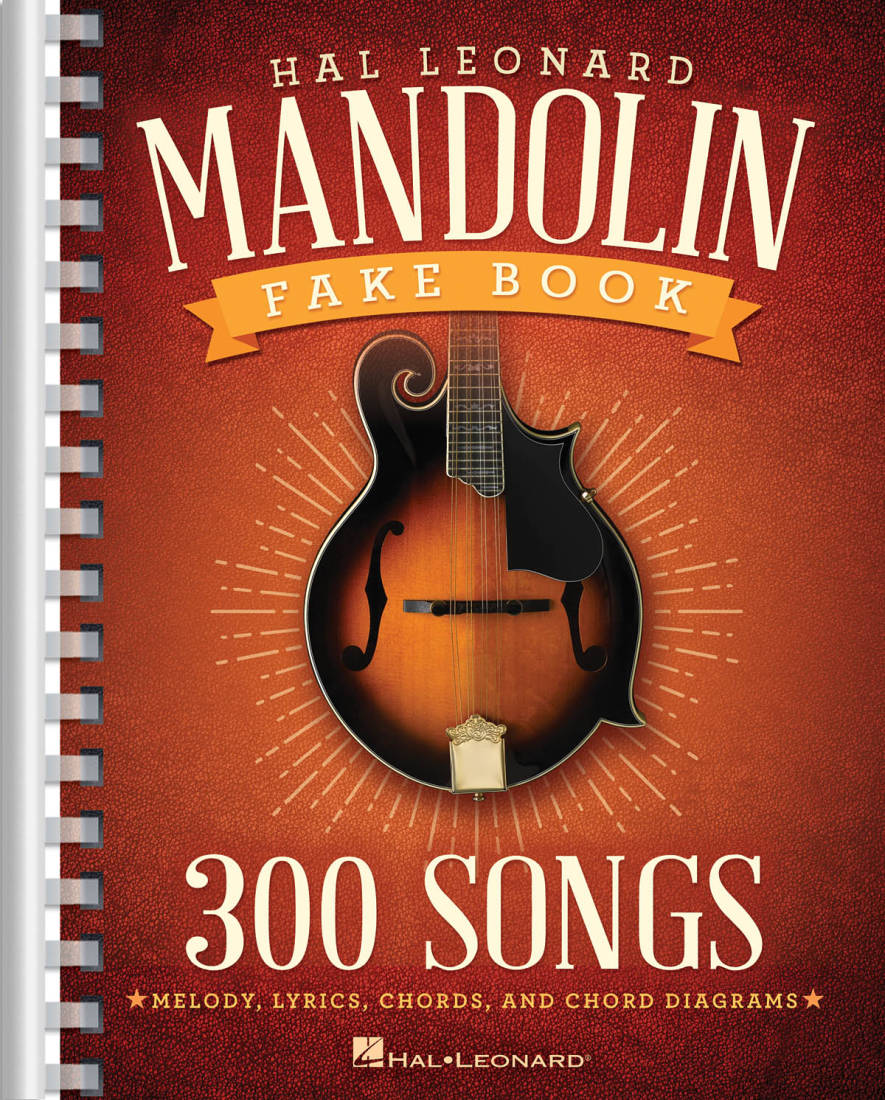 Additional Photos: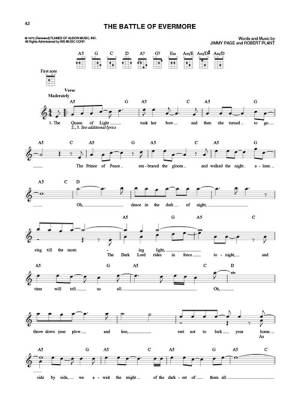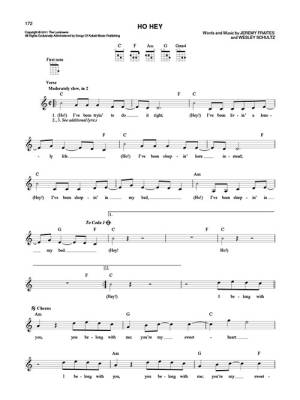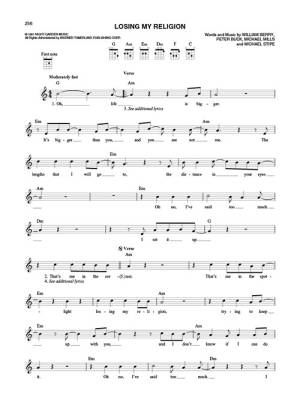 Composers: Various
Format: Softcover
Instrumentation: Mandolin
Nearly bigger than your mandolin, this collection packs 300 songs into one handy songbook! Get melody, lyrics, chords & chord diagrams for the tunes. Plastic comb binding makes sure the book lays flat while you perform.
Song List:
The A Team
After You've Gone
Afternoon Delight
Against The Wind
Ain't No Sunshine
Ain't She Sweet
Al Di La (from ROME ADVENTURE)
Alabama Jubilee
Always On My Mind
Amazing Grace
Angeline The Baker
Aquarius
Arrivederci Roma (Goodbye To Rome)
As Time Goes By (from CASABLANCA)
Ashokan Farewell (Theme from PBS Series THE CIVIL WAR)
Auld Lang Syne
Autumn Leaves
Avalon
Ave Maria
Baby Love
Back In The High Life Again
Bad, Bad Leroy Brown
Bad Moon Rising
Battle Hymn Of The Republic
The Battle Of Evermore
(It's A) Beautiful Morning
Because
Best Of My Love
Big Yellow Taxi
Blackberry Blossom
Blackout
Blowin' In The Wind
Blue Bayou
Blue Moon Of Kentucky
Blue Skies (from BETSY)
Born Free
Both Sides Now
Breakfast At Tiffany's
Brown Eyed Girl
Bye Bye Blackbird
Cabaret
California Dreamin'
California, Here I Come
Can't Find My Way Home
Can't Take My Eyes Off Of You
Carefree Highway
Carnival Of Venice
China Boy
Cielito Lindo (My Pretty Darling)
Ciribiribin
City Of New Orleans
Come Back To Sorrento
Come Monday
Come To The Sea (Vieni Sul Mar)
Copperhead Road
Cotton Eyed Joe
Crazy
Crazy Little Thing Called Love
Cry Love
Dance Tonight
Danny Boy
Dark Eyes
Daydream Believer
Dixie Land
Do Wah Diddy Diddy
Do You Believe In Magic
Do You Know What It Means To Miss New Orleans
Donkey Serenade
Dream A Little Dream Of Me
Dream Lover
Drift Away
Drinking Song (from LA TRAVIATA)
The Drunken Sailor
Dust In The Wind
Edelweiss
Eleanor Rigby
Escape (The Pina Colada Song)
Every Breath You Take
Everything Is Beautiful
Fast Car
Fields Of Gold
The 59th Street Bridge Song (Feelin' Groovy)
Folsom Prison Blues
Free Fallin'
Freight Train
Gallows Pole
The Gambler
Georgia On My Mind
Give A Little Bit
Go Your Own Way
The Godfather (Love Theme)
Going To California
Good Morning Starshine
Good Riddance (Time Of Your Life)
Goodnight, Irene
Granada
Guantanamera
Hallelujah (featured in the DreamWorks Motion Picture SHREK)
Hang On Sloopy
Happy (from DESPICABLE ME 2)
Happy Birthday To You
Happy Together
He Ain't Heavy, He's My Brother
He's Got The Whole World In His Hands
Heart And Soul
Hey Jude
Hey, Soul Sister
Hey There Delilah
High Hopes
Ho Hey
The Hokey Pokey
Home
Homeward Bound
A Horse With No Name
Hotel California
The House Of The Rising Sun
I Am A Man Of Constant Sorrow
I Got You Babe
I Saw The Light
I Shot The Sheriff
I Walk The Line
I Will Wait
I Write The Songs
I'd Like To Teach The World To Sing
I'm An Old Cowhand (From The Rio Grande)
I'm Sitting On Top Of The World
I'm Yours
If I Had A Hammer (The Hammer Song)
If I Were A Carpenter
If I Were A Rich Man
Imagine
In The Good Old Summertime
In The Pines
Indiana (Back Home Again In Indiana)
Into The Mystic
Iris (from the Motion Picture CITY OF ANGELS)
Island In The Sun
It Never Rains In Southern California
It's A Small World (from Disneyland Resort and Magic Kingdom Park)
It's Now Or Never
It's Time
Jamaica Farewell
Jambalaya (On The Bayou)
Jesu, Joy Of Man's Desiring
Jumping Jack Flash
Just The Way You Are
Kansas City
Keep On The Sunny Side
Kentucky Waltz
King Of The Road
Knockin' On Heaven's Door
Kokomo
Kum Ba Yah
La Golondrina
La Paloma
La Spagnola
La Vie En Rose (Take Me To Your Heart Again)
Layla
The Lazy Song
Lean On Me
Lemon Tree
Like A Rolling Stone
Limbo Rock
Limehouse Blues
Little Georgia Rose
Long Train Runnin'
Losing My Religion
Love Me Tender
Mack The Knife
Maggie May
A Man Without Love (Quando M'Innamoro)
Mandolin Rain
Mattinata
Me And Bobby McGee
Mean
Mellow Yellow
Mercedes Benz
Misirlou
Mrs. Robinson
Mr. Bojangles
Mr. Jones
Mr. Tambourine Man
Moondance
More Than Words
Morning Has Broken
Mountain Music
Mule Skinner Blues
Musetta's Waltz (Quando Men Vo) (from LA BOHEME)
My Rose Of Old Kentucky
Never On Sunday
The Night They Drove Old Dixie Down
No Woman No Cry
Non Dimenticar (T'ho Voluto Bene) (from the Film ANNA)
O Sole Mio
Ob-La-Di, Ob-La-Da
Oh Happy Day
Oh Marie
Old Joe Clark
Over The Rainbow
Peaceful Easy Feeling
Pelagia's Song (Ricordo Ancor)
Puff The Magic Dragon
Put Your Hand In The Hand
Puttin' On The Ritz
Que Sera, Sera (Whatever Will Be, Will Be)
Ragtime Cowboy Joe
The Rainbow Connection
Raindrops Keep Fallin' On My Head
Raw Hide
Red, Red Wine
Redemption Song
Ripple
The River Seine (La Seine)
Rocky Top
Rolling In The Deep
Runaway
Salt Creek
San Francisco Bay Blues
Santa Lucia
Santeria
Scarlet Ribbons (For Her Hair)
Scotch And Soda
Serenade (from THE STUDENT PRINCE)
Serenata
Shady Grove
The Sheik Of Araby
Shenandoah
Sing (from SESAME STREET)
Sister Golden Hair
(Sittin' On) The Dock Of The Bay
Skinny Love
Sloop John B.
Softly As In A Morning Sunrise
Song Of India
Song Of The Vagabonds (from The Paramount Picture THE VAGABOND KING)
Song Sung Blue
Spanish Eyes
Strangers In The Night
Sunny Came Home
Sunrise, Sunset
Superstition
Sweet Caroline
Sweet Georgia Brown
Sweet Home Alabama
Take Me Home, Country Roads
Tarantella
Tears In Heaven
That's Amore (That's Love)
These Boots Are Made For Walkin'
This Is My Song
Those Were The Days
Three Little Birds
Tiger Rag (Hold That Tiger)
Time In A Bottle
The Times They Are A-Changin'
Tiny Bubbles
Tip-Toe Thru' The Tulips With Me
Toes
Tom Dooley
Top Of The World
Truckin'
Turkey In The Straw
Turn! Turn! Turn! (To Everything There Is A Season)
26 Miles (Santa Catalina)
Unchained Melody
Uncle Pen
The Unicorn
Walkin' In Jerusalem
Waltz Of The Flowers
'Way Down Yonder In New Orleans
Wayfaring Stranger
We Shall Overcome
We'll Sing In The Sunshine
Weathercock
Wedding Dance #1 (The Bottle Dance) (from FIDDLER ON THE ROOF)
Welcome Back (from the Television Series WELCOME BACK, KOTTER)
What Have They Done To My Song, Ma?
What The World Needs Now Is Love
Wheel Hoss
When I'm Sixty-Four
Where Have All The Flowers Gone?
Whiskey Before Breakfast
Wichita Lineman
Wild Night
Wildwood Flower
Willie And The Hand Jive
Wish You Were Here
Wonderwall
The Wreck Of The Edmund Fitzgerald
Yellow Submarine
Yesterday
You Are My Sunshine
You Are The Sunshine Of My Life
You Can't Hurry Love
You've Got A Friend
Your Cheatin' Heart
Your Mama Don't Dance
Zigeuner
Zip-A-Dee-Doo-Dah
Theme From "Zorba The Greek"
There are currently no questions for this product.
There are currently no reviews for this product. Be the first to write one!