Debra Wanless Music
A Rainbow of Sound Book 3 - Wanless - Piano Solos ( 1 Hand)
---
Additional Photos: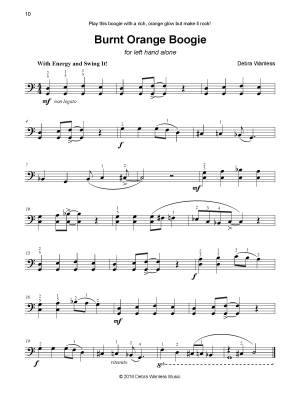 Eight Piano Solos for One Hand

Composer: Debra Wanless
Format: Book
Instrumentation: Piano (1 Hand)
Level: Late Elementary

A Rainbow of Sound is a collection of four books containing eight works each for one hand alone. The titles within each collection of A Rainbow of Sound either incorporate rainbow elements, images and characters or include colours of the rainbow. Varied tonalities, metres and styles have been carefully selected for level appropriateness. Each book offers four works for each hand with one of these works playable by either hand.

A Rainbow of Sound Book 3 titles and styles include: Burnt Orange Boogie and Golden Glow (swing); dances Circle of Light (waltz) and Magnificant Kambonemos (jig); rock- style in White Lightning; Impressionistic-style/modal in Indigo Crystals; the romantic style of Mystic Hues; and the Bach arrangement Sir Isaac Newton.

A Rainbow of Sound Book 3 provides late elementary students with ideal recreational works, examination, festival and recital repertoire, as well as quick studies.
There are currently no questions for this product.
There are currently no reviews for this product. Be the first to write one!