ART Pro Audio
DJPre-2 Phono Preamp
---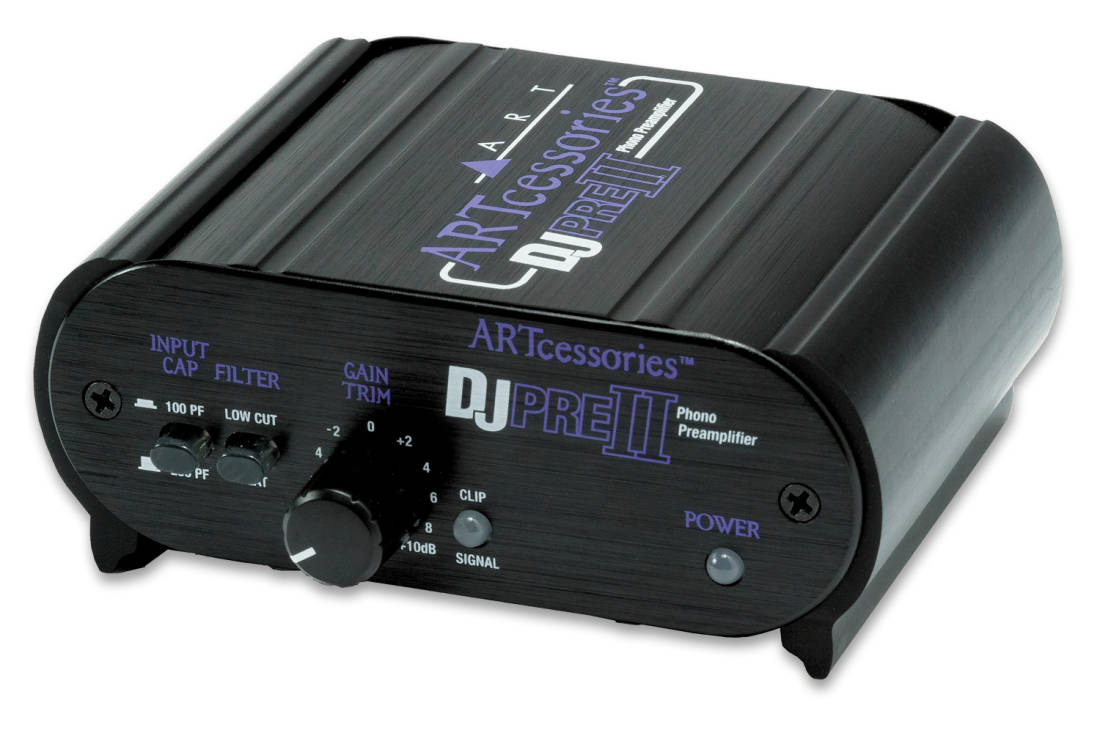 Additional Photos: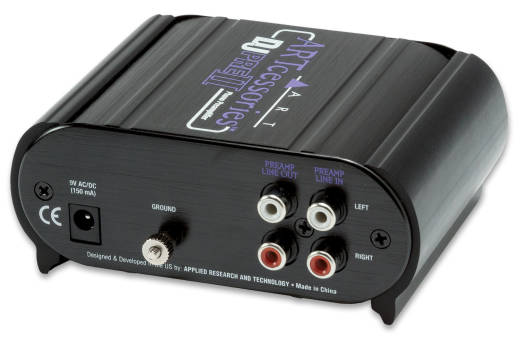 BEST BUDGET PHONO PREAMP OF 2022
"Perhaps its most exciting feature is a low-end roll-off switch that cuts some of the boominess from older distorted vinyl, or a turntable's drive rumble, without cutting much out of the mix. On the front of the device, there's a centrally located gain knob (up to +10 dB), with a convenient clip indicator, as well as the low-cut switch and input cap button. It's a lot of features for such a good price."
-Popular Science

The DJ PRE II (formerly named the "Phono MicroPRE") is the perfect solution for connecting a turntable to any analog low impedance line input (mixer, soundcard or DAW). The input capacitance can be switched between 100pF and 200pF to optimize your phono cartridge response. A switchable low cut filter removes turntable rumble while leaving the audio pristine. The front gain trim control and signal/clip LED allow you to optimize the DJ PRE II gain for virtually any input sources. The built-in low noise phono preamp circuitry is highly accurate and precisely conforms to the RIAA standard.

Housed in an all aluminum black anodized case, the DJ PRE II can be powered by a wide variety of external supplies. If you need to amplify and EQ your vinyl records when connecting with your audio workstation, sound card, home stereo system or main monitor system, the DJ PRE II gives you flawless audio reproduction in a rugged and reliable package.

Features
• High accuracy/low noise preamp
• Switchable low cut rumble filter
• Variable preamp gain Signal present/clip indicator
• Selectable cartridge loading
• Dual RCA inputs and outputs
• Heavy duty extruded chassis

Specifications
Frequency Response: 10Hz -50KHz, +/-.5dB
Phono EQ Standard: Conforms to RIAA Curve
Total Harmonic Distortion: .01% Typical @ 1kHz
Hum and Noise: > 90dB below clipping
Input Impedance: 47k Ω in Parallel with Either 100pF or 200pF
Maximum Input Level: 40mVrms @1kHz
Maximum Gain: 45dB @1KHz
In / Out Connections: RCA
Maximum Output Level: +6dBu (1.4Vrms)
Filter Type/Response: Switchable, Low Cut, -3dB @ 22Hz
Power Requirements: 7-12V DC or 9-12V AC @150mA
Dimensions: 1.85" x 4.6" x 4.5" (47mm x 117mm x 114mm)
Weight: 1.25 lbs (0.57kg)
There are currently no questions for this product.
3.235.188.113
CCBot/2.0 (https://commoncrawl.org/faq/)
Easy to use, despite feature overload
1 of 1 customers found this review helpful
Product Experience
I own it
Closest Store
Toronto (LM Pro) Eastern Ave, Ontario
Like most users, I just needed a preamp in order to use an old turntable (Dual 506). This was very reasonably priced and came highly recommended. I run it with the gain one notch short of max, and that seems to keep clipping at bay, with red LED flashes at expected peaks. Sound is crisp and clear: I can hear the difference when playing 180g discs, with more dramatic dynamics.

Others have called out the lack of a power switch, but I keep my turntable and this preamp on a switchable extension cord so that's not an issue. However, while this unit is on, its blue LED glows *very* brightly. If you're into it, it's a cool vibe for a dim room, but note it is *bright*.
Posted by

Nathan

on

May 4, 2023
INCREDIBLE PRE AMP
3 of 3 customers found this review helpful
Product Experience
I own it
Closest Store
Ottawa, Ontario
Upgraded my cheap pyle pre amp to the art dj pre 2 and the difference is amazing! I highly recommend this pre amp to anyone.
Posted by

anonymous

on

Jun 11, 2021
This Preamp made my setup so much better!!!
4 of 4 customers found this review helpful
Product Experience
I own it
Closest Store
Charlottetown, Prince Edward Island
I was skeptical about buying a preamp at first. I only did it because I had to move my turntable away from my amp. I just want to say WOW. My records have never sounded so clear and so loud.
Posted by

Jacob

on

Jan 22, 2019
A Steal!
4 of 4 customers found this review helpful
Product Experience
I own it
Closest Store
Scarborough, Ontario
Bought this to replace a $200 preamp from a downtown HiFi shop that would have cost over $100 to repair. This ART preamp is quieter (no hum), sounds beefier and has more user controls. Fantastic piece of gear for the price.
Posted by

anonymous

on

Feb 27, 2017
DJPre-2 Interface
2 of 2 customers found this review helpful
Product Experience
I own it
Closest Store
Calgary Royal Vista, Alberta
I purchased this last week for my home stereo turntable as my amplifier did not have a phono input. I have a Stanton T-92 turntable so it has both line out and phono out. When on line out to the amplifier the sound is very weak and even worse when on phono out. This little box changed all that, excellent sound quality and lots of volume...I have the gain set around 0 which is more than enough. I have this powered by my amplifier so when I turn the amp on, the pre amp turns on. I would have to agree with the previous reviewers in that it really should come with a power button although the way I have it connected works fine for me. Good construction, feels solid for the price.
Posted by

Phil

on

Jan 7, 2017
Great
2 of 2 customers found this review helpful
Product Experience
I own it
Closest Store
Cambridge, Ontario
Bought this for my turntable so I could run an equalizer into my receiver. My receiver already had an on-board phono preamp, but no loop for an eqaulizer. This preamp sounds just as good as my recievers preamp does, plus theres the benefit of the input cap and low cut filter which are very subtle but I found useful. Alot of preamps I looked at in this price rrange don't have the adjustable gain and clip monitor, which is a nice feature to have control of. Like the other review I wish it had a power button. Not hard to modify it or come up with a solution, but still would of completed it for 5 stars from me.
Posted by

JN

on

Jun 21, 2016
Does exactly what its supposed to, but no power button, really?
1 of 1 customers found this review helpful
Product Experience
I own it
Closest Store
North York, Ontario
I bought this device for my vinyl turntable after I decided to sell my dj mixer. I needed something to boost the signal so I could plug it into a line in on my soundcard. It did exactly that and works perfectly, only thing I did not like is the lack of a power button. You need to unplug the power cord if you want to power down the unit, which is kind of a pain in my setup where theres alot of cords going into a power surge bar. Inconvenient but it solved my problem and thats what I wanted, good price too.
Posted by

Steve

on

Feb 21, 2016