Hal Leonard
The Daily Ukulele: Leap Year Edition for Baritone Ukulele - Beloff - Book
---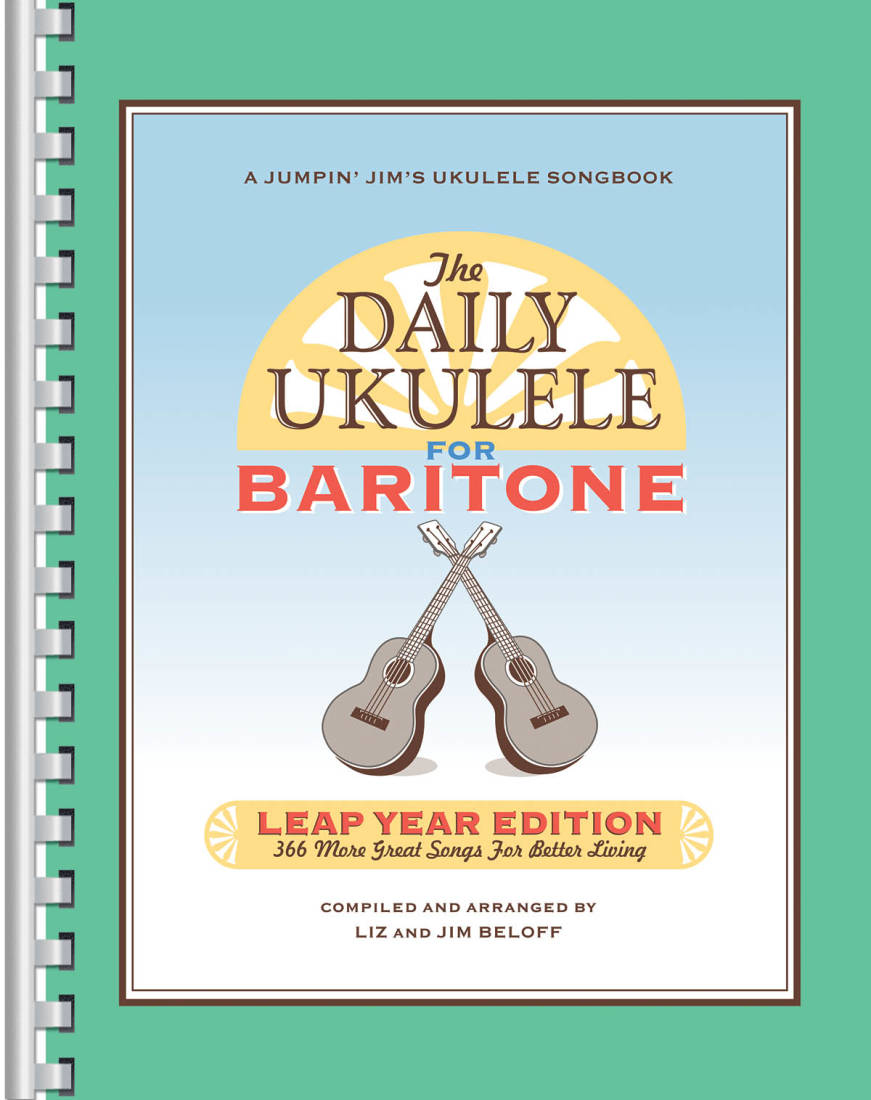 Additional Photos: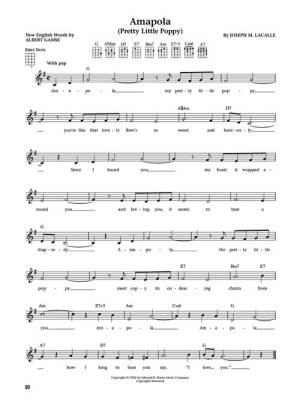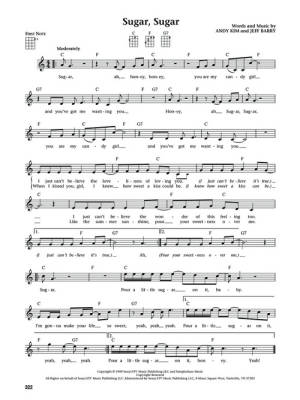 366 More Great Songs for Better Living
Arrangers: Jim Beloff, Liz Beloff
Format: Softcover
Instrumentation: Baritone Ukulele
Now baritone ukulele players can enjoy the
Daily Ukulele: Leap Year Edition
songbook. This super collection features all the same songs from the
Leap Year Edition
in the original keys but with baritone ukulele chord grids (DGBE tuning). Have fun strumming 366 well-known songs from the 1950s through today, by artists such as Carole King, Elton John, the Bee Gees, Stevie Wonder, the Beatles, Paul Simon, Bob Dylan, Michael Jackson and others, plus favourites from movies, Broadway, Motown and more.
Like all of the
Daily Ukulele
songbooks, the arrangements feature melody, lyrics and ukulele chord grids in uke-friendly keys. A special "Ukulele 101" section, a chord chart, and vintage ukulele-themed photos round out the fun, all with a spiral binding for ease of use.
The Daily Ukulele: Leap Year Edition for Baritone Ukulele
offers ukulele fun all year long - even on February 29th!
Song List:
A - You're Adorable
Ac-cent-tchu-ate The Positive (from the Motion Picture HERE COME THE WAVES)
Act Naturally
Ain't No Sunshine
Alabamy Bound (from THE GREAT AMERICAN BROADCAST)
All The Way (from THE JOKER IS WILD)
Allegheny Moon
Amapola (Pretty Little Poppy)
And I Love Her (from A HARD DAY'S NIGHT)
Annie's Song
Anticipation
April Showers (from BOMBO)
Are You Havin' Any Fun? (from GEORGE WHITE'S SCANDALS (1939 Edition))
As Tears Go By
As Time Goes By (from CASABLANCA)
Atlantis
Autumn Leaves
Back In The Saddle Again
The Banana Boat Song
Bang The Drum All Day
(It's A) Beautiful Morning
Beer Barrel Polka (Roll Out The Barrel) (Based on the European success "Skoda Lasky")
Bei Mir Bist Du Schon (Means That You're Grand)
Between The Devil And The Deep Blue Sea (from RHYTHMANIA)
Bewitched (from PAL JOEY)
Beyond The Reef
Big Girls Don't Cry (featured in JERSEY BOYS)
Black Magic Woman
Blue Bayou
Blue Moon Of Kentucky
Blue Velvet (featured in the Motion Picture BLUE VELVET)
Blues My Naughty Sweetie Gave To Me
Boogie Woogie Bugle Boy (from BUCK PRIVATES)
Book Of Love
Born Free (from the Columbia Pictures' Release BORN FREE)
Born To Be Wild (from EASY RIDER)
Brand New Key
Breaking Up Is Hard To Do
Bring Me Sunshine
Bubbly
Build Me Up, Buttercup (featured in the Motion Picture THERE'S SOMETHING ABOUT MARY)
Bus Stop
Calendar Girl
California Girls
Call Me
Can't Get Used To Losing You
Can't Smile Without You
Can't Take My Eyes Off Of You (featured in JERSEY BOYS)
Candy
Cara, Mia
Carolina Moon
Catch A Falling Star
Catch The Wind
Cecilia
Cherish
Circle Of Life (from THE LION KING)
Come Go With Me
Come Monday
Come Saturday Morning (Saturday Morning) (from the Paramount Picture THE STERILE CUCKOO)
Could I Have This Dance (from URBAN COWBOY)
Crocodile Rock
Crying In The Rain
Dancing In The Street (featured in GOOD MORNING VIETNAM)
A Day In The Life Of A Fool (Manha De Carnaval)
'Deed I Do
Delilah
Do You Believe In Magic
Do You Know The Way To San Jose
Do You Know What It Means To Miss New Orleans
Don't Fence Me In
Don't Let The Sun Catch You Crying
Don't Pass Me By
Don't Stop
Don't Think Twice, It's All Right
Don't Worry Baby
Down At The Twist And Shout
Down In The Boondocks
Down On The Corner
Down Under
Dream
Dream Baby (How Long Must I Dream)
Dream Lover
Drifting And Dreaming (Sweet Paradise)
Duke Of The Uke
Elenore
The End Of The World
Every Breath You Take
Everybody's Talkin' (Echoes) (from MIDNIGHT COWBOY)
Everyday
Everything Is Beautiful
Exactly Like You
Falling In Love Again (Can't Help It) (from the Paramount Picture THE BLUE ANGEL)
Falling Slowly (from the Motion Picture ONCE)
Ferry 'Cross The Mersey
Fever
Five Hundred Miles
Fly Me To The Moon (In Other Words) (featured in the Motion Picture ONCE AROUND)
For All We Know
Forever Young
Freight Train
From A Distance
Fun, Fun, Fun
Garden Song
Girl
Goin' Out Of My Head
Good Riddance (Time Of Your Life)
Goodnight, My Someone (from Meredith Willson's THE MUSIC MAN)
The Great Pretender
Groovin'
Hallelujah (featured in the DreamWorks Motion Picture SHREK)
Hanalei Moon
Happy Days Are Here Again (from CHASING RAINBOWS)
Have You Ever Seen The Rain?
The Hawaiian Turnaround
Heatwave (Love Is Like A Heatwave)
Hello! Ma Baby
Hello Mary Lou
Hey, Look Me Over (from WILDCAT)
Hey, Soul Sister
High Hopes
Homeward Bound
Honey Pie
Honeycomb
Honeysuckle Rose (from AIN'T MISBEHAVIN')
Honolulu Baby
Hooked On A Feeling
Hot Diggity (Dog Ziggity Boom)
I Can't Help But Wonder (Where I'm Bound)
I Don't Care If The Sun Don't Shine
I Don't Know Why (I Just Do)
I Got You Babe
I Heard It Through The Grapevine (from MOTOWN THE MUSICAL)
I Just Called To Say I Love You
I Love How You Love Me
I Only Want To Be With You
I Saw The Light
I Think We're Alone Now
I Wanna Be Free
I Want To Be Happy
I Want You Back
I Whistle A Happy Tune (from THE KING AND I)
I Will Survive (featured in PRISCILLA, QUEEN OF THE DESERT)
I Wish You Love
I'll Never Fall In Love Again (from PROMISES, PROMISES)
I'll Never Find Another You
I'll See You In My Dreams
I'm An Old Cowhand (From The Rio Grande)
I'm Confessin' (That I Love You)
I'm Gonna Sit Right Down And Write Myself A Letter (from AIN'T MISBEHAVIN')
I'm Into Something Good
I'm Looking Over A Four Leaf Clover
I'm Sitting On Top Of The World (from THE JOLSON STORY)
I'm Thinking Tonight Of My Blue Eyes
I've Got My Love To Keep Me Warm (from the 20th Century Fox Motion Picture ON THE AVENUE)
If We Only Have Love (Quand On N'a Que L'amour) (from JACQUES BREL IS ALIVE AND WELL AND LIVING IN PARIS)
If You Want To Sing Out, Sing Out
The "In" Crowd
In My Life
In My Room
In The Middle Of An Island
In The Still Of The Nite (I'll Remember)
Isn't She Lovely
It Had To Be You (featured in the Motion Picture WHEN HARRY MET SALLY)
It Never Rains In Southern California
It Was A Very Good Year
It's A Good Day
It's A Sin To Tell A Lie
It's Not Unusual
It's Now Or Never
It's Too Late (from BEAUTIFUL)
Jamaica Farewell
Java Jive
Kansas City (from SMOKEY JOE'S CAFE)
Kisses Sweeter Than Wine
Knock Three Times
La Vie En Rose (Take Me To Your Heart Again)
The Lady Is A Tramp (from BABES IN ARMS)
The Last Time
Lay Down Sally
Lazy Day
Lazy River (from THE BEST YEARS OF OUR LIVES)
Lazybones
Lean On Me
Leaning On A Lamp Post (from ME AND MY GIRL)
Leap For A Man, Girls, It's Leap Year
Leaving On A Jet Plane
Lemon Tree
Let A Smile Be Your Umbrella
Let Your Love Flow
Let's Get Away From It All
Longing To Belong
The Look Of Love (from CASINO ROYALE)
Lookin' For Love (from URBAN COWBOY)
Lookin' Out My Back Door
L-O-V-E
Love And Marriage (from the Television Series MARRIED WITH CHILDREN)
Love Is In The Air
Love Is Just Around The Corner (from the Paramount Picture HERE IS MY HEART)
Loving You
Lulu's Back In Town
MacArthur Park
The Magic Islands
Make Your Own Kind Of Music
Mama Tried
Mame (from MAME)
Mammas Don't Let Your Babies Grow Up To Be Cowboys
A Man And A Woman (Un Homme Et Une Femme) (from A MAN AND A WOMAN)
Maneater
Massachusetts (The Lights Went Out)
Memories Are Made Of This
Mr. Bojangles
Mr. Tambourine Man
Mockin' Bird Hill
Monday, Monday
Moondance
Moonglow
Moonshadow
More (Ti Guardero Nel Cuore) (from the film MONDO CANE)
More Today Than Yesterday
Morning Has Broken
Move It On Over
Mrs. Brown You've Got A Lovely Daughter
The M.T.A.
Music To Watch Girls By
My Cup Runneth Over (from I DO! I DO!)
My Way
Never On Sunday (from Jules Dassin's Motion Picture NEVER ON SUNDAY)
No Moon At All
No Particular Place To Go
Nowhere Man
Octopus's Garden
Old Cape Cod
On A Carousel
One Fine Day
One Love
Only You (And You Alone)
The Open Road
Our Day Will Come
Paddlin' Madelin' Home
Peaceful Easy Feeling
People Got To Be Free
Please Mr. Postman
P.S. I Love You
Puff The Magic Dragon
Ram On
Ramblin' Man
Ramblin' Rose
Red Roses For A Blue Lady
Red Sails In The Sunset
Release Me
Return To Sender (from GIRLS! GIRLS! GIRLS!)
Rhythm Of The Rain
Rockin' Robin (from the movie YOU'VE GOT MAIL)
Roll In My Sweet Baby's Arms
Route 66
San Francisco Bay Blues
Satin Doll (from SOPHISTICATED LADIES)
Scarborough Fair/Canticle
Scotch And Soda
Sealed With A Kiss
Seattle (from the Television Series HERE COME THE BRIDES)
Secret Agent Man (from the Television Series)
Sherry (featured in JERSEY BOYS)
The Shoop Shoop Song (It's In His Kiss) (featured in the Motion Picture MERMAIDS)
Show Me The Way To Go Home
Singing The Blues
(Sittin' On) The Dock Of The Bay
Slow Poke
Snowbird
So Long It's Been Good To Know Yuh (Dusty Old Dust)
Somethin' Stupid
Somewhere, My Love (Lara's Theme from DOCTOR ZHIVAGO)
A Song Of Old Hawaii
Soon It's Gonna Rain (from THE FANTASTICKS)
Sophisticated Hula
Southern Nights
Spanish Eyes
Spooky
Stayin' Alive (from the Motion Picture SATURDAY NIGHT FEVER)
Stoney End
Stop! In The Name Of Love
Stormy
Sugar, Sugar
Sukiyaki (featured in the Motion Picture PUMP UP THE VOLUME)
Summer Breeze
Summer In The City
Summer Wind
Summertime (from PORGY AND BESS(R))
A Sunday Kind Of Love
Sunny
Sunshine (Go Away Today)
Sunshine Superman
Sway (Quien Sera)
Sweet Caroline
Sweet Georgia Brown
Sweet Pea
Sweet Someone
Take A Chance On Me (featured in MAMMA MIA!)
Take Me Home, Country Roads
Tammy (from TAMMY AND THE BACHELOR)
Tea For Two (from NO, NO, NANETTE)
Teach Your Children
Tears On My Pillow
A Teenager In Love
Tell It Like It Is
Tennessee Waltz
That's The Way (I Like It)
There'll Be Some Changes Made (from ALL THAT JAZZ)
These Foolish Things (Remind Me Of You)
They Call The Wind Maria (from PAINT YOUR WAGON)
This Is My Song (from Charles Chaplin's A COUNTESS FROM HONG KONG - A Universal Release)
This Magic Moment
Thriller
Till There Was You (from Meredith Willson's THE MUSIC MAN)
Time After Time (from the Metro-Goldwyn-Mayer Picture IT HAPPENED IN BROOKLYN)
Time After Time
Tip-Toe Thru' The Tulips With Me
To Love Somebody
To Sir, With Love (from TO SIR, WITH LOVE)
Tomorrow (from the Musical Production ANNIE)
Too Young
Top Of The World
Traces
Tracy
Travelin' Man
Twilight Time
A Ukulele And You
Ukulele Central
Undecided
Up Around The Bend
Walk Away Renee
The Wanderer
Wanderin'
Waterloo
The Way You Do The Things You Do
We Are The World
Wedding Bell Blues
What A Diff'rence A Day Made
What Have They Done To My Song, Ma?
What The World Needs Now Is Love
When Will I Be Loved
Where Have All The Flowers Gone?
White Rabbit
White Sandy Beach
Who's Sorry Now (from THREE LITTLE WORDS)
Will You Love Me Tomorrow (Will You Still Love Me Tomorrow) (from BEAUTIFUL)
Windy
With A Little Luck
A Wonderful Day Like Today (from THE ROAR OF THE GREASEPAINT - THE SMELL OF THE CROWD)
Wonderful! Wonderful!
Worried Man Blues
Y.M.C.A.
You And I
You Are The Sunshine Of My Life
You Belong To Me (from the DreamWorks Motion Picture SHREK)
You Can't Hurry Love
You Didn't Have To Be So Nice
You Don't Know Me (from CLAMBAKE)
You Got It (from the Original Soundtrack Album BOYS ON THE SIDE)
You Won't See Me
You're Sixteen (You're Beautiful And You're Mine)
You've Got A Friend (featured in BEAUTIFUL)
Young At Heart (from YOUNG AT HEART)
Your Mama Don't Dance
Your Mother Should Know
Your Song
There are currently no reviews for this product. Be the first to write one!