Editions A Coeur Joie
Florilege 3 (Collection) - Various - SATB
---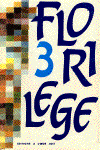 Composers: Various
Format: Book
Voicing: SATB a cappella
30 polyphonies
From early to contemporary music, some famous choral pieces.
Song List:
Alle psallite cum luya (anonyme 13e siecle)
Benedicamus domino (Ecole de Notre-Dame c. 1200)
Summer is acoming in (au : Cesar Geoffray ; co : John of Fornsete)
Tant que vivray ... (au : Clement Marot ; co : Claudin de Sermisy)
Ecce quam sit (rest : Folke Bohlin)
J'entends une chanson (au : Nicole Clement ; co : Johann Steuerlein)
Pase el agua
Las mis penas madre (co : Pedro de Escobar)
Que l'entreprise est belle (au Theodore de Beze ; ar : Claude Goudimel)
Rorando caeli defluant (co : Jan Kampanus Vodnansky)
Ertynies (co : Mickail Ivanovitch Glinka)
Gaude, mater Polonia (ar : anonyme 18 e siecle)
Gloria patri (co Giovanni Pierluigi Palestrina)
J'ai cueilli la belle rose (ar : Richard Johnston)
Simi jadech (ar : Pat Shaw)
Balaio (co : Heitor Villa-Lobos ; ar : Francois Harquel)
Heiden roslein (au : J. W. Goethe ; co : H. Werner ; ar : F. Neumeyer)
Joyeux enfants de la Bourgogne (ar : Marcel Corneloup)
V'amo di core (co : Wolfgang Amadeus Mozart)
Wie schon leuchtet der morgenstern (au : Philipp Nicolai et William Lemit ; co : Johann-Sebastian Bach)
Hymne e la nuit co : Jean-Philippe Rameau ; ar : Paul Pierne)
Mort tu n'es qu'un long sommeil (au Jean-Paul von Eller ; co : Joseph Haydn)
Le pont mirabeau (au : Guillaume Apollinaire ; co : Lionel Daunais)
Cohors Generosa (co : Zoltan Kodaly)
Canon de la paix (au : d'apres Romain Rolland ; co : Francois Terral)
Le temps a laisse son manteau (au : Charles d'Orleans ; co : Roger Calmel)
La merveille de la musique (au : Louis Aragon ; co : Marcel Corneloup)
Le Colimacon (au co : Eve-Line Jaloux ; ar : Alain Langree)
Les comediens (au : Jacques Plante ; co : Charles Aznavour ; ar : Francois Terral)
Le petit cheval (au : Paul Fort ; co : Georges Brassens ; ar : Raphael Passaquet)
There are currently no reviews for this product. Be the first to write one!