Editions A Coeur Joie
Florilege Renaissance Francaise - Various - SATB
---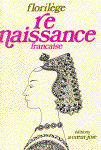 Composers: Various
Format: Book
Voicing: SATB a cappella
25 polyphonies
Song List:
Au joli bois (anonyme)
Tourdion (anonyme)
Margot, labourez les vignes (Arcadelt)
Alors que mon coeur s'engage (Bonnet)
Francion vint l'autre jour (Bonnet)
J'ai le rebours (Certon)
La, la, la, je ne l'ose dire (Certon)
Je sens sur mon ame plouvoir (Costeley)
Je vois de glissantes eaux (Costeley)
Quand le berger vit la bergere (Costeley)
Quand l'ennui facheux vous prend (Costeley)
Que de passions et douleurs (Costeley)
Ce mois de mai (Janequin)
Ce sont gallans (Janequin)
Il s'en va tard (Janequin)
Je ne connais (Janequin)
Tu as tout seul Jhan, Jhan (Janequin)
Mille regrets de vous abandonner (Josquin des Pres)
Quand ce beau printemps je vois (N. de la Grotte)
Je l'aime bien (R. de Lassus)
Mon coeur se recommande a vous (R. de Lassus)
Vous me tuez si doucement (J. Mauduit)
Pour ung plaisir (Cl. de Sermisy)
Au joli bois (Cl. de Sermisy)
Au joli bois (Tessier)
There are currently no questions for this product.
There are currently no reviews for this product. Be the first to write one!