Southern Music Company
Famous Flute Studies and Duets (The Big Blue Book) - Cavally - Flute - Book
---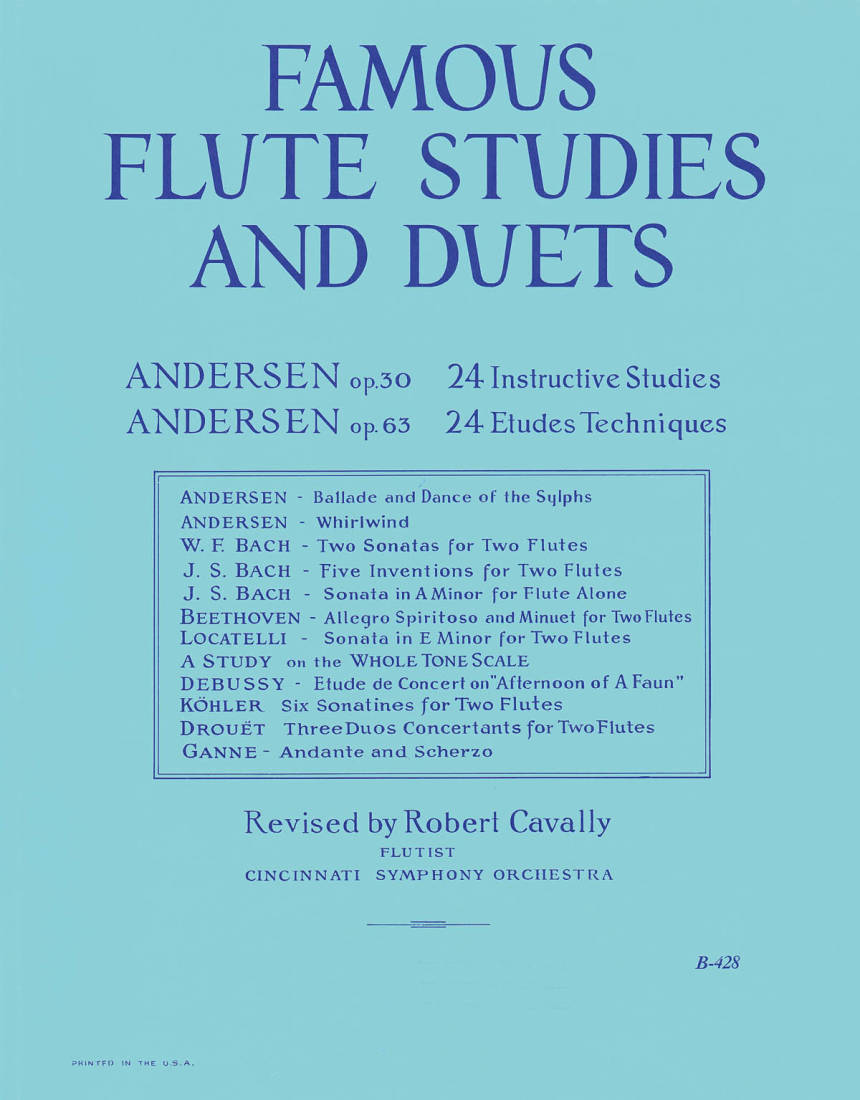 Editor: Robert Cavally
Format: Book
Instrumentation: Flute
Use with
Melodious and Progressive Studies - Book 2
, and Level 2 of
Developmental and Progressive Studies
, Cavally's newly released complete pedagogy for the flute:
Tone Studies
Scale Studies
Velocity Studies
Contents:
24 Instructive Studies, Op. 30 (Andersen)
24 Etudes Techniques, Op. 63 (Andersen)
Ballade et Danse des Sylphes (Andersen)
Le Tourbillon (Whirlwind), Op. 57 No. 3 (Andersen)
Sonata I for Two Flutes (W.F. Bach)
Sonata IV for Two Flutes (W.F. Bach)
Five Inventions for Two Flutes (J.S. Bach)
Sonata in A Minor for Flute Alone (J.S. Bach)
Allegro Spiritoso and Minuet for Two Flutes (Beethoven)
Sonata in E Minor for Two Flutes (Locatelli)
Etude de Concert on Debussy's Prelude to the Afternoon of a Faun (Fenboque)
Larghetto for Two Flutes and Clarinet (Mozart/van Leeuwen)
Six Sonatines for Two Flutes(*) (Kohler)
Three Duos Concertants for Two Flutes(*) (Drouet)
Andante et Scherzo(**) (Ganne)
(*) Flute II parts for these works available separately
(**) Piano accompaniment for this work available separately
There are currently no reviews for this product. Be the first to write one!