Zoom
AC-3 Acoustic Creator Guitar DI/Effects Pedal
---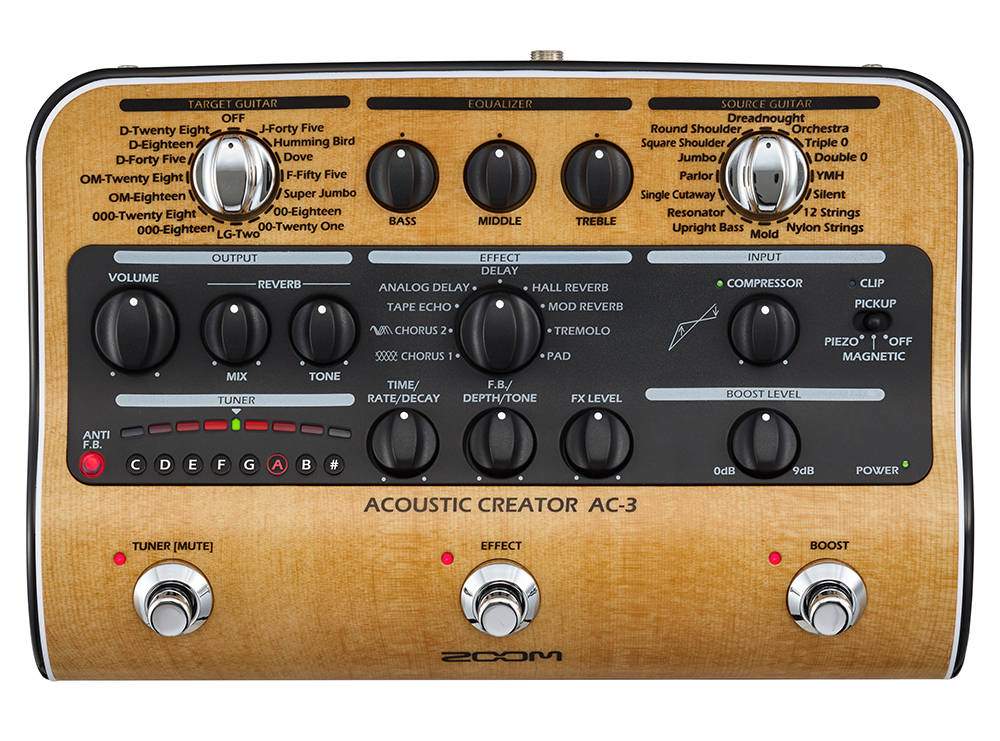 Additional Photos: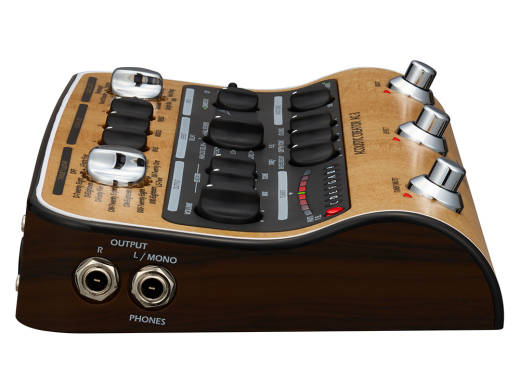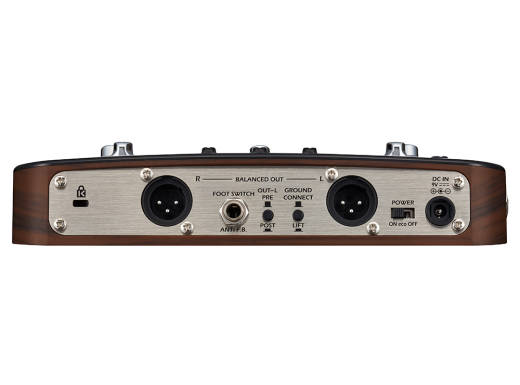 Product Videos :
YouTube Video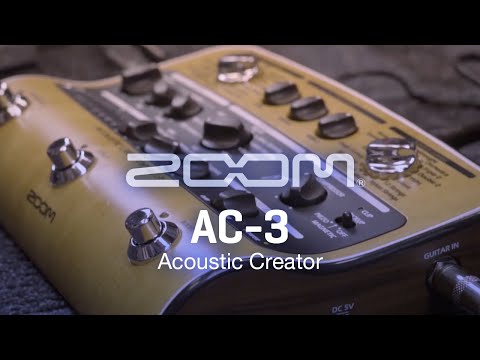 or from
$42
CDN/mo
The AC-3 Acoustic Creator is an enhanced direct box with essential DI features that help you achieve great tone no matter where you play. The AC-3 is equipped with an effects generator, stereo outputs, and a compressor. With these features plus the same high-quality preamp and 3-band EQ as the AC-2, the AC-3 is an all-in-one acoustic toolkit that's perfect for live performance and studio.

The AC-3 puts essential DI features right at your fingertips. Its high-quality preamp boosts your signal and helps restore your true acoustic sound. Plus, its 3-band EQ lets you quickly make the perfect adjustments to refine your tone. To add depth and colour to your tone, AC-3 also features the best effects Zoom has ever designed for acoustics. Choose from 9 different effects such as delay, chorus, and reverb, each of which has with adjustable parameters for fine-tuning your sound.

With 16 source guitar presets, the AC-3 recovers the sonic characteristics of a variety of guitar types and body shapes. You can choose from dreadnought, upright bass, nylon strings, 12 string, and more. Simply select your guitar of choice, then choose piezo or magnetic pickup. From there, the AC-3 is ready to reproduce and amplify your guitars tone with complete accuracy. The AC-3 also comes with 15 additional target guitar presets that you can use to more accurately match your guitars tone. For example, when using a Martin D-18 dreadnought, you can choose the Dreadnought source guitar preset and the D-Eighteen target guitar preset to more closely match the unique sound of your instrument. Or if you're playing a square shoulder guitar, choose the Square Shoulder source preset, then use the Humming Bird target preset to recreate your tone more accurately. *Not all target guitars are available from all source guitars. For instance, when plugging in a Resonator, you would turn your target guitar to "Off."

Whether you're lightly strumming or playing with a little more intensity, the AC-3's single-knob compressor makes it easy to smooth out and control your guitar's dynamics for a full, balanced sound. Plus, the compressor's LED indicator makes it simple to adjust dynamics parameters during a live set.

The AC-3's balanced XLR mono/stereo outputs with pre/post control allow you to connect to any PA mixing board or studio console. It also includes two 1/4" outputs for simultaneous mono/stereo connection to amps, headphones, or audio interfaces. This allows audiences to hear the full character of stereo or delay effects.

The AC-3's Volume control automatically controls both the preamp's input gain and output level, taking the guesswork out of adjusting sound levels to match. You can also add up to 9 dB of gain with the tap of your foot using the AC-3's boost function, allowing you to switch from strumming to finger-picking without ever missing a note. Thanks to the AC-3's all-in-one design, you can record the rich, acoustic sound you love without the need for heavy post-production processing.

Features at a Glance

• 16 source guitar type/body presets for accurate tone re-creation
• 15 target guitar type/body presets for tonal refinement
• 1/4" input
• Two XLR balanced outs
• Two 1/4" outputs for mono or stereo connection to guitar amps, headphones, and audio interfaces
• High-quality, low noise preamp
• 9 effects with adjustable parameters
• Piezo/magnetic input pickup select
• Built-in compressor
• 3-band equalizer
• Input and output gain/sensitivity adjustable via single volume knob (patent pending)
• Clipping indicator
• Anti-feedback control
• Boost switch for up to 9 dB of additional gain
• Built-in chromatic visual-LED tuner
• USB connection for firmware updates
• Dual output jacks for connection to guitar amps and mono or stereo PA systems
• Three power options: 2 x AA batteries, the included Zoom AD-16 power adapter (9V DC in), or bus power via micro-USB port

Included Accessories:
- Zoom AD-16 AC adapter
- Operation manual

Specs:

Source Guitars:16 Types
Target Guitars:15 Types
Effect Types: 9 Types
Sampling Frequency: 44.1 kHz
A/D conversion:24-bit with 128x oversampling
D/A conversion:24-bit with 128x oversampling
Signal processing: 32-bit
Frequency characteristics: 20 Hz 20 kHz (+1 dB/-3 dB) (10 kΩ load)

INPUTS
• Standard mono phone jack
• Rated input level: -20 dBu
• Input impedance: 10 MΩ

OUTPUTS
L/MONO/PHONES:
• Standard stereo phone jack (combined line/headphones)
• Maximum output level: Line +7 dBu (10 kΩ or more output impedance)
• Headphones 8 mW + 8 mW (32 Ω load)

R:
• Standard mono phone jack
• Maximum output level: Line +7 dBu (10 kΩ or more output impedance)

BALANCED OUT-L:
• XLR jack
• Output impedance: 100 Ω (HOT-GND, COLD-GND), 200 Ω (HOT-COLD)
• PRE/POST (switchable)
• GND LIFT (switchable)

BALANCED OUT-R:
• XLR jack
• Output impedance: 100 Ω (HOT-GND, COLD-GND), 200 Ω (HOT-COLD)
• GND LIFT (switchable)

Equivalent input noise:120 dBu

Noise floor (residual noise): -100 dBu

Control input: FS01 Input

Power:
• AC adapter: 9 V DC 500 mA center negative (ZOOM AD-16)
• Batteries: 2 AA (about 3 hrs continuous operation time using alkaline batteries)

USB: USB MIDI USB Micro-B

Dimensions: 6.22 in (D) X 4.21 in (W) X 2.04 in (H)
Weight:2.5 lbs (Not including batteries)

Note: 0 dBu = 0.775 V
Youtube video product demo
There are currently no questions for this product.
There are currently no reviews for this product. Be the first to write one!